Khloe Kardashian Rips Alleged Drug Addict Husband Lamar Odom On KUWTK Episode: 'You're Not My Child, I Can't Lock You In A Room!'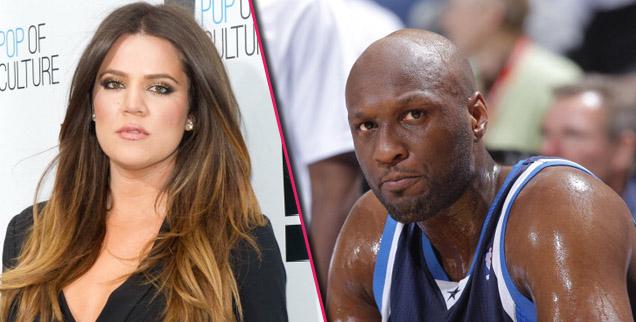 Khloe Kardashian, who has been hinting at her husband Lamar Odom's alleged drug problems during recent episodes of Keeping Up With the Kardashians, showed her most pain and frustration yet on Sunday night's episode.
The reality TV star received a disturbing phone call while on a road trip with step-dad Bruce Jenner and other family members, learning that her basketball player husband wasn't at home and wasn't answering his phone.
Article continues below advertisement
"So he's MIA?" Khloe asked the caller.
She then confided to E!'s cameras, "I've been down this road probably way more times than I'd like to admit. If someone wants to leave, they want to leave."
Then, speaking to Lamar through the show's cameras, Khloe showed she'd reached her limit, saying, "You're not my child, I can't lock you in a room -- as much as I would like to."
The drama began on Sunday's episode when Khloe decided to go on a camping trip with Bruce, her sisters Kendall and Kylie Jenner, brother Rob Kardashian, Bruce's sons Brandon and Brody Jenner, and Brandon's wife, Leah.
Although Bruce wanted to camp in the desert, Khloe decided to hijack the trip and take the family to Area 51 in Nevada to go alien hunting. But the lighthearted vacation turned somber when it appeared that Khloe was already living with an alien -- her absentee husband, Lamar.
As Khloe planned the trip over lunch with Kendall and Bruce, the family patriarch told her he wanted Lamar to come along.
"Lamar does NOT do outdoors," Khloe told her step-dad.
Article continues below advertisement
"Lamar's the toughest one," Bruce said.
"We need a tent that's extra-long, and an extra-long sleeping bag, so he'll fit in."
Khloe then admitted in a confessional segment, "Even though I don't like camping, right now I need all the distractions I can get. They're kind of like therapy for me."
Then, in a revealing segue way, the three discussed the recent drug-related death of Glee actor Cory Monteith.
While Khloe looked pensive, Bruce raged against drug use.
"Lesson to be learned, stay away," Bruce said, pointing at his young daughter, Kendall.
"Far away," Khloe echoed.
"Really stupid ... what a waste of a life!" Bruce sighed about Monteith.
Then Khloe interjected, "Do you think it was a choice?"
Bruce replied, "I have a hard time with people that need drugs to have a good time."
Her face softening, Khloe said, "You know being a drug addict is a disease."
Article continues below advertisement
Bruce said, "No. It is a personal choice. You know what you're doing? You're taking the responsibility away from the person.
"This guy had a choice to take drugs," Bruce said of the Glee actor. "It's his own fault. You can't blame anybody else but him!"
Little sister Kendall then shared her views, saying, "You get yourself into it -- I agree with you there, like it is your choice to get started with something like that but once you've already started, and done it a hundred times, and now you're addicted, I do agree with Khloe.
"It is a disease."
Later, there were more hints that things weren't well with Lamar, as Khloe took a call from him while in the family's motor home on the way to the desert.
"You feelin' OK?" Khloe asked her husband. "So-so?"
She revealed to KUWTK cameras: "Lamar has been having a really hard time lately. It's not just black and white. There's a lot of emotional issues and as much as I'm trying to enjoy going camping with my family, I also have to cater to Lamar's needs.
Article continues below advertisement
"It's really scary when nothing's really working, and then you know if you give up, no one in his life would be able to help," Khloe said.
Later, while sitting around a campfire with the group in Nevada, Khloe got a call from Lamar.
Then Lamar called Bruce as well!
"He just wants to see that you're with him," Kylie told Khloe.
Lamar, who had hung up, phoned Bruce again and this time Bruce handed the phone to an embarrassed Khloe.
"Call ended!" Khloe laughed when her husband was no longer on the line.
"He hung up on me!"
But Lamar called Bruce yet again!
"I'm not with Lamar in L.A. I can't stop him from calling everyone's phone," Khloe said.
She commented in a confessional segment, "I know it looks weird -- I don't know what to say."
Apparently, Lamar was asking Khloe about a computer.
"Why do I need a computer?" she asked Lamar. "I don't have access to that, OK? Love you."
Article continues below advertisement
Getting off the phone, Khloe told her brother Rob that Lamar wanted her to watch their home security cameras!
"Why? To show you what he's doing?" Rob joked
Khloe started laughing hysterically in front of her family.
"I don't know what's happening!" she giggled inappropriately. "I just can't handle it!"
The reality TV star told viewers, "When I'm uncomfortable, I start laughing. I choose to laugh to keep from crying, half the time and that's the truth. I would rather laugh than cry."
Rob told the group, "This happens every night, by the way, at least seven times."
Then brother Rob, who was living with Khloe and Lamar, told the camera, "There's so much going on in the Odom household that nobody really understands, nor should they, at this point.
"I just happen to live there. All I can do is support my sister."
Speaking to the family, Rob said of the troubled basketball star, "He just doesn't sleep. His hours are bizarre."
Article continues below advertisement
Meanwhile, in another show storyline, as RadarOnline.com previously previewed, momager Kris Jenner became an emotional wreck because she felt her daughters weren't supporting her hosting effort on her own daytime talk show this summer.
KUWTK viewers saw Kris getting advice from one of her good friends, successful talk show hostess Katie Lee Gifford.
"This is my dream come true," Kris told the cameras.
"She's somebody who's my biggest cheerleader," the Kardashian matriarch said of Kathie Lee, who advised her to be natural on camera.
Sunday's episode showed how on the first day of Kris' talk show, the entire family (sans Kim, who just had given birth to baby North by boyfriend Kanye West) joined her to show support, even husband Bruce, who has been living separately from his wife.
"Will I freeze? Will I be nervous?" Kris agonized before walking in front of the audience. "I get so emotional!"
Article continues below advertisement
But she was determined to give it 150 percent.
"I love the whole talk show world," Kris said.
But daughter Kourtney, sitting in the audience with Khloe, whispered, "It can't be about US all the time," after Kris babbled about Kim and the baby.
As RadarOnline.com readers know, Kris then cradled a baby on her show but it turned out to be a massive fake-out -- it was her stylist's baby, NOT North!
"I feel like it's not cool," Kourtney sighed about the joke.
After the first talk show episode, Kourtney told Kris, "We have a bunch of notes," about her performance.
Kris was devastated and complained to the cameras, "She's gotta cut me some slack!"
Devoted Khloe told her mom later that she didn't look nervous at all--and knew Kourtney could be too critical.
After having a few episodes under her belt, Kris met the family for dinner and Kourtney's husband, Scott Disick, admitted he didn't watch it. Kourtney said coldly that she didn't watch TV.
Article continues below advertisement
Kris said Kanye and Kim weren't going to come on the show, but hoped the rest of her family members would!
In the face of their reluctance, Kris started to cry at the restaurant.
"I'm tired of convincing you," she said. "I've never done this before. If it was your dream, I swear I would be there every day."
After the dinner, Khloe talked to Kourtney on the phone.
"She's working so hard and she's doing such a great job," Khloe told her sister. "She wants us to be a part of everything."
Then she gave Kim a call to convince her to do Kris' show!
"I'm not ready," Kim whined to Khloe.
"You have to do it," Khloe told Kim, but the post-pregnancy beauty complained she had too large a behind.
Later, Kim told her makeup artist she wanted to support her mom, but wasn't sure if she was ready to face the talk show cameras yet after giving birth to little North.
Kim said, "I feel like I have nothing that fits me. "My gut's telling me, don't do it. I feel like a f***ing stuffed sausage."
Article continues below advertisement
Ultimately, though, Kim did do the video shoot for Kris, but complained the whole time.
"I'm not feeling good about myself," she told the camera. "My boobs are squirting out. It's time to feed the baby."
But Kim supported her "Momager," and the rest of the clan also appeared as guests. As viewers already know, even Kanye showed up, doing an exclusive interview with his common law mother-in-law about Kim and the new baby on her talk show.
However, as RadarOnline.com already reported, Kris' talk show was canceled this August!
In the last storyline on Sunday's KUWTK, Khloe and the Jenner girls got alien hunters to give them a tour of Area 51 (where aliens allegedly were spotted years ago) over Bruce's objections.
"Khloe has lost her mind," he laughed.
Travis Walton told the kids his famous story about how he was kidnapped by aliens.
"That definitely happened," Khloe said.
Watch the video on RadarOnline.com
"That's a bunch of BS," Bruce growled. "Grow up and get some sense!'
Then there were some mysterious noises by the campfire.
Kylie thought they were being abducted and they saw two "aliens" but it turned out Brody and Brandon had hired people to impersonate aliens.
But what wasn't so funny for Khloe was her continuing problems with Lamar, which are sure to be explored in next week's KUWTK finale!