'This Is A Hatchet Job!': 'The Wolf Of Wall Street' Jordan Belfort Brings His Thunder Down Under In 60 Minutes Australia Hissy Fit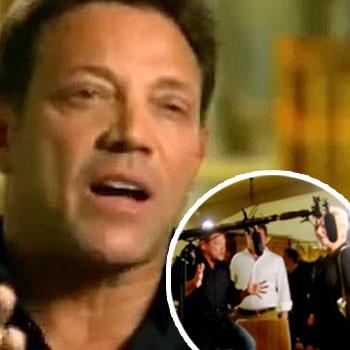 He didn't start throwing lobsters or hundreds, but Jordan Belfort's mercurial side reared its ugly head when the convicted flimflam man angrily stormed off of the set of a 60 Minutes Australia interview after the line of questioning -- about his current business affairs -- began hitting the most sensitive of nerves.
As we previously reported, Belfort, whose grand scale stock schemes were portrayed by an Oscar-nominated Leonardo DiCaprio in last year's The Wolf of Wall Street, abruptly ended the discussion with journalist Liz Hayes, ranting that he wasn't "going to get attacked," and telling the female journalist, "You've got a lot of nerve, boy."
Article continues below advertisement
In the airing of the heated discussion, Belfort's temper flared up after Hayes began grilling him about his current means of income, and ongoing issues with the federal government.
"Since you've stonewalled me at every step, I'm not gonna get attacked here," Belfort said in his signature Long Island accent. "I said enough about this, let's move on. You're a very nice woman but I'm starting to think this is obviously a hatchet job!"
Watch the video on RadarOnline.com
"There's nothing hatchet about it," Hayes told Belfort, who responded, "To me, there is."
Hayes moved on with the interview, asking Belfort, "You have an oral contract with your management, the Fordham Company; is that an attempt to hide your income?"
"Next question," Belfort said, before calling it a day. "I think you can air what you want out of this interview here, It's done.
Article continues below advertisement
"Honestly, really … I was told this was a friendly, nice interview, and no one has treated me as disrespectfully as you have, OK?"
Earlier in the discussion, when moods were lighter, Belfort said DiCaprio was a smart casting decision for director Martin Scorsese, as he could properly portray the pizzazz he'd had in revving up his troops of rogue stockbrokers.
"I'm not saying I'm as handsome as Leo," he said, "but I had that charisma."
Belfort — who spent seven years in jail in connection with his firm Stratton Oakmont's $200 million finance fraud during the 1990s — said that he was embarrassed by the antics DiCaprio portrayed in his performance — not so much the stealing, but rather the vices.
"The hookers and that sort of stuff — doing cocaine from a hooker's derriere is obviously embarrassing to me," he said.