The Financial SCANDAL Behind Leonardo DiCaprio's New Movie Blockbuster: Real-Life 'Wolf Of Wall Street' Still Owes Victims Millions!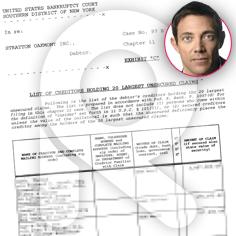 The Wall Street con artist who inspired Leonardo DiCaprio's new film, The Wolf of Wall Street, says he's a changed man. And it certainly seemed that way when Jordan Belfort walked the red carpet and hobnobbed with A-listers at the NYC premiere of the film on December 18, seven years after he was released from prison for $200 million in Wall Street fraud.
But now, an attorney who represents several of Belfort's victims is speaking out to RadarOnline.com to claim that Belfort is just as much of a scammer as he was years ago. While Belfort's been raking in millions from his new fame, attorney Diane Nygaard says, he still hasn't paid back his victims!
Article continues below advertisement
"They're still owed a lot of money," Nygaard tells RadarOnline.com exclusively. "In the aggregate, it's millions of dollars."
Nygaard filed arbitrations on behalf of several investors who were scammed by Belfort's firm, Stratton Oakmont. "We had settled these cases, and Stratton Oakmont was supposed to be paying the money," Nygaard say. "And about a day after the settlement, they filed for bankruptcy. The victims filed claims to get a small amount of restitution back, around ten percent."
According to court documents obtained by RadarOnline.com, nearly half of Belfort's top 20 largest creditors in the bankruptcy proceedings were members of that arbitration settlement, with a total of $1.95 million owed to them by Belfort and Stratton Oakmont. But according to Nygaard, they still haven't been paid in full.
READ: Court Documents Reveal Belfort's Million-Dollar Debts
"As I understand it, when you go bankrupt, you eliminate your liabilities," Nygaard explains. "The firm went bankrupt, and he went bankrupt. There's a trustee, and I've contacted the trustee in bankruptcy about what they're doing to pursue this. I've also contacted the assistant District Attorney in the Eastern District of New York because my clients have not received anything from that criminal restitution agreement." (As RadarOnline.com reported, Belfort was accused in court documents of purposely not paying the restitution in that case.)
Article continues below advertisement
And as Belfort continues to live the high life, Nygaard says some of her clients are still trying to recover from what he did to them.
"Several individuals from all over the country were affected," she says. "Generally small business owners. Stratton Oakmont used trade publications to find small business owners about ten years ago, and they'd make cold calls and convince them to open an account."
"The person generally would be sold a blue chip and told 'When the pop comes up, I'll call you,'" she claims. "Surprise surprise, they get a phone call. 'It's a great pop for you!' But it's one of their pump and dump stocks. They'd sell it to their client. Next statement, the thing had just skyrocketed in value. So they set the hook. Then they'd say, 'I think I can get you more money. Send more money.' Lots of my clients were Fedexing checks to New York."
MORE ON:
Celebrity Justice
One of the most poignant cases, she says, was that of a farmer in the town of Sebetha, Kansas. "It's a small town of about two to three thousand people in Northeast Kansas," Nygaard reveals. "He started small. Statements showed the money growing, so he went to the bank. He borrowed money, and he Fedexed that to New York. Then, he sold his farm and fedexed that money to New York." And then, thanks to Belfort's scheming, he lost everything. Today, he's still trying to get back on his feet.
Article continues below advertisement
"I remember that when he was leaving my office the first day we met, he said to me, 'Diane where's the nearest Sam's Club?' because he was having to buy food and he used to grow his own," she says. "This just can't keep going. It's sickening."
Belfort seems to have no shame as he rakes in millions from the movie and book based on his misadventures, all the while insisting that he's a "good guy" now. But Nygaard doesn't buy it.
"Do I think Jordan Belfort has changed since then?" she says. "We have to remember, he's a good salesman. Jordan Belfort made fortunes with other people's money. Had a great time, went to jail and came out."
"Now he says she's found God?" she continues. "I doubt it. I'll tell you one thing, one of my former Jordan clients lives near Jordan and the kids go to school together. He's seen Jordan at soccer matches and says Jordan lives on the sand in Manhattan Beach (California). Jordan's definitely living the high life, and that's definitely pretty offensive to this guy who lost hundreds of thousands of dollars because of Jordan's scam."