Crime Doesn't Pay! Jodi Arias Claims She's Filing For Bankruptcy After Murder Conviction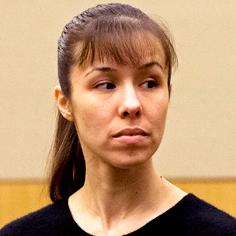 Convicted murdered Jodi Arias has tried to earn money since being locked up for the brutal slaying of Travis Alexander but it looks like her finances have completely collapsed because she say that she's filing for bankruptcy.
A jury found Arias, 33, guilty of first degree murder and she is now awaiting a new sentencing phase to determine if she will be facing the death penalty or not but through her active Twitter account she is claiming to be flat broke.
Article continues below advertisement
She has used her Twitter to send insults to prosecutor Juan Martinez as well as HLN host Nancy Grace and at the same time claim that she is a victim of domestic violence and sell her traced artwork, but apparently not at enough of a profit.
"That rumor that somehow my family profited from my trial? Absurd," Arias wrote on her page and dropped the bombshell that she may not even be able to afford to file herself.
"I'm filing for bankruptcy (if I can ever afford to do so)," she wrote to her 78,000 followers.
Random members of Arias' family were in court with her mother throughout the trial, and she wrote that they were affected too, however she deleted the Tweets, which were captured by the Justice For Travis Facebook page.
"My parents are filing for bankruptcy," and "My aunt (who attended my trial) and uncle are filing for bankruptcy," and a third since deleted note read: "My dad will be closing the doors to his diner this month."
Arias' attorneys filed a motion with the court to bar future seated jurors from using social media, including Twitter during the trial, but no restrictions have been placed upon her.
Arizona's "Son of Sam" law does prevent her from profiting from a book or movie/television deal since she has been convicted of murder.
Travis Alexander's family is hoping that the prosecutor will retry the penalty phase in order to win a death penalty sentence for Jodi, who killed him on June 4, 2008 after stabbing him 29 times, slitting his throat and shooting him in the face.