Is The Real-Life Wolf Of Wall Street Still Scamming The Feds? Read The Court Documents Accusing Him Of Skimping On Court-Ordered Payments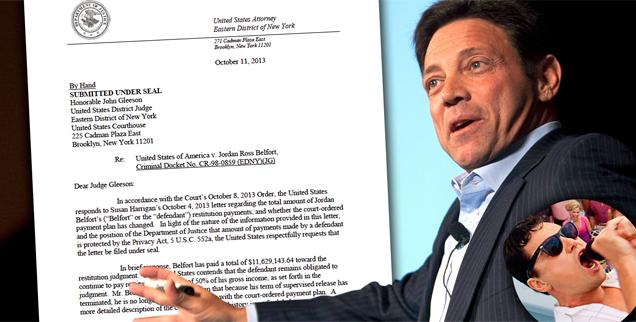 Once a cheater, always a cheater? The real-life inspiration for the movie Wolf of Wall Street, Jordan Belfort, made millions off of shady deals that landed him in prison for more than three years. As part of his sentencing in the federal case, Belfort was also ordered to pay $110,362,993.87, plus interest, in restitution. He says that surviving that experience has turned him into a changed man, who's honest to his core -- not to mention pals with the actor who plays him on-screen, Leonardo DiCaprio. But is that denial just another in a very long line of half-truths from the former Wall Street scammer? RadarOnline.com has learned that federal prosecutors recently filed court papers accusing Belfort of being in default on the court-ordered restitution payments to the tune of nearly $100 million.
Article continues below advertisement
Federal prosecutors made the allegation in court documents filed on October 11, which were obtained by Radar. Out of the court-rdered $110,362,993.87, the documents claim, "Belfort has paid a total of $11,629,143.64 toward the restitution judgment." Despite an order to give up half of his gross income, the documents allege, "Mr. Belfort has taken the position that … he is no longer obligated to comply with the court-ordered payment plan."
The first $10 million and change came from government seizure of properties belonging to Belfort, according to the documents. The government was also able to garnish a payment of $223,678.59 that Belfort was owed by the defendants of another court case. But Belfort himself, the documents allege, was slow to pay up, despite the fact that the money started rolling in soon after he left prison.
Article continues below advertisement
About one year after his release, Belfort signed a deal to publish his memoirs, The Wolf of Wall Street. The federal government quickly "served restraining notices on Bantam Books, Warner Brothers, and Appian Way, entities which might be obligated to make payments to Belfort," the documents allege, and subsequently came to a deal whereby they would receive 50% of Belfort's proceeds, after his agent's 15% cut.
Following that deal, the government claims to have received $382,910 in 2007, $148,799.19 in 2008, and $170,000 in 2009. But then, they allege, Belfort decided he was done.
"Belfort's payment history and financial information, including tax returns, reveals that he has not fully complied with his payment obligations," the documents read. "Moreover … Belfort contends that he is no longer bound by the Court's order that he pay 50% of his gross income toward the restitution judgment."
MORE ON:
Leonardo Dicaprio
Article continues below advertisement
In 2010, the documents claim, he made absolutely no payments. The next year, Red Granite Productions paid him $940,500 for rights to The Wolf of Wall Street, according to the documents, in addition to a promised $125,000 bonus at the commencement of principal photography, and $125,000 payable on the initial theatrical release of the movie.
But in 2011, "Belfort made payments totaling $21,000 toward the restitution judgment," the papers claim, despite the fact that one of his companies took a tax deduction for a supposed $24,000 restitution payment.
In 2012, the papers claim, Belfort paid $158,000 -- well less than his reported income, which was redacted from court documents. Indeed, the movie started filming that year, which would have brought him in an extra $125,000 on top of his earnings. And in 2013, he has allegedly been paying $3,000 per month, despite "earnings from other sources, including, for example, speaking engagements" that net him upwards of $30,000 a pop.
Article continues below advertisement
In closing, prosecutors asked the court to find him in default. Belfort was quick to respond with a fervent denial, insisting his life now is totally above-board.
Subsequently, on October 25, prosecutors submitted documents asking to withdraw the motion to hold Belfort in default so that both sides could further review Belfort's financial documents and "explore a resolution of outstanding issues."
"We have been trying for some time to resolve all issues regarding Mr. Belfort's outstanding restitution obligation," Belfort's attorney, Nicholas De Feis, has said of the claims. "He has been working very hard to rebuild his life, and wants to close this chapter literally and figuratively."
Belfort has even admitted to crying when he heard he was under investigation for default. "I was not a good guy back in the day, but I'm a good guy now," he insisted to the New York Daily News. "I am."
The government has reserved their right to refile the default motion at any time.