Jodi Arias Grilled Over 'Self Defense' Time Line – How Did Travis Alexander Attack Her & She Kill Him In Just 62 Seconds?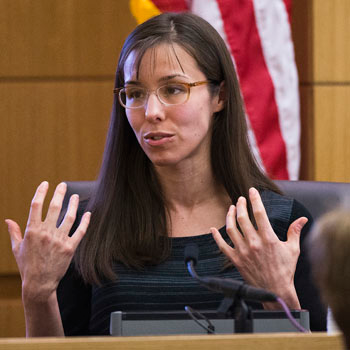 Did it take just more than a minute for Jodi Arias to be attacked by her ex-boyfriend, run to get a knife and a gun, return, and then stab her ex-boyfriend 29 times, slit his throat from ear to ear and shoot him in the head?
That's the question prosecutor Juan Martinez put to the 32-year-old murder defendant as she spent her 18th day on the witness stand Wednesday.
Jurors in the Arizona court listened intently as the state attorney showed Jodi two photos, which were taken 62 seconds apart on June 4, 2008 -- the day Travis Alexander was killed.
Article continues below advertisement
The first image was taken when he was alive in the shower, shortly after they had sex, and the second one featured a portion of his bloody body.
Arias testified that the second picture might have been snapped accidentally.
In the period between those two photos being taken, Jodi – who is standing trial for first-degree murder and faces the death penalty– claims Travis attacked her and that she grabbed a knife and a gun and killed him in self defense.
But Martinez grilled her on that timeline.
"Under your scenario, in 62 seconds you get body slammed, you do whatever you do but you get away," he said. "You run down the hallway, you go in the closet, you grab a gun, you back up, you shoot Mr. Alexander.
"After you shoot Mr. Alexander, you pick up the camera…and he's already down the hallway with his throat slit."
"All of this in 62 seconds?"
"No, that's not what I'm saying," Arias replied curtly.
But Martinez underscored his point saying: "Given the time restraints here, and the fact that you didn't know where the knife was, it would have been impossible for you not to have the knife with you when the attack happened…"
Arias once again told the prosecutor that she has memory lapses — and while she does remember grabbing the gun from the closet, she can't remember stabbing Travis.
The case continues Thursday. Watch Jodi's return to the witness stand live on RadarOnline.com.