'Were You Crying When You Cut His Throat?' Jodi Arias Sobs As Prosecutor Grills Her On Killing Travis Alexander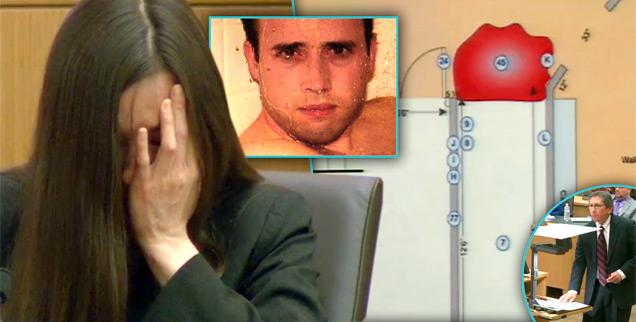 UPDATE: 5:00 PM EST Jodi Arias claimed that Travis Alexander cursed and threatened to kill her after she shot him. Under cross-examination she repeated her earlier testimony from direct examination where she claimed to not remember stabbing her ex boyfriend. "At one point I remember dropping the knife and screaming," she said before the afternoon break.
UPDATE: 4:25 PM EST The judge told the jury to leave the courtroom for "approximately five minutes" and then asked the cameras to stop recording. This happened after prosecutor Juan Martinez tried to get Jodi Arias to stand and demonstrate how Travis Alexander charged at her during the encounter that led to his death, per her previous testimony. Martinez spent much of the afternoon session on the logistics of how Alexander allegedly chased Arias, and pointed out that at 5-foot-6 she would have needed to step on a closet shelf to retrieve the gun from where she claimed it was -- but nothing in the closet appeared disturbed. The prosecutor alleged Arias brought the gun into the home and also said there was no stippling around the bullet wound, meaning Arias did not shoot her ex boyfriend at point blank range. After a brief delay, the trial resumed and Arias demonstrated for Martinez how Alexander crouched while allegedly charging her. The morning session on Thursday was perhaps the most dramatic segment of testimony. Here are those details:
Article continues below advertisement
"Were you crying when you were shooting him?
"Were you crying when you were stabbing him?
"How about when you cut his throat, were you crying then?
Prosecutor Juan Martinez efficiently and forcefully took Jodi Arias through the last minutes of Travis Alexander's life, ending the Thursday morning court session with a series of questions that left the murder defendant sobbing.
Arias, 32, removed her glasses and her too-cool demeanor cracked as Martinez reminded her, "You're the one who did this right? And you're the same individual that lied about all of this right?"
It was high drama in the Arizona courtroom as Arias answered in the affirmative, apparently shaken by Martinez showing a photograph of Alexander's partially obscured dead body in the shower.
Leading up to that dramatic moment, Martinez tried to pin down her exact location as she took photos of the victim in the shower. Arias claims that her ex-boyfriend flipped out when she dropped the camera, stepped at least partially out of the shower and body slammed her to the tile floor.
Article continues below advertisement
She says she killed him in self defense after running down a hallway and into a closet where she grabbed a gun.
But Martinez tried to poke holes in her story about where she was standing while taking photos of Alexander and also at one point attempted to suggest it would be physically impossible for Alexander, 30, to body slam Arias if he was still half in the shower.
The defendant, who faces the death penalty, appeared less self assured on Thursday, although she sparred with the prosecutor early with phrases like, "I'm not saying that," and "I don't remember."
But the trial's most dramatic moment came after Martinez cast doubt that Arias would be able to get up from a body slam and outrace the athletic Alexander down the hall.
After getting Arias to admit she couldn't see Alexander's face after he allegedly threw her to the ground, the prosecutor then peppered her with questions about her exact location in the bathroom.
"You're telling us that he can't catch you," Alexander asked.
Article continues below advertisement
"That's not what I'm saying," Arias responded.
But within minutes, Martinez had scored his biggest points, leaving Arias in tears at the break.
Stay with RadarOnline for the latest on the trial and you can watch the livestream here.
Below is a diagram Martinez used, showing the hallway and closet outside of Alexander's bathroom -- an area where Arias says she ran. Beneath the diagram watch video of the session's most dramatic moment, with Martinez reducing Arias to tears.