Matt Damon Gets His Revenge In Star-Studded Jimmy Kimmel Live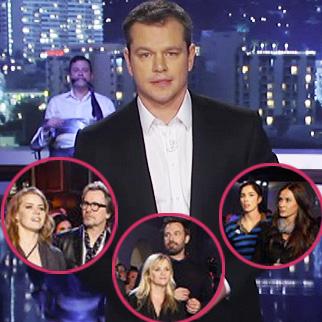 BEST. KIMMEL. EVER.
Matt Damon had his 'revenge' on Jimmy Kimmel Thursday night, hilariously taking over hosting duties as a bound-and-gagged Kimmel sat in a chair in the background helplessly watching.
"There's a new host in town and his initials are M.D.," Damon said at the beginning of the show. "That's right, the doctor is in."
For years, Kimmel has joked at the end of his show that he ran out of time and was unable to bring Damon on as a guest. In his opening monologue, Damon said he was bumped "1,205 times." As part of the gag, Damon 'fired' Kimmel's sidekick Guillermo, replacing him with Andy Garcia, and he sidelined Kimmel's bandleader in favor of Sheryl Crow.
Article continues below advertisement
"I've been waiting for this moment for a long, long time," Damon said. "This is like when I lost my virginity, except this is going to last way longer than one second."
Robin Williams also made a special cameo, helping Damon - who cracked that he can't tell a joke - with his monologue.
youtube
Damon's first guest was Nicole Kidman, making her very first appearance on the show. "He's not classy… I mean he ( bleep) sucks," Kidman quipped, before 'admitting' she's a kleptomaniac.
Damon brought Silverman on as his final guest Thursday night, with Kimmel looking on as she likened their five-year relationship to an unfortunate trip to a hot dog vendor.
"Is there anything you'd like to say to Jimmy?" Damon asked.
Article continues below advertisement
"No, I'm good," Silverman replied.
youtube