Maxim Readers Crown Jennifer Love Hewitt Mag's Hottest Cover Girl Ever!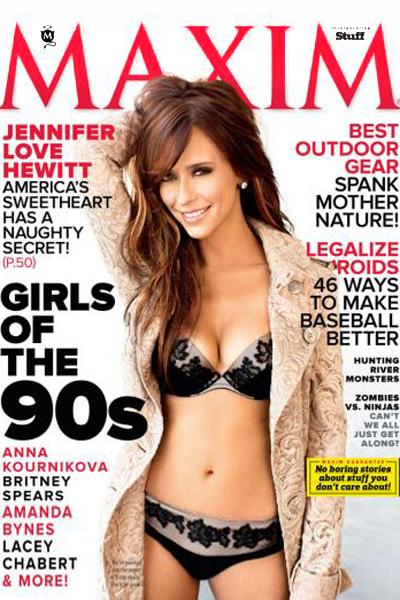 Wrapping up competition to commemorate Maxim's 16th anniversary, Jennifer Love Hewitt beat a who's who of Hollywood hotties to capture the title of Sexiest Cover ever for her April 2012 spread, as voted on by thousands of the magazine's readers.
"Oh my God, I'm so excited, I think it's really awesome, I'm such a big fan of the magazine," the 34-year-old sex symbol, who triumphed over Christina Aguilera, Jessica Alba, Olivia Wilde and Mila Kunis for the honors, told the magazine.
Article continues below advertisement
"At 34, to be considered sexy is a big deal," Hewitt told the magazine, laughing. "Because you start to wonder.
"I promise to keep it sexy," the former Party of Five star said, adding, "I want another cover! I've done four, and I think I've got a good seven covers left."
Asked what her favorite body part is, The Client List star kept it consistent.
"Still my boobs!" the busty star said, which comes as no surprise a day after she remarked that they're worth $5 million.
MORE ON:
Jennifer Love Hewitt
Watch the video on RadarOnline.com
The Client List airs Sundays at 10/9c on Lifetime; Maxim is on newsstands now.