Unlucky With Love! 10 Celebs With The Worst Relationship Histories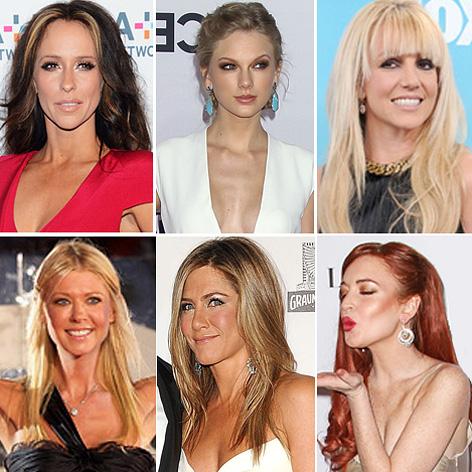 They may be rich, sexy and famous, but that doesn't mean that these stars can keep a man!
From big screen bombshells and reality stars to Billboard chart-topping babes, these female celebrities have clearly been cursed in the love department! RadarOnline.com has photos and details about 10 stars with the worst relationship histories.
Taylor Swift has written a slew of songs about her failed relationships! The country singer, 22, has dated several famous men, including John Mayer, Joe Jonas, Jake Gyllenhaal, Conor Kennedy, Harry Styles and Taylor Lautner, and most of those relationships have ended badly.
Article continues below advertisement
Jennifer Aniston has been involved in several high profile relationships over the years, from Adam Duritz and former fiancé Tate Donovan, but it was her failed marriage to Brad Pitt followed by unlucky romances with Vince Vaughn, Paul Sculfor and John Mayer that really got her a "love curse" reputation. Hopefully things have turned around now though with her recent engagement to actor/producer Justin Theroux.
Paris Hilton has been engaged twice, to Jason Shaw and Paris Latsis, but the never-married heiress' dating resume has more entries than Helen Mirren's IMDB page.
Lindsay Lohan isn't much better when it comes to romances with men – or women! The multiple offender has several strikes on her relationship rap sheet, including Aaron Carter, Wilmer Valderrama, Harry Morton, Sam Ronson and Max George.
Kat Von D has a thing for bad boys, and those things don't usually work out! The tattoo artist has a failed marriage to Oliver Peck, a relationship with Nikki Sixx, and a broken engagement to serial cheater Jesse James under her belt. Von D, who is now with DeadMau5 broke up with the music producer in November 2012, and then accepted his Twitter proposal the next month.