Jennifer Love Hewitt On Her Breast Asset: Says Her Boobs 'Are Worth $5 Million'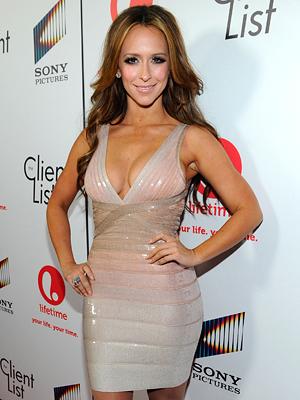 Her breasts are her best asset, Jennifer Love Hewitt is proudly boasting, and The Client List star said she'd love to get them insured for millions of dollars!
The nicely endowed 34-year-old actress, who wears a 36C bra, told USA Today in a video interview, "I need like, an insurance invitation. If somebody was like, 'Hey, you know what? We would like to insure your boobs for $2.5 million dollars,' I'd be like, 'Do it. Love it! Why not?' " She pointed to her chest and laughed, "These things right here are worth $5 million!"
MORE ON:
Jennifer Love Hewitt
Article continues below advertisement
Hewitt, now on her second season of the sexy Lifetime show The Client List, in which she plays a mom-turned-prostitute, also revealed that her 86-year-old grandmother "loves to call me the TV ho. She thinks it's hysterical...I get to rub abs for a living."
But fans expecting that Hewitt is just as sexy at home will be disappointed. "I've cut down on the lingerie in my own life because I wear it all the time. So it's like I don't want to go home and even think about another cute bra and panties set. I'm over it!" she said.