Jennifer Love Hewitt Says Her Breasts Are 'King Kongs!'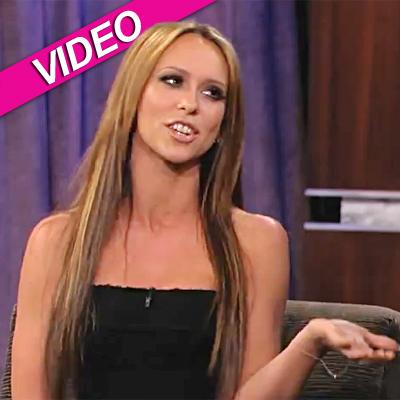 To promote Jennifer Love Hewitt's sexy new Lifetime series The Client List, the network erected billboards featuring her busty frame, which wasn't lost on Jimmy Kimmel.
"It's a little odd, but it's cool," Hewitt told Kimmel on Wednesday night of the revealing billboards. "I feel I'm gonna be sad now when they're taken down."
"It's sad for all of us," Kimmel told the gorgeous Texas native. "We're considering filing suit."
Article continues below advertisement
On The Client List, the 33-year-old actress stars as a massage parlor maiden, hence the sexy advertisements. Kimmel said one of the billboards was stationed outside his Hollywood studio, and provided him plenty of food for thought when he stared at it.
Then, Kimmel said before the ad outside his office was removed, he saved a piece -- and gifted the actress with a portion of the billboard that focused on her cleavage.
"They're like King Kongs! Seriously, that looks like a horror movie blown up," Hewitt said.
"Not to me it, doesn't!" Kimmel joked.
The Party of Five star has been past romantically linked to funnyman Jamie Kennedy, actor-director Alex Beh and actor Jarod Einsohn, but is currently single.
The Client List airs Sundays at 10/9c on Lifetime.