Jennifer Lawrence: Thanks Lindsay, But I DON'T Hate Meryl Streep!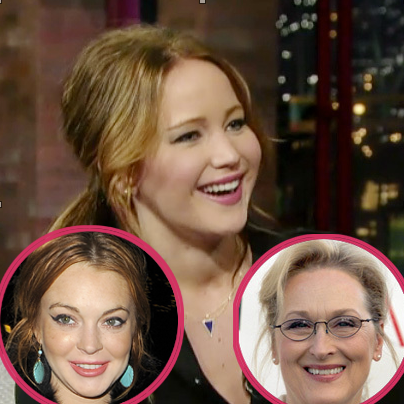 Jennifer Lawrence clarified her feelings toward Meryl Streep -- she doesn't hate her, and is actually quite fond of her -- on Tuesday's edition of the Late Show With David Letterman, and we've got all the details for you right here on RadarOnline.com.
Lawrence, 22, called Streep "the best and the greatest" actress, just days after she beat the Hope Springs star for the best actress Golden Globe, and declared in her acceptance speech, "Oh, what does it say? 'I beat Meryl!'"
Article continues below advertisement
Asked about her Streep comment, the beauty made it clear the statement was a Bette Midler quote from The First Wives Club, the 1996 comedy also starring Goldie Hawn and Diane Keaton.
After Lawrence made the reference in her speech, a not-in-on-the-joke Lindsay Lohan tweeted that "no1 should ever mess with a legend, such as Meryl Streep."
Watch the video on RadarOnline.com
"I had no idea Lindsay Lohan would take to the Twitterverse to complain … Twitter is very upset," Lawrence said. (She joked that she doesn't have a Twitter page and doesn't understand the appeal of it, sharing random non-sequiturs about topics such as one's "anal leakage.")
"First of all, it's Meryl Streep! You can't offend Meryl Streep!" Lawrence said.
Asked if she's spoken with Streep following the award show, the Louisville, Kentucky native said, "I don't know if I want to -- I'm nervous ... I wanted to make a public statement, like 'Hey idiots. It's a quote from a movie!'"
"As if I've had my eyes on getting that girl forever."
History supports her claims: In a Vanity Fair interview prior to the Golden Globes, the Winter's Bone star recalled an incident in which Streep left her starstruck.
Article continues below advertisement
"Once I'm obsessed with somebody, I'm terrified of them instantly," she told the magazine. "I'm not scared of them -- I'm scared of me and how I will react. Like, for instance, one time someone was introducing me to Bill Maher, and I saw Meryl Streep walk into the room, and I literally put my hand right in Bill Maher's face and said, 'Not now, Bill!' and I just stared at Meryl Streep."
Elsewhere in her Letterman chat, the Oscar-nominated actress said she honed her acting skills as a child, when she was "a big liar.
"I was just like a pathological liar when I was a kid," the successful actress said. "I just always lied about everything and I think it was partly I just wanted to one-up somebody."
When Letterman told her she should have been cast in the also critically-acclaimed Zero Dark Thirty, Lawrence said, "I should've been in the background like, 'Yeah, catch him! Obama!'
"Obama?! I mean Osama...Bin Laden! Don't catch Obama! Sorry. Sorry, Mr. President!"
Jennifer currently appears in the film Silver Linings Playbook, which is in theaters now.
youtube
Jennifer Lawrence's Golden Globes Speech