'The Queen Of Versailles' Tragedy: Parents Blame Film For Daughter's OD Death
Article continues below advertisement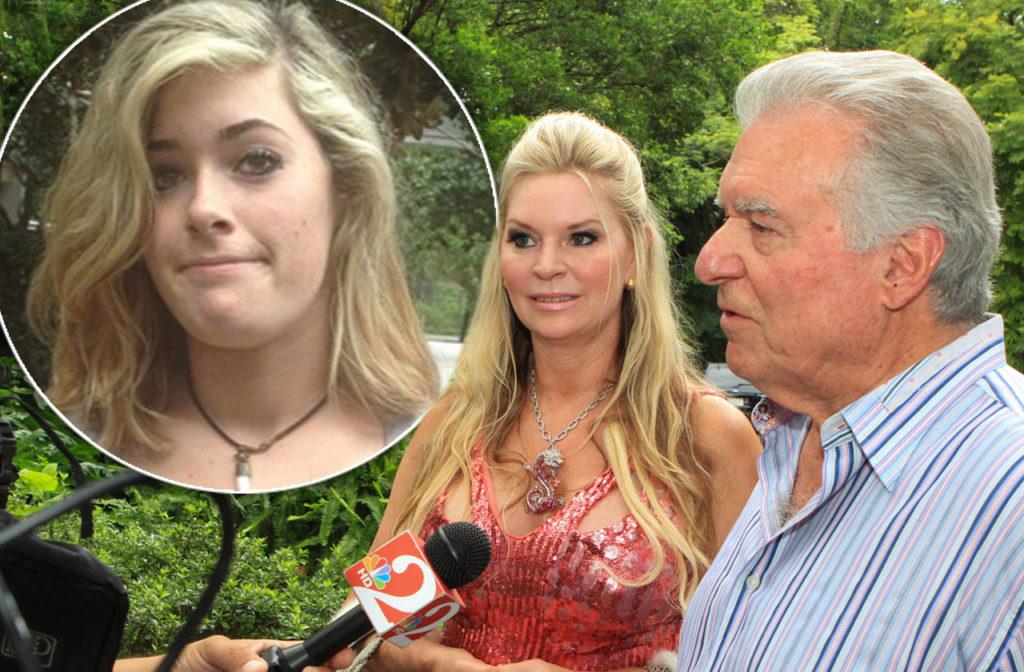 To honor the teen, Jackie and David have published a book, "Victoria's Voice: Our Daughter's Losing Battle with Drug Abuse," about their daughter's struggle and tragic end. In it, they included pages from the teen's diary and chilling images and poems she illustrated while battling her demons.
In an emotional interview with ABC news, the parents open up about Victoria's secret life as a recluse addict and divulge the last words she wrote them before her death. They also reveal their new mission: to stop the opioid crisis once and for all.
Jackie says Victoria was a happy girl up until she turned 15 and the family got involved in The Queen of Versailles. She began to suffer from anxiety and to be bullied in school about her weight and her wealthy family's lifestyle.
"That was kind of the beginning of the end for Victoria. That movie embarrassed her, she was kind of on the chubby side at the time," says David in the interview.
He added that the teen started going on crash diets to slim down.
Article continues below advertisement
"All the money in the world can't bring my daughter back," Jackie tells ABC. "It felt like a dark cloud came over our family."
Victoria's diary features an entire page scribbled with the word "pills" and the phrase "I love pills."
"She was obsessed," says Jackie, getting emotional.
RadarOnline.com readers know Jackie and David's show focused on their lavish goal of building the largest mansion in America for them, their eight kids and their many pets. Construction of their dream home came to a halt when the 2009 financial crisis hit. Their heartbreak was immense, but not as immense as the pain they experienced when learning of their eldest daughter's fatal overdose.
Article continues below advertisement
"She was a very sweet girl," says David. "She had a lot to live for."
About a month before her passing, Victoria told her parents she had a problem with Xanax and spent a week in rehab, but it didn't stick. Sensing she could die at any moment, Victoria texted her ex-boyfriend a letter to give to her mother, only after she died.
In the interview, Jackie sobs while reading the heartbreaking text.
"I just fell into a deep sleep dreaming sweet dreams and knowing how much you love me and I'll always be with you. Take my journal in my nightstand drawer. The fat one I always use. I've never shown anyone my journal but there's no one else I would rather pass it onto than you. My business is everyone else's business now and I'm ok with that mom ? hey maybe you can publish my teenage journal and bump up your career," reads the beginning of the text. Victoria then goes on to assure her mom that she will always be with her, watching over her in peace.
Ever since Victoria's untimely death, Jackie and David have focused on bringing awareness to the opioid crisis and helping people in need.
"We never thought in a million years that she would be doing drugs," admits Jackie, adding that while she doesn't regret doing the controversial documentary, she wishes she had been more present for her daughter.
David says that the day after Victoria's funeral, he told his executives to take over his timeshare empire, Westgate Resorts, so he could concentrate all his efforts on solving the drug epidemic.
Article continues below advertisement
The two started the Victoria Siegel foundation to help struggling teens and their families. So far, they've raised millions of dollars and have contributed to the production and distribution of Narcan, the drug that saves victims while they're overdosing.
A great part of what they do is also educate families, teens and parents on the dangers and many sides of addiction.
"If I had known what I know now back then, she'd still be alive," says David of daughter Victoria.
We pay for juicy info! Do you have a story for RadarOnline.com? Email us at tips@radaronline.com, or call us at 800-344-9598 any time, day or night.