When Good Deeds Turn Sour! Man Threatening To Sue Kindhearted Woman Who Reunited Him With Impounded Dog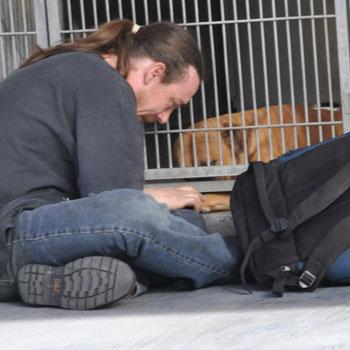 Article continues below advertisement
When Thomas was released he tried to pick up his beloved pooch from the shelter - but couldn't afford the $400 fee to get his pet out, KABC reported, via Huffington Post.
However, as Thomas was struggling to come to terms with his plight, and the loss of his canine companion, Maria Sanchez, a photographer at the shelter, took a snap on her camera that pulls at the heartstrings.
"He was pouring water into his dog's water bowl, his dog sat there and licked up the water for about a minute, he sat down next to him and started weeping," Sanchez told KABC.
Realizing she had to act, Sanchez posted the picture on Facebook and urged strangers to help Thomas. She didn't have any contact details for him, so she posted messages online, as well as drove around town posting flyers asking for help to ID Thomas.
Donations poured in for the sob story. And on Monday evening, KABC identified Thomas and put him in touch with Sanchez, who told him that the cost of getting Buzz back was covered.
Article continues below advertisement
"God bless you darling," he said over the phone.
But sadly now, this heartwarming tale has turned sour.
Thomas has threatened to sue Sanchez for not handing over the rest of the cash that was left over from the donations after the shelter fee was covered.
In an alleged voicemail to Sanchez, Thomas says: ""You are dead wrong and I will be getting in touch with the lawyer and if you do anything with my money that is slander one, embezzlement two…what's the other one? Oh grand larceny because it's over $1,000.
"I am clean that's why the cops let me go."
Meanwhile, Sanchez has vowed that she will not be giving Thomas or his wife "One single penny," and will return the leftover cash to the kindhearted people who gave it.
"What I will do is refund the money that was donated to Dave," she says.