Newtown Parents: Glee School Shooting Episode Came Too Soon After Real-Life Massacre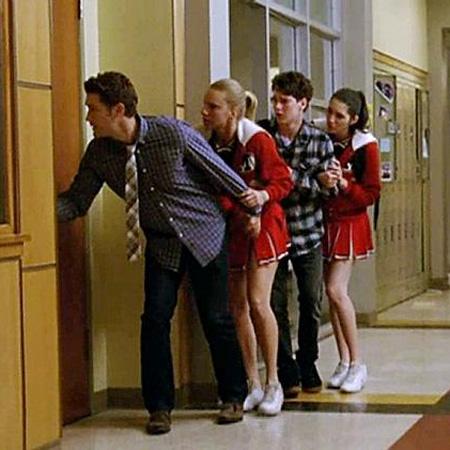 Fox's Glee is being criticized by parents in Newtown, Conn. for Thursday night's episode Shooting Star, as it chronicled a school shooting less than four months after the massacre at Sandy Hook Elementary School.
"We're going through a healing phase right now and without giving us any kind of warning, it's going to open up wounds we're trying to close right now," local parent Andrew Paley, who found out about the content from a friend in the industry, told the network.
Article continues below advertisement
"I think it's terrible that the writers and producers of that show didn't think to contact someone in Newtown to let us know this was coming," he told the local paper, the Bee. "A lot of people watch that show. They shouldn't be upset by it."
Prior to the episode airing, local superintendent of schools Janet Robinson issued an e-mail to parents warning them of the show's content.
"I want to make you aware that the show Glee is featuring what could be a disturbing plot tonight and I want you to be aware so you can make an informed choice about watching this. According to entertainment blog TVLine, tonight's episode includes shots in the halls 'that rips the frothy high-school musical off its foundation and transports it to a dark and harrowing world.'
"Allegedly, the rest of the episode is claustrophobic and emotionally charged, as students cower in the rehearsal room and consider their possible fates. This has the potential to be disturbing to many of our students, so I wanted you to know ahead of time."
Parents in the community reacted with a measure of resentment after the episode aired.
"This close to the tragedy without any warning, I believe was inconsiderate," Tricia Muzzio told NBC Connecticut Thursday.
Article continues below advertisement
The episode "was so realistic that I couldn't believe it," Muzzio said. "I said to myself, 'Wow, this is really how it happened.'
Last week, the show's creator Ryan Murphy -- who has tackled mature topics such as gay relationships, bullying, domestic violence and suicide on his show -- called the episode "the most powerful emotional Glee ever."
Watch the video on RadarOnline.com
Glee airs Thursdays at 9/8c on Fox.