'Mental Issues': All The Latest Details On Gunman Behind Fort Hood Massacre That Left 4 Dead, 16 Wounded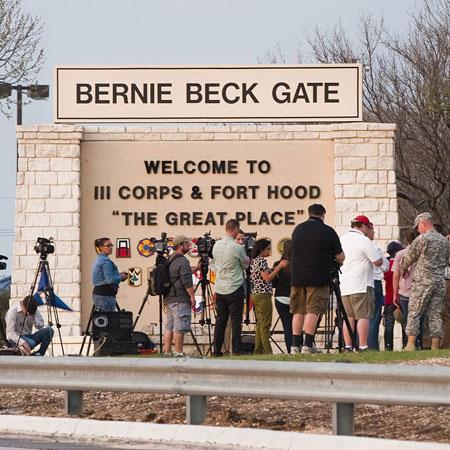 We've got all the latest on the shooting in Fort Hood, Texas Wednesday, in which a gunman carrying a .45-caliber semi-automatic pistol began firing on people, killing four and injuring 16 others prior to taking his own life, marking the second rampage at the military base in five years.
Gunman Identified
Texas Rep. Michael McCaul said that the gunman's name was Spc. Ivan Lopez prior to military officials confirming the man's identity, as his family had not yet been told. The congressman, who acts as chairman of the House Homeland Security Committee, did not disclose any other details as to the man's military history.
Article continues below advertisement
Mental Issues Examined
Lt. Gen. Mark Milley, the top-ranking officer at the base, said that the shooter had asked for, and receiving, counseling for issues including depression and anxiety. He had been taking medication, as well. Officials were also looking into what the shooter experienced during his time in combat — he served four months in Iraq four years ago — and how that might have led to the incident Wednesday. "Obviously, we are digging deep into his background," Milley said. "He was not diagnosed, as of today, with PTSD, he was undergoing a diagnosis process to determine if he had PTSD. That is a lengthy process."
52 Crimes That Shocked The World
Impetus For Attack?
Another key factor investigators will determine to suss out is whether the shooter had any feuds, vendettas or fights with any of those present for the massacre. An anonymous federal official told the AP, "We have to find all those witnesses, the witnesses to every one of those shootings, and find out what his actions were, and what was said to the victims."
Article continues below advertisement
A Closer Look At The Gunman
The shooter originally from Puerto Rico, where he served in the National Guard 15 years ago. He left that organization to join the U.S. Army five years ago, according to Puerto Rico National Guard spokeswoman Lt. Col. Ruth Diaz. He had also banned time in Egypt on a peace-security mission around ten years ago.
Watch the video on RadarOnline.com
Commander-in-chief Reacts
President Barack Obama praised the soldiers of the beleaguered base, where 13 people were killed, and 30 others hurt, in the November 2009 rampage perpetrated by Nidal Hasan, a former psychiatrist for the Army. The president, who was in his hometown of Chicago on Wednesday, said of the troops: "They serve with valor. They serve with distinction, and when they're at their home base, they need to feel safe. We don't yet know what happened tonight, but obviously that sense of safety has been broken once again. Obviously, this reopens the pain of what happened at Fort Hood five years ago. We know these families. We know their incredible service to our country and the sacrifices that they make. Obviously, our thoughts and prayers are with the entire community, and we are going to do everything we can to make sure the community of Fort Hood has what it needs to deal with a tough situation, but also any potential aftermath."