Shooting At Fort Hood Military Base In Texas: One Death Confirmed, Several Injured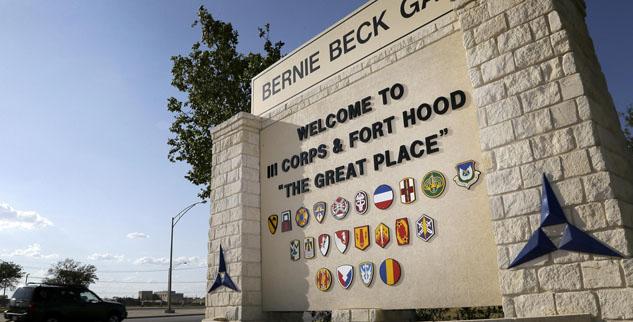 UPDATE 4:55 p.m. -- CNN reports that state and federal agencies have now confirmed four dead, one of which includes the shooter. There are also reports a second shooter could be at large.
UPDATE 5:08 p.m. -- The shooting is not thought to be terrorism-related, and started as a soldier-on-soldier incident.
UPDATE 5:25 p.m. -- President Barack Obama spoke on the shooting out of Chicago saying, "I wanted to just assure all of us, we're going to get to the bottom of exactly what happened... This reopens the pain of what happened at Fort Hood five years ago. Our thoughts and prayers are with the entire community. We're heartbroken that something like this might have happened again... I don't want to comment on the facts until I know exactly what happened. The folks there have sacrificed so much on behalf of our freedom. They serve with valor. They serve with distinction. When they're at their home base they need to feel safe."
Article continues below advertisement
There has been a shooting at the Fort Hood military base in Texas and at least one person is confirmed dead with as many as 15 people injured, RadarOnline.com is reporting.
Staff at Scott & White Hospital in Temple, Texas, has confirmed they are currently receiving patients from the shocking shooting.
The shooter has been confirmed dead, however there may be a second shooter on the loose.
The shooting took place at a medical support building on the base near Waco, and the base's official Twitter account released the following statement: "All personnel on post are asked to shelter in place."
An eyewitness on the base managed to take a 14-second clip of the activity on the base surrounding the shooting with the caption: "Active shooter on post #forthood is locked down check on your #battles keep the injured in your #prayers"
Article continues below advertisement
In the video you can hear a scared child and the loud speaker telling people to "take shelter immediately."
A man who also said he was an eyewitness said about 20 shots were fired in a post motor pool in the area of Motor Pool Road and Tank Destroyer Boulevard, News 10 reported.
It has not been confirmed, but FBI are believed to be en route to the base.
Fort Hood has more than 40,000 personnel on the base, who were all put into lockdown.
The same military base was victim of a Nov. 2009 shooting in which Army psychiatrist Nidal Malik Hasan opened fire, killing 12 soldiers and one civilian, and wounding 29 others before being apprehended.
Hasan now sits on the military's death row.
President Barack Obama is expected to speak shortly on the current Fort Hood incident.