Farrah Abraham's Ex Slams Her Parenting Abilities, Declares She Should 'Set A Better Example' In Raising Her Daughter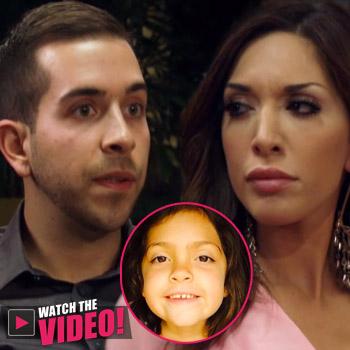 Farrah Abraham's former boyfriend attacked her parenting skills on Thursday night's Couples Therapy.
Daniel Alvarez, who had dated Farrah during her Teen Mom days, appeared on the show to tell the reality star what she needed to change about herself.
Alvarez sat down with Farrah and Couples Therapy therapist Dr. Jenn Berman on the episode, and didn't hold back, advising the reality star to "be honest, true with herself, and to be, foremost, the best mother she can be.
Article continues below advertisement
At first, Daniel told Dr. Berman that Farrah appeared to be "kind-hearted" and that they "had a great time" dating.
Watch the video on RadarOnline.com
But he said she later showed her true colors.
"If you expressed your own opinion, like, 'This is how I think it should work,' that wasn't going to happen. It's like 'my way or the highway,' with her," he said.
According to Daniel, the Teen Mom-turned-porn star couldn't take constructive criticism.
Article continues below advertisement
"I didn't feel like I was being treated properly, like a boyfriend," he said. "I saw something in Farrah that I did not like."
Then Farrah demanded to know what he didn't like!
Daniel obliged, describing her to Dr. Berman as "being extremely rude, no regard for anybody else, very blunt, disrespectful.
"I don't think she notices it."
He then told Farrah directly -- and bluntly -- "How you act with people can be offensive."
When Daniel was through criticizing her in the therapy session, Farrah wouldn't shake his hand, but told him, "Thank you for showing up. I wish you all the best in your relationships."
After Daniel left, Farrah insisted to told Dr. Berman about Sophia, "It's hard for me to hear a lot of what he says. I am always a very good role model in front of my daughter in real life."
Dr. Jenn said being criticized as a mom must be painful but his feedback was the same as what she was getting in the Couples Therapy house. "Your heart has been very wounded and hurt by a lot of people. It's hard for you to step out of yourself."
Article continues below advertisement
In the other major plot-line on Thursday's episode, as RadarOnline.com previously previewed, Jon Gosselin ripped his ex-wife Kate Gosselin to his co-stars, saying she was "a sh*tty human being ... she can f**king die."
Jon went wild after a nasty phone conversation with Kate. And his girlfriend, Liz Jannetta, who has appeared on Couples Therapy with Jon, said of the mom-of-eight, "She's such a b***ch."
Jon raged that after exchanging unpleasantries with the ex-wife who once tried to sue him over a tell-all book, "I need a f**king punching bag."
Luckily, Dr. Berman planned an anger management experience to help Jon and the other stars really let loose.
The Couples Therapy group was taken to a furnished house and Dr. Mike Dow told them to think about their various traumas -- and then tear the house apart!
Former The Real Housewives of Beverly Hills star Taylor Armstrong took herself back to her childhood and not having a father in her life. She attacked objects in the house as though they were her abusive husband, Russell Armstrong, who ended up killing himself.
Article continues below advertisement
Taylor said she felt better after the exercise.
Fiance John Bluher cried for her, but concluded, "She expressed her anger ... it's going to be good for our relationship."
Then Farrah told the therapists that while growing up, she wasn't allowed to make a mess and her parents loved their house more than her!
Farrah told VH1's cameras about Debra Danielson, who had a tense on-camera conflict with her on the last episode, "All I can think about is how my mom cared so much more about a house than our family.
"I wasn't allowed to make a mess."
Nearly Unrecognizable! 20 Shocking Photos Of Stars Without Makeup
She said of a painting in the house, "I just want to break it."
So she did, and yelled, "I don't need that s**t!"
In a therapy exercise afterwards, Farrah addressed Dr. Berman as though she was her mom: "You should care about me. Because I care about you."
Dr. Dow then named one man Farrah had really cared about -- but the show bleeped out his name.
Article continues below advertisement
Farrah recalled that in that relationship, she was happy being who she was and all her insecurities "with my face, with my body, with what I didn't have. None of that f***ing mattered."
The reality TV star recalled that people made fun of her nose and the fact she had a flat chest, perhaps a clue as to the motive behind the major plastic surgery she's undergone since then.
"What you want no plastic surgeon can give you, Farrah," Dr. Dow said.
Farrah admitted, "I know."
Jon then attacked the house with a vengeance to release his repressed rage against Kate.
The father of eight told Dr. Dow in his marriage, he had to pretend "everything's f**king perfect."
Wielding a baseball bat, Jon smacked the dinner table full of food, and then he even took an axe to it!
Hitting the table hard, Jon let expletives, food, dishes, and cutlery fly.
"Ten years of what?" he shouted of his broken marriage.
Article continues below advertisement
As his Couples Therapy co-stars looked on in shock, Jon yelled while destroying the house, "Fake! It's all f**king fake! Everything was fake. All of it. Worthless."
After letting out his anger in the violent exercise, Jon said he felt good!
"I want to be with you," he told new love Liz. "I want you to love me unconditionally."
Liz told the cameras, "It helped me to relate to Jon much better."
Meanwhile, Jon said he had high hopes for making things work with Liz: "I believe we can move on to something better and brighter."
And Jon told VH1's cameras of the moment, "My hand starts sweating! I got really nervous."