Farrah Abraham Celebrates Daughter Sophia's Birthday After Slamming Her Own Parents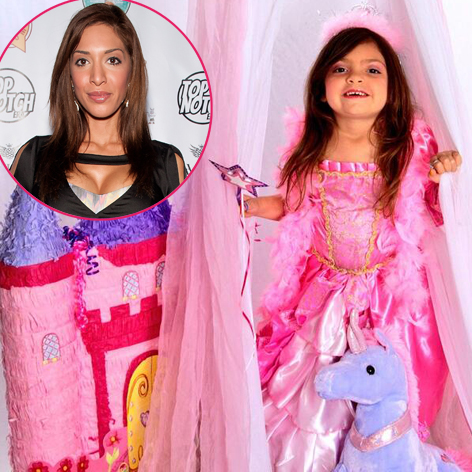 After stirring fresh controversy by accusing her own parents of abuse on Couples Therapy this week, Farrah Abraham displayed her own proud mom side by tweeting an adorable photo of daughter Sophia on her birthday Sunday.
Via twitter, the Teen Mom turned porn star thanked fans on behalf of Sophia, who turned 5 on Feb. 23.
"Sophia the princess says Thank you! For all the #HappyBirthday wishes :)," Farrah wrote along with the photo of Sophia smiling happily in an elaborate pink princess dress with a pink pinata castle by her side.
Article continues below advertisement
Incredibly, just this week, viewers saw Farrah slam her own mom and dad on camera for abusing her. The reality star's mom Debra Danielson appeared on her VH1 show, Couples Therapy, and they had a tense confrontation over Danielson hitting her in the past.
Meanwhile, Farrah has often been criticized herself for neglecting Sophia as she attends porn events to promote her movie Backdoor Teen Mom.
Farrah has retorted on the Sulia blog, "Moms should not have to deal with all the scrutiny when it comes to going out,. I, of course, have heard my overshare from public patrons who either are not parents themselves or just haters who want to ruin someone else's night out (sad but true)."