Elliot Rodger: Mourning Campus Hostile Toward Media, As New Details Emerge About Shooter's Racist Tendencies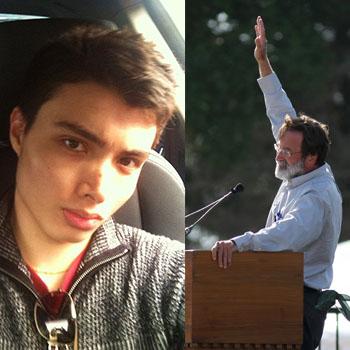 The fallout in the wake of Elliot Rodger's rampage near the University of California, Santa Barbara continued Wednesday, as the community continued to pick up the pieces after the 22-year-old murdered seven people, including himself, and injured 13 others Friday night in Isla Vista, Calif.
As we previously reported, Rodger — the son of Hunger Games second unit director Peter Rodger — cited his lack of luck in romance in multiple videos and a detailed manifesto, uncovering his twisted thoughts and bloodthirsty intentions prior to the shootings.
Article continues below advertisement
Campus In Shock
Makeshift memorials were omnipresent, classrooms were shuttered and flags flew at half-mast at the University of California, Santa Barbara Tuesday, where the college remained in shock over Friday's massacre that left six of its' students dead. UC President Janet Napolitano, in a statement, said that now "is a time for mourning and grieving, and for consoling and supporting each other;" and that "it will take time for our UCSB colleagues to recover and heal from this." At a memorial later, Napolitano said of the victims: "All died much too young, but it's important that we do not let the arithmetic of this atrocity define them."
'Not One More'
Grieving father Richard Martinez, whose 20-year-old son Christopher Michaels-Martinez was killed in Rodger's crime spree, spoke in favor of tighter gun control statutes at a rally attended by thousands on the campus Tuesday. (The gunman Rodger, police said, legally possessed a trio of semi-automatic handguns, and still had hundreds of unused rounds of ammo at the time he commit suicide.) Martinez cited apathy on the part of politicians as a key reason for the mass shooting epidemic, saying, "It's almost become a normal thing for us to accept" the mass shootings, and that politicians "have done nothing" to slow the carnage that resulted in his child's death, before leading a chant of "Not one more." The pained parent also read a statement from two families who lost loved ones in the disaster. The family of 20-year-old Cheng Yuan Hong said, "May we together create a peaceful world and let hatred be gone with the wind."
Article continues below advertisement
Reporter Rancor
The deluge of media has rankled the grieving college common unity, with ten students Monday congregating at one of the makeshift memorials with signs bearing messages such as "News Crews, Go Home!" "This is Our Reality, Not Your Story!" and "Let Us Grieve In Peace." The demonstration was effective, as media on hand fled the area, according to the UC Santa Barbara student newspaper the Daily Nexus. Protest organizer Rose Mertens, a student at the institution, said she felt uncomfortable trying to pay her respects to the deceased "because there was a perimeter of media surrounding the memorial and I didn't want to be filmed." Michael Brito, a psychology major, said newspeople who descended upon the area are "just feeding off this" and that their reports have amounted to "a lot of sensationalizing of an awful tragedy." KEYT reporter Tracy Lehr defended plying her trade though the dire circumstances, saying, "I'm a journalist and that's what I am, I don't know how to do anything else. I'm not going to turn away from this, because something has to be done to make this a nicer place for young people to live."
Obsessed With Race
More evidence of Rodger's racist tendencies have surfaced in the form of a series of posts taking shots at people of black, Indian and Asian descent in his writings. The Southern Poverty Law Center, a watchdog outfit that tracks hate speech, reported that Rodger was a frequent contributor to a forum called PuaHate, where he complained about men of the aforementioned races in romantic relationships with white women. In a a January rant, he wrote: "Today I drove through the area near my college and saw some things that were extremely rage-inducing. I passed by this restaurant and I saw this black guy chilling with 4 hot white girls. He didn't even look good. Then later on in the day I was shopping at Trader Joe's and saw an Indian guy with 2 above average White Girls!!! What rage-inducing sights did you guys see today? Don't you just hate seeing these things when you go out? It just makes you want to quit life." Rodger, who announced he was half-British and half-Asian to fellow forum posters, went on an extended diatribe against an individual who identified himself as Asian, and said he dated white women. Rodger wrote, "Full Asian men are disgustingly ugly and white girls would never go for you. You're just butthurt that you were born as an asian piece of sh*t … you'll never be half-white and you'll never fulfill your dream of marrying a white woman. I suggest you jump off a bridge."
Article continues below advertisement
Watch the video on RadarOnline.com
Political Feeding Frenzy
Anti-gun proponents struck while the iron was hot Tuesday, proposing laws that would imbue judges the power to place a restraining order on gun sales, if police seek it at the behest of the buyer's family. "When someone is in crisis, the people closest to them are often the first to spot the warning signs," explained Democratic Assemblywoman Nancy Skinner, a co-sponsor of the measure. "Almost nothing can now be done to get back their guns or prevent them from buying more." Skinner specifically cited Rodger as a potential poster boy for the would-be law, noting that the shooter's family had made multiple attempts at putting their son on the RadarOnline.com of law enforcement, to no avail. "Here we had a situation where a mother was aware that her son was a danger to himself and others. She tried to intervene."
We'll keep you updated on the latest in this story, right here on RadarOnline.com.