'Couples Therapy' Recap: Fake Farrah Abraham Hoodwinks Whole House In 'Reality' Show Season Premiere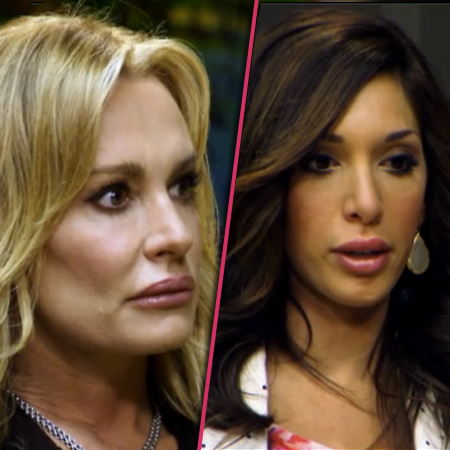 Article continues below advertisement
Even Dr. Jenn Berman seems likes she's been hoodwinked by the adult video star as she makes the decision to allow Farrah to stay in the house without a partner.
"I've been doing this a long time and I've seen it all but this is a first for me," she says about Farrah showing up alone.
Continuing to pretend like she doesn't know what is going on with Dawe, Farrah cries as she explains what happened.
"I was under the impression that I was coming here with a boyfriend, and completely like disappeared. Doesn't return my calls or come here so I don't know, like, where he is or, like, why he isn't here. And I'm so, like, kind of in shock. I obviously am, like, by myself and everybody has somebody here so I'm kind of, like, sad about it."
The former Jon & Kate Plus 8 star arrives with a few extra pounds and his girlfriend Liz, whining that he's being sued by Kate Gosselin, the mother of his eight children in federal court.
But it's Taylor Armstrong's heartbreaking memories of the abuse she suffered at the hands of her late husband, Russell Armstrong, that won't allow her to fully commit to her fiancé, John Bluher.
Ghostface Killa says he is there for his lady, Kelsey Nykole, but he doesn't think he needs it and she disagrees, saying: "I don't feel like what I'm asking for is too much."
The Real L Word's Whitney Mixter & Sara Bettencourt round out the house and open up a season that is sure to be filled with drama, tears and lots of fights.
Couples Therapy airs on Vh1 Thursdays.