'Everyone Knows Kate Gosselin Is An A**hole' & 'No One Gives A F**k About Her,' Says Ex-Husband Jon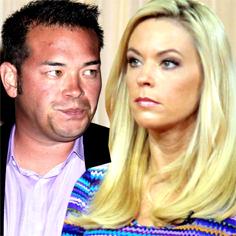 Jon Gosselin is again raging against his ex-wife, Kate Gosselin.
"Everyone knows she's an a**hole, you know what I mean? I don't have to—she's proven that! Kate wants to still be on television. She's now digging into the past, because that's what sells. Too late, honey. No one gives a f**k, really," he told Philadelphia magazine in an explosive new interview.
Ironically, the interview was done on the eve of Jon's return to reality television. He and girlfriend Liz Jannetta are appearing on the next season of VH1's Couples Therapy, premiering January 2.
Article continues below advertisement
But the former Jon & Kate Plus 8 star insists he took that gig only because he and Liz really did need therapy a a couple and couldn't afford it. After filming for just two weeks in L.A., he was back home in rural Pennsylvania where he's the maitre d' (recently promoted from waiter) at the Black Dog Cafe in Stouchsburg, a hamlet of 600 residents.
And he was back to seeing his kids, he says, and not tweeting about it, something that makes him beyond angry when Kate does it.
"She tweets everything. To the world, all about my children," Jon rages.
"I think it's disgusting and awful. They can't even have a normal life."