Cheap Shot! Soccer Player Kicks Ball Boy During Game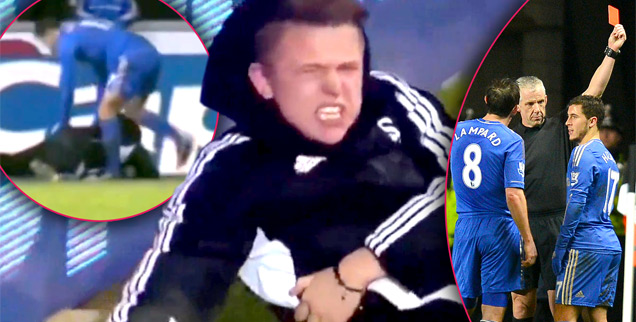 There's controversy across the pond, as soccer player Eden Hazard of the Chelsea Football Club laid in a cheap kick on a 17-year-old ball boy during the team's semifinal loss to Swansea in the League Cup competition Wednesday.
In the game's 79th minute, Hazard was trying to retrieve the soccer ball with time winding down in second leg of the contest. He first tried to grab the ball before laying in a stiff kick to the ball boy's ribs. The boy writhed in pain as players from both sides reacted to the bizarre ball retrieval.
Article continues below advertisement
Hazard, a winger from Belgium, will sit out at least three games for violent conduct, according to The Football Association. He will not be legally charged for the cheap shot.
"There's no defense for that," ex-referee Dermot Gallagher. "Someone said it was borne out of frustration but you have to accept it. It was an extreme, but you can't have that at a football match."
Chelsea FC manager Rafa Benitez was beside himself speaking with reporters in the wake of the kick.
"I do not know what you expect from me," Benitez said. "Do you think we are not disappointed with the situation, that we do not regret what happened? Do you want to change things? We cannot."
Watch the video on RadarOnline.com
The incident has caused a stir in the British media, with journalists riffing off the uncommon occurrence with headlines such Ed Case, Occupational Hazard and Boots of Hazard.
Chelsea FC -- the European championship team -- was plagued by scandal last year as some of its' players, including John Terry and Ashley Cole, were under fire for alleged racism.