425-Pound Man Tackled By Soccer Coach After Attempted Kidnapping of Young Boy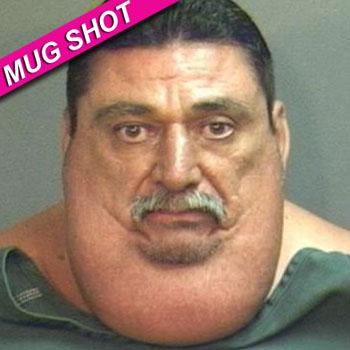 This is one criminal who can't run or hide.
A 425-pound gang member -- with a rap sheet as long as he is wide -- was arrested on suspicion of trying to kidnap a boy on his way to soccer practice.
Victor Joseph Espinoza was arrested after he tried to grab the 10-year-old in Santa Ana, California as he was walking to his game on Friday.
According to KABC the 55-year-old oversized gang member was tackled to the ground by the boy's coach after the youngster escaped Espinoza's grip and told him what had happened.
Article continues below advertisement
"The little boy came crying at me, saying that man wanted to take him," the coach told KABC. "He said that he grabbed him and he started smelling him."
When the coach, who doesn't want his name used, confronted Espinoza, things became physical.
"He goes, 'Oh, I'm leaving, I'm leaving,' and I said, 'No, you're not leaving, we're going to wait for the cops because you did something wrong to that little boy'. He tried to leave and that's when I tacked him down. I'm a parent, I worry about my kids, and I thought that I had to do something."
The Santa Ana resident tried to run but the coach tackled him in the street. While he was unable to detain him, police managed to locate him trying unsuccessfully to hide under a tree.
Santa Ana PD officer Antony Bertagna called Espinoza an "old school, old time gangster" with more than 60 prior arrests over 30 years. Those arrests included the crimes of drug possession, assault with a deadly weapon and attempted murder, he said.
Espinoza is being held on $100,000 bail on charges including false imprisonment and child annoyance.
RELATED STORIES: