Exclusive
Don't Bend It Like Butler! Gerard Was Like 'Bambi On Ice' Playing Soccer In New Movie!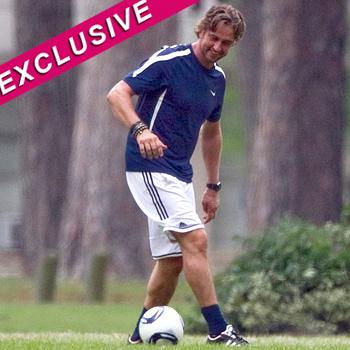 Article continues below advertisement
But, even after the coaching Butler still wasn't up to scratch and a stunt double had to help him out on the pitch.
"When he initially took the movie on, Gerard was very proud of his soccer skills," an on-set source told RadarOnline.com.
"But the truth is he's just too muscular to be a really good soccer player and he looked a bit cumbersome on the pitch.
"There was a group of former soccer stars on set who had the task of training Gerard and improving his skills, but as hard as they tried, and as fit as Gerard is, his coordination with a ball left a lot to be desired.
"One former 1994 World Cup winner even called him Bambi on ice because he was prone to getting the ball stuck under his feet and falling over.
"It was left to a stunt double to really show off his skills and Gerard had to wait in the wings," the source revealed.
Playing for Keeps, also starring Jessica Biel, tells the story of a former soccer star who's fallen on hard times and starts coaching his son's school team as he gets pursued by attractive soccer moms.
Article continues below advertisement
In its first week of release (December 7), it made a poor $6m and was universally panned by critics.
"Witless, unfocused, and arguably misogynistic, Playing for Keeps is a dispiriting, lowest-common-denominator Hollywood rom-com," Rotten Tomatoes website opined.
Gerard will be wondering what he has to do to catch a break – his last movie Chasing Mavericks was a major flop also.
RELATED STORIES:
Gerard Butler's Big Regret: Jessica Biel Is 'The One That Got Away'