Charlie Sheen: Two And A Half Men Is 'Dead,' Implies He's Still Using Drugs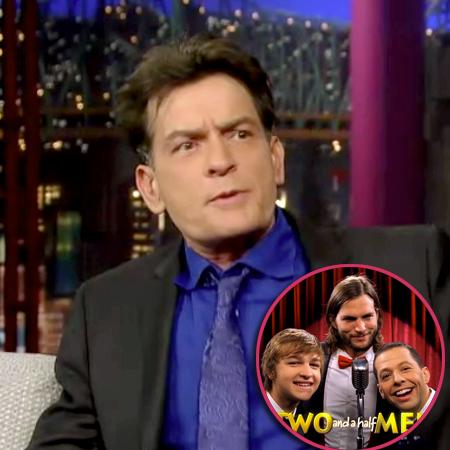 Charlie Sheen, appearing on Monday's edition of The Late Show with David Letterman, said that his former show Two and a Half Men is "dead" without him, and admitted he's not exactly clean and sober these days.
Monday's marked Charlie's first appearance on the CBS late night staple, nearly two years after his well-publicized fallout with the network and Men creator Chuck Lorre, as well as the unprecedented media blitz that followed. Letterman asked Sheen if he was under the influence of drugs -- namely, crack cocaine -- during his cacophony of soundbites.
Article continues below advertisement
"Not during the meltdown," Sheen, 47, said. "During the previous 30 years of my life, sure!
"Here's the confusing part: I wish it was crack cocaine. It wish it was an ocean of vodka, a bathtub full of pills. It was just my brain was kind of separated into itself.
"I just had to take a stand for what I know was right … it was an adrenal ride, I think it was mostly fueled by anger. Good thing I got the new show, Anger Management."
Sheen admitted he's not currently leading a clean and sober lifestyle.
"I don't really believe in that lifestyle anymore cause it doesn't seem fair -- you guys don't want me clean and sober, that's boring!"
PHOTO: Charlie Leaving His Attorney's Office
Asked if he would ever return to his former show, Sheen said he "would like to appear on their final episode," to which Letterman reminded him that his character was killed off.
Watch the video on RadarOnline.com
"I am dead, but so is the show!" Sheen said.
Fun fact: During Sheen's 2011 roast, comic Jon Lovitz joked, "How much blow can Charlie Sheen do? Enough to kill two and a half men."
Sheen appears on FX's Anger Management, returning Thursday at 9/8c.