The Wicked Witch Of Calabasas? Kris Jenner Melts Down After Learning Of Bruce's Golf Renovations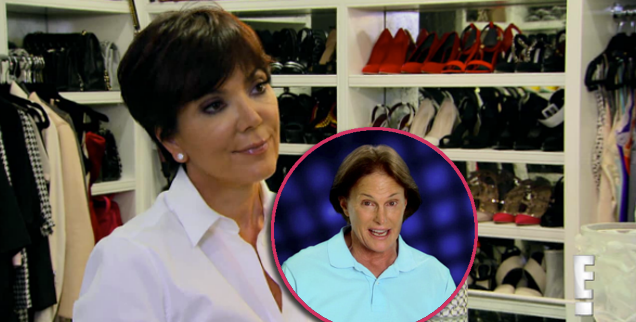 She's melting, she's melting!
Kris Jenner melted down on Sunday night's Keeping Up with the Kardashians after accusing her husband Bruce of thinking she's the Wicked Witch of the West!
The Jenners' troubled marriage showed even more signs of strain as the former decathlete's attempt to have his own golf putting green installed at their house spiraled into a down-and-dirty argument in front of their kids.
Article continues below advertisement
That's what viewers saw on Sunday night's episode, as Kris exploded after coming home from a trip to Paris with daughter Kim to find putting green preparations had been in the works.
As RadarOnline.com has previously reported, Bruce's sons Brody and Brandon Jenner hatched the plan to give their dad a golf practice area at his home with Kris. The boys felt Bruce needed more equality in his relationship with their "Stepmonster," and Bruce and the Kardashian kids enthusiastically endorsed the idea while keeping it a secret from Kris.
When Kris arrived home, Bruce explained, "I've been trying for what, four years, since we've lived here to get a putting green in here? They thought I should have a putting green."
However, Kris fumed: "What bothers me about this whole thing is that you guys would feel you would have to do something and not tell me about it because you think that I'm like the Wicked Witch of the West."
After Bruce tried vainly to interject that he had no space of his own at the house, saying, "It's a fact!," Kris wouldn't stop ranting.
Article continues below advertisement
"I've wanted to do everything that you've ever wanted ever in your life for 23 years but you're making me look like I'm the bad person because I don't want you to have a putting green so I'm not giving you enough space and all you have are these little parts of the house. I've given you huge parts of the house and you don't give a s***," she said.
The momager got so overheated that daughter Khloe intervened, telling her, "It's not just one person's house or the other person's house. We need a happy medium and we're sorry if you feel like we went behind your back."
Kris objected it was "because of the way he paints me!"
"I feel bad," Brandon told her. "The last thing we wanted to do was to create any kind of tension."
"He's like the victim half the time," Kris said, and then mimicked Bruce: "'I'm the victim!' He's not a victim!"
Kris told her husband: "You're manipulating this whole situation and you're making me look bad."
Bruce sighed, "I'm doing absolutely nothing."
Article continues below advertisement
But Kris wouldn't stop, telling the athlete, "You have made not only your kids feel sorry for you but you've made my kids feel sorry for you by the way you paint a picture of me."
Bruce admitted to viewers in a confessional segment, "Kris' and my relationship has been pretty interesting along the way. I'm so easygoing that I just let her do a lot of things and sometimes she does too many things and takes too much control.
"At this point in our relationship, I think it's extremely important that I take some of that control back. How I do that right now I don't know but it's mostly an attitude change in the way I deal with her.
"I felt like a lost control in the whole relationship and slowly trying to get it back is kind of tough, " Bruce said.
Kris insisted to Bruce during her tirade, "I want you to have your heart's desire."
Article continues below advertisement
His son Brandon said directly to the camera, "Now he has a reason to approach Kris and talk to her about an issue that I think has been hanging over their heads."
"You're very strong so I've kind of backed off," Bruce then told her in front of the kids.
Kris claimed, "You're very strong, Bruce!"
"Not with you! Not with you! I'm not. I'm not at all!" he said.
Continuing in his confessional, Bruce said, "Kris is a really a great person and we've had a great relationship for many years. It's going to take a little work. I don't know if you can go that direction. I hope you can but I'm going to try."
At the end of the bizarre family incident, Kris told Brody, Brandon, Rob, and Khloe, "I'm sorry I overreacted but he always makes me look like an a**hole. And I don't want to be the a**hole. I don't want you guys to feel you have to hide stuff."
"He doesn't stick up for himself at the house sometimes," Brandon explained to Kris. "I think that's the main issue."
Meanwhile, Brody, whose strained relationship with Kris took center stage on KUWTK recently, told her, "We messed up a little bit. We'll take the blame." (He even hugged his "Stepmonster!")
Article continues below advertisement
"I love you guys," Kris said -- to the kids! -- at the end of the episode.
But when Sunday's show opened, Kris told Bruce they were going to remodel a room to make a nursery for Kim and boyfriend Kanye West's baby in their home. The show had previously detailed Kim's decision to move back in with mom while she waited for the child's arrival.
"She needs us right now," Kris told the family.
Kris also warned Kendall and Kylie, her daughters with Bruce, that they couldn't bring friends over because everything had to be quiet and serene for the baby.
Bruce was crestfallen to see all of Kim's new strollers and other baby gear taking up room in the Jenners' garage.
"'We've already had all our babies," Bruce muttered.
"I'm getting tired of it. There's nothing for me here."
Kendall wasn't so happy about the new living arrangements, either! She confided to her sister-in-law, Brandon's wife Leah, that she wanted to get a house of her own in Malibu!
Model Kendall, who had been planning to move out when she turned 18, decided 17 was soon enough!
Article continues below advertisement
But mama Kris wouldn't hear of it.
"I've been looking at houses by the beach," Kendall told her mom.
"It's not going to happen," Kris said.
However, Kris realized that Kim moving in meant less space for Kylie and Kendall, and later, told them she'd rented them a Malibu beach house for the summer which they could use as a getaway with their dad.
After Kylie told Bruce the surprise house news, he felt bad about going behind her back with the putting green--and called off those plans.
But it was too late, as Kris saw a tractor moving dirt in their backyard and then had her mega meltdown!
In another eyebrow-raising storyline on the show, Khloe, who, as RadarOnline.com readers know, has been facing reports of her husband Lamar Odom's serial infidelity, was shown doing a sexy acrobatic photo shoot for him for their anniversary!
"I really want to do something special for him," Khloe cooed. "I love my Lammy so much. I feel like my honeymoon phase has never ended."
Article continues below advertisement
RadarOnline.com readers will surely wonder if the honeymoon's over after our reports about Lamar's alleged other women, but on the Kardashians' reality show, even Lamar's farts smell sweet to Khloe!
"Love is seriously such a crazy thing," Khloe reflected on Sunday night's episode.
"The fact that Lamar could fart right in front of me and I still love him more and more every day. This is the guy that I married in nine days!"
Khloe got herself all dressed up for her photo shoot in a latex catsuit and confided to viewers that she was trying to look like Halle Berry as Catwoman. But instead, she joked, "I literally look like The Penguin."
"I can't move in it," Khloe told her friend, Malika Haqq, of the odd costume. "It smells so bad."
Although she had second thoughts about taking the sultry anniversary pictures for her husband, Khloe finally decided to go through with the shoot, and hung upside down on a swing in neck-to-toe latex.
Article continues below advertisement
"I don't feel sexy," she complained. "I feel like a circus clown reject."
But after the photographer showed her the results, Khloe changed her mind.
"I love them," Khloe said of the photos. "I do look good and sexy. I'm really proud of these pictures."
Lamar loved them, too!
And in a moment that flies in the face of other women's revelations about sexy trysts with married Lamar, the basketball player said to Khloe, giving her a big kiss, "I love you, girl."
Lamar also said on the show that his life with Khloe "is everything to me. Her taking these photos is healthy, spontaneous."
He described his relationship with Khloe as "beautiful...it goes beyond lovemaking."
Later on the show, all the Jenner and Kardashian kids got together over dinner to affirm they would support plans for a putting green for Bruce.
And, as part of the effort, Kim (who grossed everyone out by displaying her swollen pregnancy feet), decided to invite her mom to Paris while the putting green was built.
Article continues below advertisement
While in the city of lights, Kim and her mom shopped 'til they dropped for what is sure to be a well-dressed tot!
"The Lanvin baby stuff is insane," Kim told Kris.
The reality show queen, who was very pregnant on Sunday's episode, joked about having a glass of wine with dinner but of course didn't imbibe!
Then, during a heart-to-heart chat, Kris revealed to Kim that brother Rob was all her idea!
"I literally had to talk daddy into having a fourth kid," Kris told Kim about her father, the late legal eagle Robert Kardashian.
"One night I came downstairs in a fur coat with nothing on underneath," Kris confided.
Watch the video on RadarOnline.com
"He goes, 'Why are you wearing a fur coat?' And I just whipped it open: 'I think it's time to make a boy.'
"He actually laughed because he thought it was funny and then he went, 'Okay,' and we got busy. That really happened. Sometimes a girl's gotta do what a girl's gotta do," Kris told Kim.
Keeping up with the Kardashians airs on E! Sunday at 9/8c.