Not-So-Real Housewife? Brandi Glanville Questions Lisa Vanderpump's Friendship, Claims She 'Changed When The Cameras Turned On'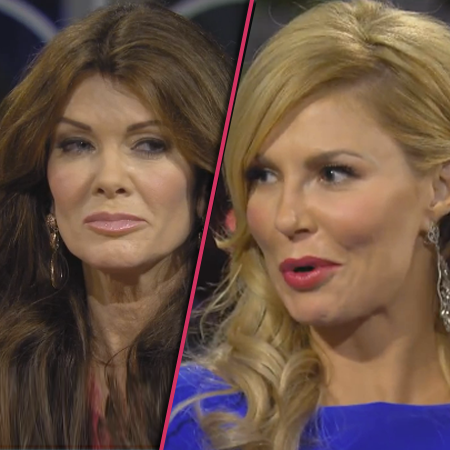 The claws were out during the part one of the Real Housewives Of Beverly Hills reunion on Monday night, as the ladies' main focus was Lisa Vanderpump, as they continued to gang up on her and question her friendship, loyalty and character.
"Was it tough to watch the season?" host Andy Cohen asked Vanderpump.
"I didn't see it coming. I felt mystified and hurt," Vanderpump said of her co-stars' behavior this season, before confronting her one-time friend Brandi Glanville over claims that the restaurant owner and her husband Ken Todd were once bankrupt and lived in Calabasas – a story which RadarOnline.com broke.
Article continues below advertisement
"Today on RadarOnline.com, you said that I use to live deep in the Valley and I filed for bankruptcy," Vanderpump said during filming, once again denying Glanville's claims.
Playing coy, Glanville turned to Kyle Richards for answers: "Kyle?"
"I never said they filed for bankruptcy," Richards shot back at Glanville.
"So Kyle told me you use to live in Calabasas," Glanville said, as Richards interjected, "Ken told me that."
Vanderpump laughed, "I never lived in Calabasas. Ken is from Calabasas. I moved from France to Beverly Park."
Despite multiple denials, Glanville stood by the claims she made on her podcast.
"I was told you use to live in Calabasas, and I looked it up. I paid $9.99, and you did," she fired back at the British beauty.
"We've had many properties here that we've bought and sold," Vanderpump said correcting her. "I didn't live in Calabasas."
Article continues below advertisement
Refusing to back down, Glanville wouldn't admit she made a mistake and turned the tables on Vanderpump.
"Here's what bad about it. When she use to have to come to my house in the Valley, you use to say you need a passport to come over," Glanville said.
Vanderpump told her it was a joke, once again reiterating that she NEVER lived in the Valley.
"Just because you say it, doesn't mean it's true," she quipped. "If I had lived there, I'd say that I lived in Calabasas because I've lived in some far bigger s**t holes than Calabasas."
Next Yolanda Foster called out Vanderpump for only coming to visit her once, while she was bedridden while fighting off Lyme disease.
"My only issue was with Lisa," Foster said. "Going through my battle, it paralyzed a part of my brain. I was locked in the house for 18 months… I felt I had a lot of friends who didn't show up. Lisa and I spoke very little.
"The person I thought was my friend, really wasn't my friend -- I was honestly hurt."
Article continues below advertisement
Vanderpump apologized but added that she'd actually visited her sick pal several times.
Switching topics, Cohen asked Kim Richards about her sobriety. The reality star admitted that this is the first season – out of a total of four in which she has starred – that she's been herself.
"For too long, I felt I had to be guarded and couldn't let loose," she said, referring to her public battle with alcoholism, which played out on the show.
Her sister Kyle Richards also admitted this is the first time viewers are seeing the "real" Kim -- and that despite their past rocky relationship, they're closer than ever today.
"It took a long time. We weren't in a good place before the show and we went through difficult times during the show. Right now, it's like a completely new relationship," Kyle said.
Kim said the show has been "wonderful" for her and is thankful for the fans for their support.
Article continues below advertisement
"It has helped keep me sober and accountable for myself … I love feeling important. You guys have saved my life," Kim revealed.
Later, Cohen started an epic fight, reading part of a controversial blog post Glanville had written about Joyce Giraud and her husband, Michael Ohoven.
"Brandi you said,'The difference between myself and Joyce is that I won't settle. I have to be physically attracted to the men I date. If I just wanted to marry some short, rich guy that promised to make me famous I could have done that long ago,'" Cohen said, reciting the post.
Cohen asked Giraud to respond.
"First of all, Michael isn't short. He's absolutely gorgeous," she said. "I've seen Brandi date short, ugly, old men."
"Have you?" Glanville charged. "No, you have not!"
Giraud responded: "I've seen you kissing a guy when your tampon is hanging out of your private parts."
Glanville laughed about her tipsy night out, stating the man was actually her agent.
"He's a gay man! And don't call him ugly," she said, adding, "I've never dated an ugly man. Sorry!"
Article continues below advertisement
Speaking to Cohen, Giraud continued: "First of all, she barely knows my husband, so for her to say that, she should do a little more research. I do make my own money. I probably make money than her before she married her husband, so if you're saying 'settle,' do your research. I'm a working actress."
"You're acting now," Glanville quipped.
"You're trying to act like a lady, but it's just coming out of your pores," the former Miss Puerto Rico said.
Article continues below advertisement
Later, the women talked about the "Dream Team," which originally consisted of Glanville, Vanderpump and Foster and why their friendship eventually deteriorated over the season.
"The dynamics are real life. It's natural that you aren't lovey, dovey with everybody," Foster said, speaking about her other co-stars.
Glanville went on to explain why Vanderpump had caused a splinter in the group.
"I cared about Lisa a ton. I would love to be perfect, but that's not who I am," Glanville said about Vanderpump and Foster.
Cohen then asked, "Do you doubt that Lisa was really your friend?"
"No," Glanville stated. "I had a role. My role on the show was for her to mother me. I feel like our friendship changed when the cameras turned on… I don't think our friendship was genuine."
She went on the explain that she was hurt when Vanderpump chastised her for drinking this season, saying Vanderpump had been known to throw back a few drinks herself in the past when the other ladies weren't around.
Article continues below advertisement
"I don't get drunk. You can't insinuate," Vanderpump said, going on to explain that her "mothering" was only because she cared about Glanville's well being. "I didn't want the world to see you drunk. I didn't want the world to see you drinking."
"My frustration is I want consistency... Don't point it out on camera," Glanville told her Vanderpump.
As the feuding and eye rolling continued, Cohen asked Vanderpump: "Can you take it like you can dish it?"
Jumping in, Foster weighed in once again about her friendship with Vanderpump.
"It's not that you're more or less perfect than anybody here. All of us make mistakes and need to acknowledge. You were going around saying you were a really good friend of mine, but here I am locked in the house for 18 months and you came to see me once," Foster said.
She continued: "We didn't move on because every time I tried to have a conversation, you would minimize it."
Article continues below advertisement
Defending herself, Vanderpump blamed the Lyme Disease for Foster's forgetfulness.
"I did go down a couple times. Do you remember that? I know I'm overloaded. I don't have the time to do everything I want to do and am struggling to stay afloat. But I'm sorry you felt like that," she said.
"I wish you would have said that to me seven months ago. Yes, I may have been more sensitive or may not remember things completely, but I come from a place of good intention," Foster said, as the two appeared to patch up their friendship.
Ending Part 1 of the RHOBH reunion, Cohen joked, "I feel like by the end, you're all going to be hugging."
What did you think of the RHOBH reunion Part 1? Tell us below!