The Scandal Over Lisa Vanderpump 'Bankrupt' Claims: Costar Kyle Richards Denies She Was Leak Of False Information, Says Antagonist Brandi Glanville 'Misunderstood'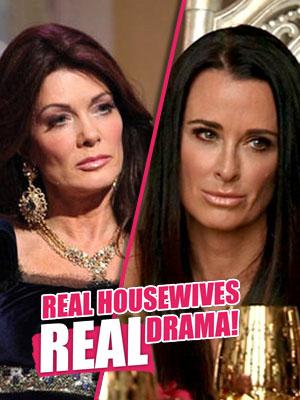 Article continues below advertisement
"Brandi must have misunderstood an innocuous conversation we had in which we discussed the fact that Ken himself had made a speech at a party in their home where he said that he and Lisa had owned businesses and properties in Calabasas and discussed the course of their journey," Kyle wrote, insisting this was not "classified" information.
As RadarOnline.com previously reported, Brandi blabbed about her accusations, saying: "The one thing I do want to clear up is that I don't know if Lisa and Ken lived in Calabasas and filed for bankruptcy. Kyle Richards told me, I looked it up and on this site where you pay $9.99 it said yes, they lived off Mulholland drive in Calabasas."
Richards professed to have no knowledge about any intentions to file for bankruptcy.
"The other claim made did not come up in this conversation and is not something I have heard," she said.
The Craziest & Most Outrageous Celebrity Rumors — What's True, What's Not?
Trying to mend fences and take herself out of Vanderpump's line of fire, Richards heaped praise on her British co-star.
She said, "For all the issues that Lisa and I continue to work through, I have tremendous respect for the hard work and success they have achieved in their life together."
As we reported earlier Monday, Vanderpump is not backing down and has demanded Glanville retract the statement.
Who do you believe -- Kyle or Brandi? Tell us in comments.