'I Give Up!' Lisa Vanderpump Declares She's Done Defending Herself Against 'RHOBH' Frememies Kyle Richards & Brandi Glanville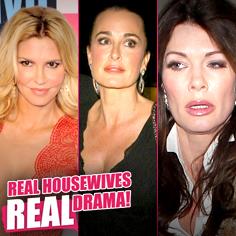 Lisa Vanderpump was shocked to see Brandi Glanville and Kyle Richards gossiping about her on Monday night's Real Housewives Of Beverly Hills.
Even more so, Vanderpump was left wondering why Richards didn't defend her against Glanville.
"When I witness Brandi talking to Kyle I find it so upsetting. I wish Kyle had questioned Brandi's motive for that conversation or even uttered a word in my defense," Vanderpump wrote on her Bravo blog.
Article continues below advertisement
During the episode, Glanville said she felt betrayed by the sexy restaurateur and wondered if she'd become Vanderpumps's mouthpiece.
The Craziest & Most Outrageous Celebrity Rumors — What's True, What's Not?
"I just don't understand how she can go from hating you to having you back," she said. "I was being manipulated into doing and saying things, that I didn't want to f*cking say … I'm starting to wonder if I was doing my dirty work for her… She is playing all of us."
Richards agreed, adding, "When I've spoken up to Lisa, she has punished me and shut me out. Unless you're kissing Lisa's a**, she doesn't like it."
After Vanderpump's reputation came under fire, she vented that she didn't sign up for the "constant negative B.S."
"It is pretty devastating to view this person that we have loved and trusted trying to malign me.
"I give up. I really do. It has been devastating, and it gets increasingly hard to watch. I have tried to be a friend to all," Vanderpump added.