Lisa Vanderpump Reacts To Co-Stars' 'Petty & B*tchy' Trash Talking: 'This Is The Toughest Year Of My Life'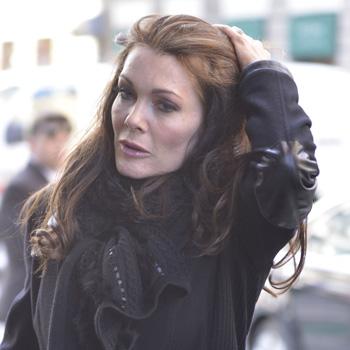 Lisa Vanderpump has become the resident punching bag on The Real Housewives Of Beverly Hills – but she's trying to stay strong during what she calls "the toughest year" of her life.
In a new interview with Star, on newsstands Wednesday, the 53-year-old British beauty admits she's feeling the heat but doesn't understand how she suddenly became everybody's enemy.
"It was tough. The other Housewives definitely succeeded in making things difficult for me — but I won't be affected by their petty, b-tchy remarks," Vanderpump says.
Article continues below advertisement
"I believe that tweeting is a great way to communicate with fans — not a good way to put down your castmates. It would be easy for me to say something bad back to these people, but if it comes to that for me, there is no point anymore in continuing on the show.
Lisa says her fans are helping her keep things in perspective.
"The viewers have been so supportive," she says. "They're getting me through all of this.
"Being attacked really has been tough, but for the most part I feel lucky. I try not to take myself too seriously," she added.
For more on how Lisa is coping with the sex-crazed crew at her restaurant Sur and the daily dramas on The Real Housewives of Beverly Hills, pick up the latest issue of Star Magazine, on newsstands now.