(Fragile) Peace At Last! Brandi Glanville Buries The Hatchet With Joyce Giraud On 'RHOBH'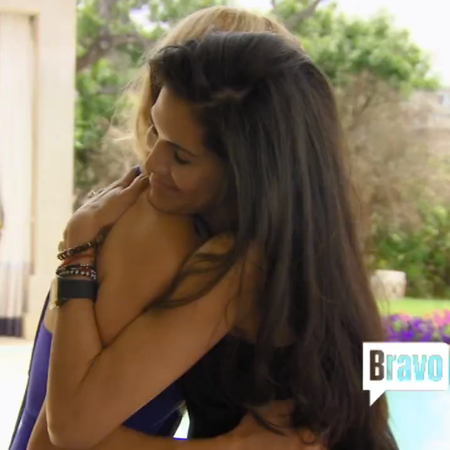 After months of feuding, Brandi Glanville and Joyce Giraud appeared to temporarily bury the hatchet -- and not in each other's backs!
On Monday night's episode of The Real Housewives of Beverly Hills, the feuding co-stars exchanged more heated words before Brandi tried to apologize for her recent actions.
"First off, I may say stupid things sometimes, but I'm not a racist. Second, I may have been a b---h to you in Palm Springs, but I'm not a bully. And lastly, to say I'm an alcoholic because I got drunk on vacation, is just not true," Brandi said.
Article continues below advertisement
"First off, I'm not saying you are a racist. It was a racist comment. You have to admit it," Joyce said.
"It was a stupid comment," Brandi said. "I apologize if I offended you."
"You've been despicable," Joyce adds, saying once again that Brandi is a "bully," who has been "viciously attacking" her.
"Let's just agree. I don't like you. You don't like me… If I was a bully, I would have knocked your f---ing teeth out by now," Brandi yelled.
But after cooling down, Brandi and Joyce appeared to apologize for their actions – clearly coming to a stalemate.
"I'm sorry for what I said to you. I'm none of the labels you've called me and find it incredibly rude and judgmental," Brandi told Joyce.
"I'm sorry if I hurt you. I'm woman enough to admit my mistakes," Joyce said, telling the cameras, "I hope this isn't just a Band-Aid."
Brandi -- awkwardly hugging Joyce -- joked: "Now let's have some shots of tequila."
Article continues below advertisement
In a more lighthearted moment of the show, Carlton Gebbia decided to take a pole dancing class with Brandi and her nanny, Elizy.
Carlton, who admitted to drinking tequila before the class, got down and dirty with her co-stars.
"Drinking and pole dancing don't mix for me," Brandi added, "Carlton may have been over served. I'm a little jealous."
After the instructor showed off a few moves, Carlton -- a self-proclaimed "pole virgin" -- got a little crazy!
First, she grinded up against her nanny, telling the Bravo cameras: "I'm not a prude at all. I love the female body. Honestly, it's a work of art!"
After telling Brandi to "whip off her clothes," Carlton then stripped down to her underwear to expose a secret message sprawled across her backside!
"Excuse me, I forgot I was wearing these," Carlton told her gal pals before taking a few spins around the pole.
Article continues below advertisement
With the alcohol obviously kicking in, Carlton licked the pole and flaunted her sexy figure. "I'm going to mount that f---ing thing."
After the pole dancing class, Carlton and Brandi head to a graduation party for Kim Richards' daughter. But before going inside, the duo decided to pick up some burgers.
"You don't usually see two skinny chicks on a stoop eating some burgers, but it happens," Brandi says, chowing down into her Fatburger.
Once inside the party, Carlton and Brandi were searching high and low for booze – as Kim, a recovering alcoholic, reflected on her sobriety.
"If I wasn't sober today, I think it would have just destroyed everything," Kim told the cameras.
"No alcohol? That just won't do," Carlton told the bartender.
Watching Carlton's antics, Joyce was disappointed, commenting, "This is a party for an underage girl, and Kim is a recovering alcoholic. This isn't a place to be fishing for booze!"
Article continues below advertisement
Kyle was also disappointed with her co-stars.
"Kim is around alcohol at other people's parties all the time, but I think when you're in her home, why would you be looking for it? That isn't appropriate."
"Carlton appears to be drunk. And Brandi is throwing up. It's probably time to go home," Kyle vented.
Carlton and Brandi abruptly left the party, much to the relief of their fellow housewives.
After celebrating the graduation party, Kim decided to confront Lisa Vanderpump about why she missed her daughter Kimberly's graduation party. Kim was convinced she caught her in a bald-faced lie.
Lisa claimed she was out of town the entire weekend at a charity event – which was confirmed by RadarOnline.com -- but Kim fired back that her hairdresser saw Lisa having dinner at SUR.
"Giggy, Ken, and I went to Missouri to support children with alopecia," Lisa explained. "It was a long way. It was quite an arduous trip. But Giggy a sufferer of alopecia is committed to that, so of course, as Giggy's carrier I had to take him."
Article continues below advertisement
When Kim continued to say that her hairdresser saw Lisa in Beverly Hills, suddenly Lisa said: "Oh… maybe I came back Saturday night?"
"Oh, now that my hairdresser saw her, she remembers?" Kim asked in her confession. "To just make up a lie and say she's away — it bothered me."
"I told her I wasn't going, and I didn't go. End of story," Lisa told the cameras. "I sent a nice Tiffany's gift and said I wasn't going to be able to attend."
"I'm sure there's a lot of things Kim hasn't turned up for, Lisa's husband Ken noted.
"It was rude and uncalled for," Kim retorted.
Speaking to the cameras, Kim teared up: "He was right. I did miss things. I missed a lot. But don't throw things in my face."