Terror At The Boston Marathon: 7 New Developments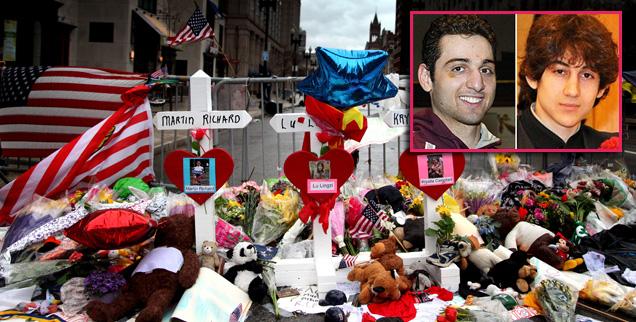 11 a.m. ET BREAKING NEWS: Authorities with the Boston Police Dept. Wednesday tweeted that three "additional suspects" have been taken into custody in connection with the attacks at the marathon, and that more details are to follow.
CNN reports two of the suspects are students who lived with the younger bombing suspect and that they are likely to be charged with making false statements and obstruction of justice. Additionally, CNN reports that the dead bomber's widow, Katherine Russell, is NOT the third suspect, but that the third unknown suspect is a U.S. citizen.
Article continues below advertisement
We've got all of Wednesday's latest developments in the wake of the April 15 bombing at the Boston Marathon that left three people dead, more than 260 inured, and 14 people without all or part of a limb.
1. Tamerlan Tsarnaev's Body Being Released
Relatives of dead Boston Marathon bombing suspect Tamerlan Tsarnaev will claim his body now that his wife has agreed to release it, an uncle said Tuesday. Tamerlan's body has been at the medical examiner's office in Massachusetts since he was killed in a gunfight with authorities more than a week ago. Amato DeLuca, the Rhode Island attorney for his widow, Katherine Russell, said in a statement that his client had just learned that the coroner was ready to release Tsarnaev's body, and that she wants it released to the Tsarnaev family.
2. Carjacking Victim Breaks Silence
The 26-year-old Chinese man who bombing suspects Tamerlan and Dzhokhar Tsarnaev carjacked before their shootout with police -- identified only as "Danny" -- spoke with CBS Tuesday, recounting his horrific run-in with the accused terrorists.
Danny said he pulled over to answer a text when Tamerlan knocked on his window. When he rolled it down to hear what he was saying, Tamerlan reached through, unlocked the door, got in, and showed off his handgun, admitting to both the bombings, and the murder of MIT police officer Sean Collier earlier that evening. He said the brothers spoke to each other in Russian and he only understood "one word" they said in their private chat -- Manhattan, which we later learned was their next terror target.
Article continues below advertisement
"It seemed like they were going to New York because they asked me a lot of questions," Danny said.
He said he made his break for freedom when he noticed Tamerlan was preoccupied with the car's GPS system.
"I was counting," Danny said. "I was counting. I was just, 'one two, three, four.' And I just do it. And I did it. I can feel Tamerlan trying to grab me ... I was just running as fast as I can and I never look back."
He said he ran zig-zagging to make it harder for Tamerlan to shoot him, before going to a nearby gas station and having the clerk call 911.
3. Russians Had Tamerlan Under Watch
Dead bombing suspect Tamerlan Tsarnaev was under close watch by Russian intelligence agents during his six-month visit there in 2012, a Russian security official with the Anti-Extremism Center told the AP.
Agents actually pursued Tamerlan when he vanished after police gunned down William Plotnikov -- a Canadian jihadist officials linked Tamerlan to, according to Russia's Novaya Gazeta newspaper -- during a standoff in July 2012.
Article continues below advertisement
4. President Obama Speaks Of Investigation
President Barack Obama Tuesday addressed details of the investigation for the first time in two weeks, saying that the FBI's probe into Tamerlan Tsarnaev two years ago revealed no evidence he was a terrorist. He said that while Russian intelligence officials have been cooperative "since the Boston bombings," there might have been some previous miscommunications based on past relations dating "back to the Cold War.
"Old habits die hard," he said. "There are still suspicions sometimes between our intelligence and law enforcement agencies that date back 10, 20, 30 years."
5. The Search For Tamerlan's Laptop
Officials are in the third day of searching a New Bedford, Mass. landfill for a laptop Tamerlan Tsarnaev owned. The info came from a pair of Kazakhstani men -- who knew the Tsarnaev brothers -- who were arrested for violating the terms of their student visas.
Article continues below advertisement
6. Boston Loses $300 Million
The total tab Boston faces in the wake of the disaster is $300 million, ABC News reported Wednesday. The city was virtually shut down as police raided towns searching for Dzhokhar Tsarnaev April 19.
7. Preakness Bans Backpacks In Wake Of Bombings
After the suspected terrorists used backpacks to conceal their explosives, Baltimore's Pimlico Race Course Tuesday announced they have banned backpacks and duffel bags at this year's Preakness, with an expected 100,000 fans to attend the May 18 horse race.
Maryland Jockey Club president Tom Chuckas said his organization received guidance from both Homeland Security and the FBI.
"We do a security plan starting in October every year," Chuckas said. "Unfortunately, with what transpired in Boston, I met with more than 50 people a week ago and ... based on the Boston tragedy, we decided to make some modifications. Backpacks were one of them. We have upped the level of security to make sure nothing like that happens here."
Monies received will be forwarded to Boston Medical Center and other medical facilities in the region. In addition to his own donation, Chesney will forward funds made from his new single Spread the Love (off his new album, Life on a Rock).