Terror At The Boston Marathon: 7 New Developments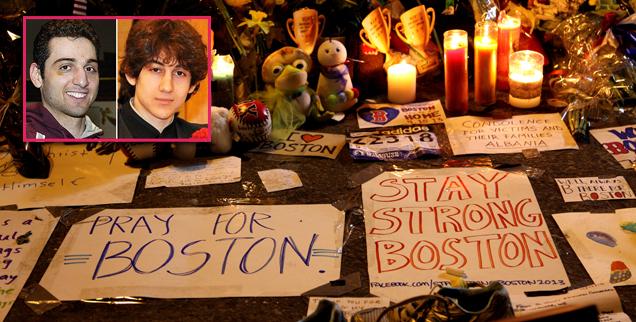 We've got all of Tuesday's latest developments in the wake of the April 15 bombing at the Boston Marathon that left three people dead, more than 260 inured, and 14 people without all, or part, of a limb.
1. Misha Identified, Questioned By The FBI
The Armenian who reportedly paved the brothers' path to terrorism -- known only as "Misha" -- spoke with the FBI about the bombings Monday. The man, whose real name is Mikhail Allakhverdov, denied any involvement in the disaster while chatting with officials at his parents' West Warwick, R.I. apartment.
Article continues below advertisement
Zubeidat Tsarnaeva, the mother of the two suspects, said in recent a TV interview that Misha "just kind of opened our eyes about Islam.
"He was really devoted," she said. "And he's very good, nice man."
2. Life Line?
19-year-old bombing suspect Dzhokhar Tsarnaev's chances of avoiding a death penalty sentence (if convicted) surged Monday with the appointment of renowned attorney Judy Clarke to his defense team. Clarke has successfully petitioned for life sentences -- instead of the death penalty -- for a motley crue of notorious murderers, including Susan Smith, Jared Loughner and Ted "The Unabomber" Kaczynski.
"I don't think it's a secret that I oppose the death penalty," the San Diego-based lawyer said at a Los Angeles legal conference last week.
Legal great Alan Dershowitz said Clarke's presence ensures defense attorneys will "litigate hard against the death penalty."
"They are not going to put on a jihadi defense: the client wants to live, and he wants to avoid the death penalty. They are not going to say, 'I want to die, I want to join my brother.'"
Article continues below advertisement
3. Autopsy Findings
Boston's medical examiner has determined what killed Tamerlan Tsarnaev, though had not released the info publicly as of Tuesday. The results will stay confidential officials said, until his death certificate is filed and body is released. Tamerlan, 26, was killed during the gun-battle with cops when brother Dzhokhar, 19, ran him over with a stolen car, police said.
4. Federal Investigation
The North Kingstown, R.I.-based family of Tamerlan's widow, Katherine Russell, received a visit from the FBI Monday, according to CNN. Federal officials were spotted leaving the residence with bags of items, including DNA evidence. Russell has cooperated with authorities, her lawyer Amato DeLuca said.
5. East Meets West
President Barack Obama continues to work in concert with Russian President Vladimir Putin in hopes of trying to communicate better about matters relating to terrorism. The renewed relationship comes in the wake of reports Russian intelligence had tabbed the brothers -- and their mother -- as potential terrorists prior to the attack.
Article continues below advertisement
6. All In The Family?
The mother of the accused terrorists, Zubeidat Tsarnaeva, denied ties to terrorism after Russian officials unearthed tapes of the aesthetician talking with Tamerlan about jihad, as well as chats with another Russian individual who federal officials are investigating.
"It's all lies and hypocrisy," she told the AP from her home region of Dagestan. "I'm sick and tired of all this nonsense that they make up about me and my children. People know me as a regular person, and I've never been mixed up in any criminal intentions, especially any linked to terrorism."
|
|
7. A Woman's Touch
The DNA of an unidentified woman was found on one of the explosives used in the April 15 bombing, police said, cautioning citizens not to jump to conclusions over who it belonged to, as it could have been those of a victim, prior to the area being cordoned off for authorities and rescue crews.
Stay with RadarOnline.com for all the latest on the Boston bombings.