Woman's DNA Found On Boston Bomb -- Did It Come From Tamerlan Tsarnaev's Widow, Katherine Russell?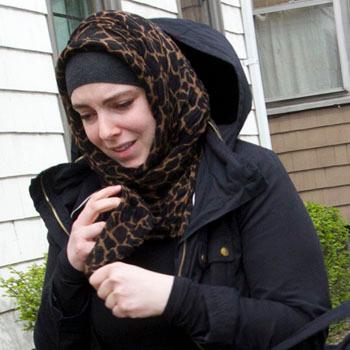 FBI agents visited the family home of suspected Boston Marathon bomber widow Katherine Russell on Monday after female DNA was found on at least one of the bombs in the deadly blast, RadarOnline.com is reporting.
The federal investigators were spotted leaving the Kingstown, Rhode Island, house where Tamerlan Tsarnaev's widow has been holed up since his death in a shootout with police on April 19, and left at around 2:15 p.m. ET carrying a number of bags, including one that was clear plastic with "DNA" stamped on the side.
Article continues below advertisement
While there have been federal agents keeping watch on the house 24/7, "That is the first time they have entered the house with the intention of looking for something since this all started. The door is still shut, the family are not coming out," neighbor Karen Mather exclusively told RadarOnline.com.
Following the lengthy search, the officers "followed Katherine and she got into her white car. We assume she went to her lawyer's office," said Mather. "We still don't know what is going on. We are just witnessing everything as it unfolds."
Article continues below advertisement
Supervisory Special Agent Jason Pack confirmed to CNN, "The FBI is there as part of our ongoing investigation," adding that he could not discuss specifics.
Russell, who has a three-year-old daughter from the bombing suspect, denies having any involvement in the attack that killed three and injured 264. Her attorney, Amato DeLuca, has said she was completely in the dark about her husband's deadly plot and that the news "came as an absolute shock."
As the FBI test his widow's DNA, a Boston psychiatrist wants Tamerlan's brain so that he can study it like a crime scene to look for evidence that his boxing career may have left him brain damaged and possibly prone to depression and aggression.
"There are political motives, social motives, cultural motives, but one that gets less attention is the biological basis for all this," explained Dr. Michael Craig Miller, a psychiatrist at Boston's Beth Israel Deaconess Medical Center where Dzhokhar was treated after his arrest.
Article continues below advertisement
"This suspect's brain may teach us a small but important bit about the biology of violence," he wrote in a Boston Globe opinion column.
Meanwhile, no one has yet claimed Tsarnaev's brain or his body, which is in the custody of the Office of the Chief Medical Examiner, said Department of Public Safety spokesman Terrel Harris, who has determined a cause of death, but won't release the information until the body has been claimed.
Tsarnaev's parents, Anzor and Zubeidat Tsarnaev, are now living in Dagestan, Russia, and initially indicated plans to visit the United States to claim the body and see their youngest son but have since postponed their plans indefinitely.
The outspoken mother was placed on a CIA terrorist watch list 18 months before the deadly attack, and is now officially a "person of interest" in the investigation of the massacre under suspicion that she helped to radicalize Tamerlan.