Boston Marathon Bomber Abused Wife Katherine Russell, Called Her 'Sl*t' And 'Prostitute'!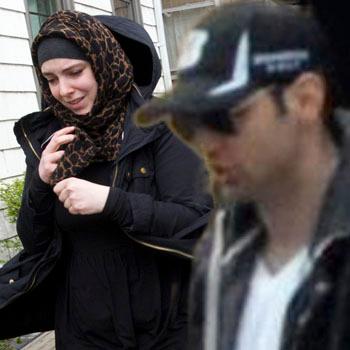 Tamerlan Tsarnaev called Katherine Russell, a "slut" and a "prostitute," friends of the bomber's widow have revealed.
This was just one of the disturbing details of the controlling manipulative relationship between the Boston Marathon bomber and his now-widow that came out when NPR's Laura Sullivan spoke with Russell's college roommates from when she was a student at Boston's Suffolk University.
They described Tamerlan Tsarnae as a "combative and angry" man who would insult her and sometimes even throw furniture.
Article continues below advertisement
The 26-year-old terror suspect who was killed in a shoot out with police on Thursday night was known as a big partier, drinker and smoker during his initial on-again, off-again relationship with Russell, 24, from North Kingstown, Rhode Island.
Tsarnaev was arrested for domestic assault and battery on June 28, 2009, and records suggest that it was not against his future wife but another woman who was of Portuguese decent.
"I slapped her," the amateur boxer told police after the incident in Cambridge, Massachusetts, reported Breitbart News.
According to NPR, Katherine got pregnant her senior year, and her former roommates say that she then left school and dropped out, and she never finished college. They say that she really pulled away from her friends, that she cut off contact with them and her family.
The volatile couple eventually married in 2010, after which Tamerlan became very religious and demanded that Katherine – who now has a three-year-old daughter named Zahara - also convert to Islam and cover herself.
Article continues below advertisement
Having cut herself off from her old life and working seven days a week to support her stay-at-home husband, the health aide worker bumped into an old friend in Whole Foods last year, and the pal was concerned to see she was not only covered wearing a traditional Muslim hijab but also that "seemed very distant and almost fearful."
Tamerlan died after a gun battle early Friday with police, and his brother Dzhokhar, who fled from the battle and eluded a daylong manhunt, was spotted by a vigilant resident and captured after a standoff in Watertown, Massachusetts, and is now at is now in the custody of the US Marshals Service at the Beth Israel Deaconess Medical Center in Boston.
The 19-year-old has been charged with conspiring to use a weapon of mass destruction against persons and property in the United States resulting in death and malicious destruction of property by an explosive device, and faces the death penalty.