Shocking! Mother Of Boston Bombers Believes Attack Was Faked & Blood Was Red Paint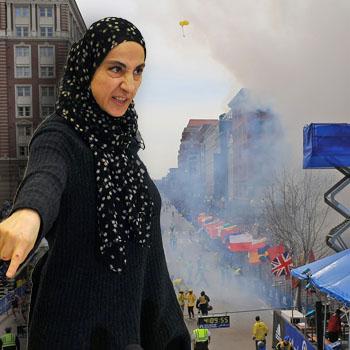 The investigation into the Boston Marathon bombing has spread as far as the Russian region of Dagestan, where the suspects' mother has shockingly claimed that not only are her sons innocent – but also that the massacre was a cruel hoax.
"That's what I want to know, because everybody's talking about it -- that this is a show, that's what I want to know. That's what I want to understand," said Zubeidat Tsarnaev told CNN as she fought to accept the reality of brothers Dzhokhar and Tamerlan's violent act.
Article continues below advertisement
The mourning mother said she has seen a video supporting the wild idea, adding that there was no blood -- and that the gashing red stains on Boylston Street was really paint.
As RadarOnline.com previously reported, after masterminding the attack that killed three and left 264 wounded on April 15, Tamerlan, 26, died in a gun battle early Friday with police, while Dzhokhar, 19, remains in a fair condition at a Boston hospital facing charges of conspiring to use a weapon of mass destruction against persons and property in the United States resulting in death and malicious destruction of property by an explosive device.
As she broke down sobbing, Zubeidat revealed that she had deep sympathy for all those wounded in the blast, which includes 14 who had limbs partially or completely amputated. "I really feel sorry for all of them. Really feel sorry for all of them," she said, while still adamant that her sons were not responsible.
"I would prefer not to live in America now," said the hysterical mother, wearing a headscarf and waving her hands wildly during a news conference. "Why did I even go there? Why? I though it America was going to protect us, out kids… it is going to be safe.
"But it happened. America took my kids away from me. Only America."
As Anzor Tsarnaev, the boys' father, is expected to head to the U.S. on Thursday to speak with investigators, Zubeidat will not be returning to America as she is wanted on 2012 felony charges of shoplifting and property damage in Massachusetts and skipped bail back to Dagestan, one of several predominantly Muslim provinces in southern Russia.