'Every Day Is A Challenge': Gia Allemand's Boyfriend Ryan Anderson Breaks Down In Tears Discussing The 'Bachelor' Star's Suicide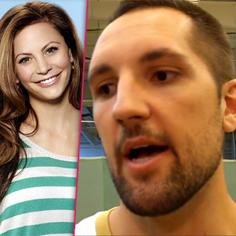 Less than six weeks after The Bachelor star Gia Allemand's shocking suicide, her NBA player boyfriend Ryan Anderson opened up for the first time since her death about the tragic loss during media day for his team, the New Orleans Pelicans.
"Every day is a challenge," an emotional Anderson told reporters. "It helps to be here. My family's with me. To be here with my teammates really helps a lot. But it's a roller coaster. Yeah."
Article continues below advertisement
"I praise God every day to have him in my life," he continued. "It would be very very hard to get through these steps if I didn't have him, if I didn't have God and Jesus Christ in my life. He has made every single step … you know when you're thinking about something or preparing about something and it's a lot, it seems a lot more difficult, and then you go through it, you overcome it, and kind of each step of the way has sort of been like that. Even just coming here, I'm really glad that Coach asked me to come back when he did. I've been here for a few weeks now, just being around the guys and being back in the gym. Just having some sort of a routine back, it helps a little bit."
Though he maintained his composure at first, Anderson soon broke down in tears as he recalled his girlfriend's tragic passing.
"Something like that just doesn't happen for no reason, and I know that there's a huge plan here," he said, voice cracking as he began to cry. "A lot of people are going to be helped from this. And we're in the process of starting something great for her with her family, including my family too. We have a huge plan to do something great, great in her name that's going to help a lot of people."
Article continues below advertisement
Growing more serious, he said, "I wasn't planning on saying all this, but let's be honest here. We live in a society now where you've got to live up to something, you've got to be a certain person and you're not going to be accepted and every single person, every single person has something special about them. That's what I want to be my goal here. To have everybody here know that they're not alone. Whatever you're going through in your life, you're not alone."