'Bachelor' Suicide: Inside The Fight To Save Gia Allemand's Life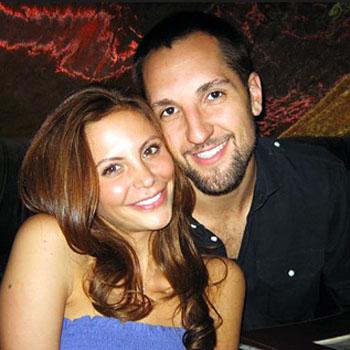 Gia Allemand's shocking suicide attempt at her home in New Orleans was a frantic situation and one of her neighbors described his harrowing experience when he tried to come to her rescue after hearing her boyfriend cry out for help.
The Bachelor star's death on August 14, two days after she attempted suicide, was a tragedy experienced by her loved ones and strangers in her apartment building as well.
Article continues below advertisement
"I thought I heard someone calling for help, so I sprinted down there," her neighbor Mike Simpson told People magazine, recalling that he had heard a "high-pitched bellowing" sound.
"I pushed the door open and saw a guy bear-hugging someone to his chest."
Gia's boyfriend, NBA player Ryan Anderson, had just arrived back at her apartment and found her "hanging from a metal staircase by the door," the magazine reported.
"He said, 'She hung herself,' and I looked over and that's when I saw the rope," Simpson recalled.
Another neighbor rushed into the apartment and handed Simpson the phone and he spoke with the 911 operator.
Gia was lying on the floor unconscious and the 911 operator instructed Simpson to do CPR and a crying Ryan began to do chest compressions on his girlfriend.
"He just kept yelling her name, 'Why, Gia? Why?' Just sobbing," he said about Ryan.
Article continues below advertisement
He yelled for help and a nurse from another apartment came in and performed chest compressions while Ryan began giving Gia mouth to mouth resuscitation.
The "EMS guy arrived," after approximately eight minutes Simpson said, and then he described how upset Ryan was as he described the situation to the medics.
"He asked how long she had been like this, and the boyfriend said, 'I was gone for an hour and I came home and she was like this.' He didn't say it calmly. He said something to the effect of, 'I wasn't gone for more than an hour,' " Simpson says. "I just remember thinking, he is just so distraught."
He said he left the apartment while the EMS team worked on Gia and expressed his thoughts about Ryan's actions that day.
"It was heroic what he did, and what the nurse and that neighbor girl did," Simpson told the magazine.
"He was distraught, it was his girlfriend and he was fighting though all of those demons to take care of her. I think that was the hardest part for me. It was watching him. He just kept saying, 'Gia, Gia, Gia.' "
As RadarOnline.com previously reported, Gia's funeral will be held on Thursday, August 22 at Trinity Grace Church in Chelsea, New York City.
If you, or anyone you know, is struggling with thoughts of suicide, please immediately seek help — you can speak with a skilled, trained counselor at a national Suicide Prevention Lifeline crisis center in your area, anytime 24/7 — call 1-800-273-TALK (8255).