Exclusive
'Bachelor' Suicide: Gia Allemand Was 'Upset' NBA Star Boyfriend Hadn't Proposed Yet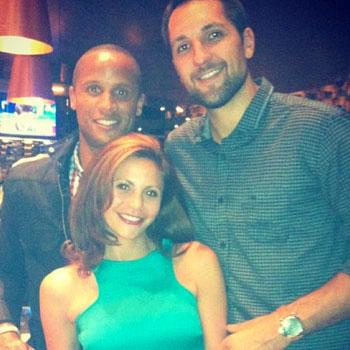 One day after the tragic death of Bachelor beauty Gia Allemand — who was taken off life support on Wednesday after a suicide attempt left her with brain and organ failure — RadarOnline.com has exclusively learned the 29-year-old brunette was upset that her NBA player boyfriend hadn't proposed to her yet.
According to sources close to Gia and Ryan Anderson, the usually happy couple got into their first blowout fight while in Las Vegas together at the end of July which had the former Bachelor Pad star worrying the relationship wasn't headed to the alter.
Article continues below advertisement
"Gia and Ryan were a happy couple. It's unfair to categorize their relationship as rocky, but in the weeks leading up to her death they did have their first major fight," the insider exclusively revealed to Radar.
"And because their relationship was so solid for the most part, Gia had expressed her sadness that Ryan hadn't proposed to her yet, telling friends she was upset over it."
Gia and Ryan were in Las Vegas together three weeks ago appearing happy — the Bachelor star even posted the following photo on her Instagram account with the caption "#TheWynn #Vegas":
The source won't elaborate on what Gia and Ryan fought about, but indicated it had nothing to do with him cheating, as some outlets have previously reported.
"There were literally NO red flags that Gia would take her own life," the insider told Radar.
"Even with how upset Gia was over the rift in her relationship with Ryan, friends just cannot believe she would commit suicide over it. The whole thing is just heartbreaking."
Article continues below advertisement
As Radar previously reported, Gia attempted to take her own life on Monday night, leading to critical loss of brain and organ function.
She was taken off life support on Wednesday.
"While in her residency in New Orleans on Monday night, Ms. Allemand was found by her boyfriend, NBA Basketball Player Ryan Anderson, following an apparent suicide attempt," a rep for the reality star told Radar.
"Mr. Anderson contacted 911 and emergency medical crews were immediately dispatched to the scene. Tuesday, Ms. Allemand remained in the hospital unconscious in critical condition and on life support.
"Due to a critical loss of brain and organ function, life support was withdrawn today."
Friends and family are still reeling from Gia's death.
"Shocking. It's just shocking and sad," the source said.
If you, or anyone you know, is struggling with thoughts of suicide, please immediately seek help — you can speak with a skilled, trained counselor at a national Suicide Prevention Lifeline crisis center in your area, anytime 24/7 — call 1-800-273-TALK (8255).