George H.W. Bush's Funeral Features Ex-President Guests, Emotional Eulogy By Son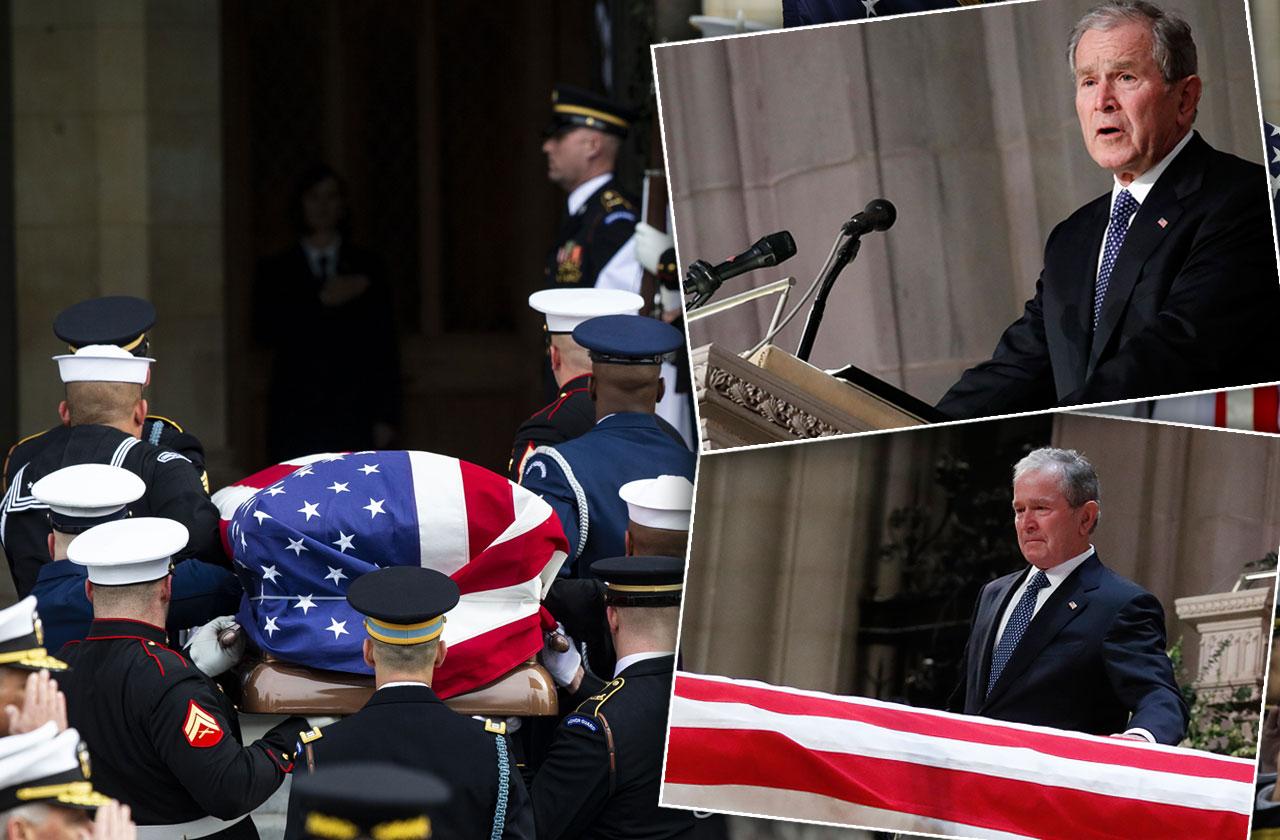 Former U.S. President, number 41 George H.W. Bush, was laid to rest today in a funeral full of pageantry, fond memories, poignant moments and an audience full of America's political elites, including President Donald Trump and his FLOTUS wife Melania, former Presidents Barack Obama, Bill Clinton, and Jimmy Carter and their spouses and ex-Vice Presidents.
But it was George H.W.'s ex-President son George W., 72, who had famously followed his father in the nation's highest office, taking center stage with an emotional eulogy. The usually stiff upper lip 43 broke down sobbing at the end of his tribute to 41 in front of a packed crowd.
Article continues below advertisement
He was "the best father a son or daughter could have," George W. cried, clutching the podium and leaning over to regain his composure.
Referring to his late sister, who died as a child of leukemia, and his later mother, former FLOTUS Barbara, who passed away in April, George W. concluded tearfully, "And in our grief, I just smile knowing that dad is hugging Robin and holding mom's hand again."
While walking to his seat, George W. affectionately tapped his dad's casket as a farewell gesture.
Also during the funeral at the packed National Cathedral in Washington, D.C. on Wednesday, December 5, George. W.'s daughter, Today show correspondent Jenna Bush Hager, gave a Biblical reading and lovingly touched her grandpa's casket.
In an incredible scene, five U.S. Presidents were all gathered together to honor G.H.W., who died at age 94 on November 30.
Scroll through RadarOnline.com's gallery for more on the funeral.
Article continues below advertisement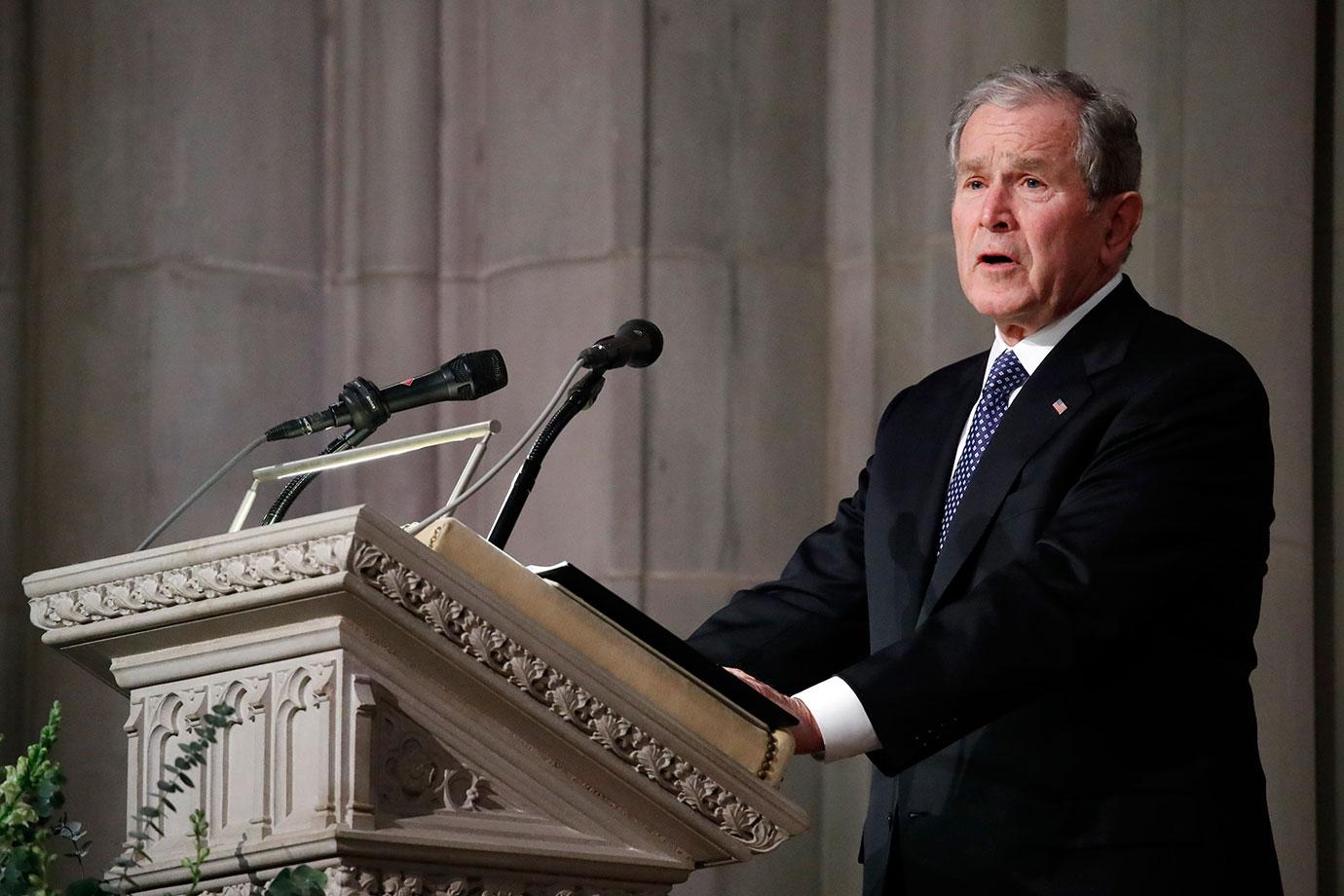 George W. eulogized his father on Wednesday, saying that George H.W. had "showed me what it means to be a president that serves with integrity, leads with courage and acts with love in his heart for the citizens of our country."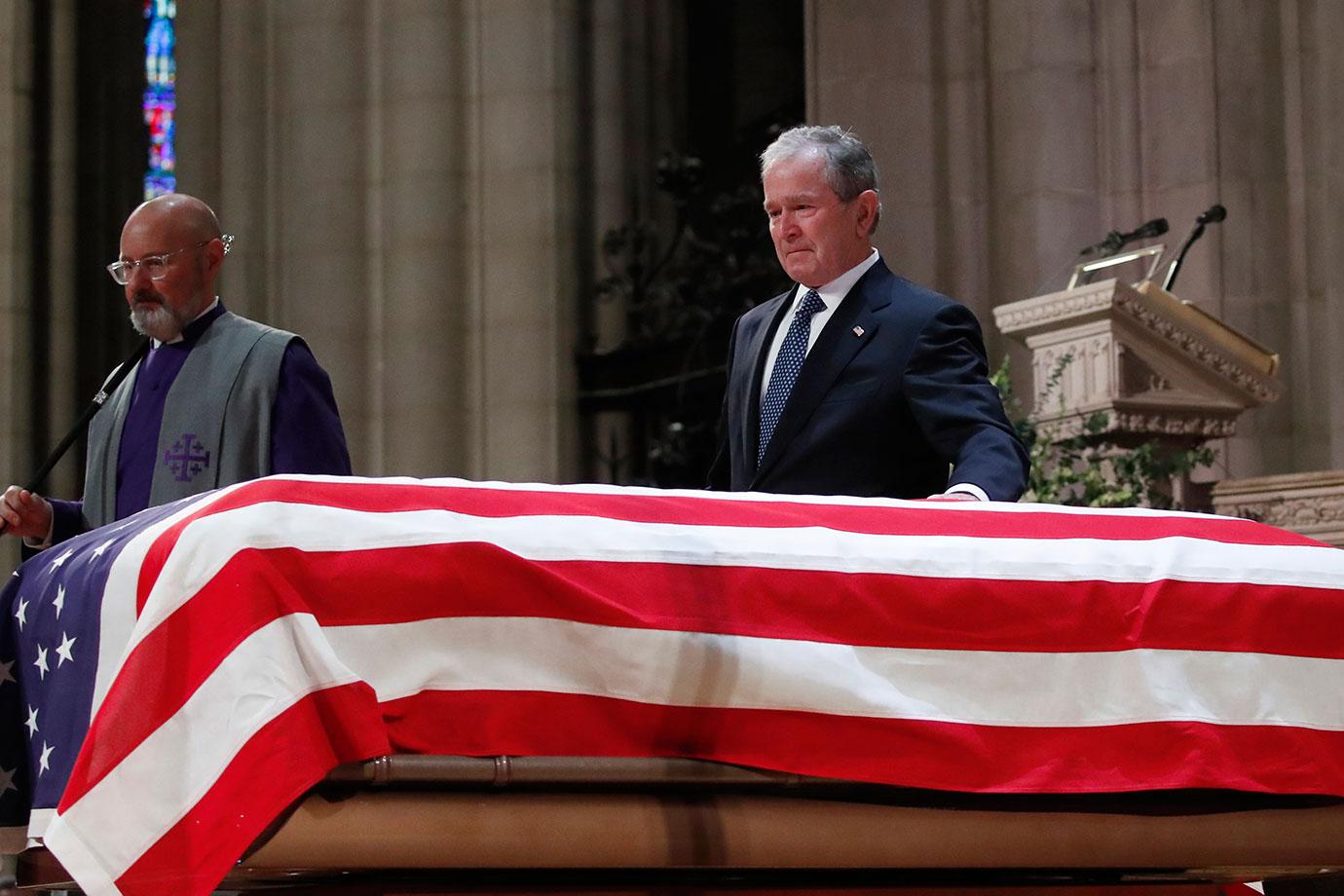 41 died just months after his wife Barbara. He had suffered previous health scares in recent years, and sadly passed away on Friday. With President Trump and four living former U.S. presidents in attendance at the funeral, Bush was remembered as "America's last great soldier-statesman" by biographer Jon Meacham, who delivered one of four eulogies.
Article continues below advertisement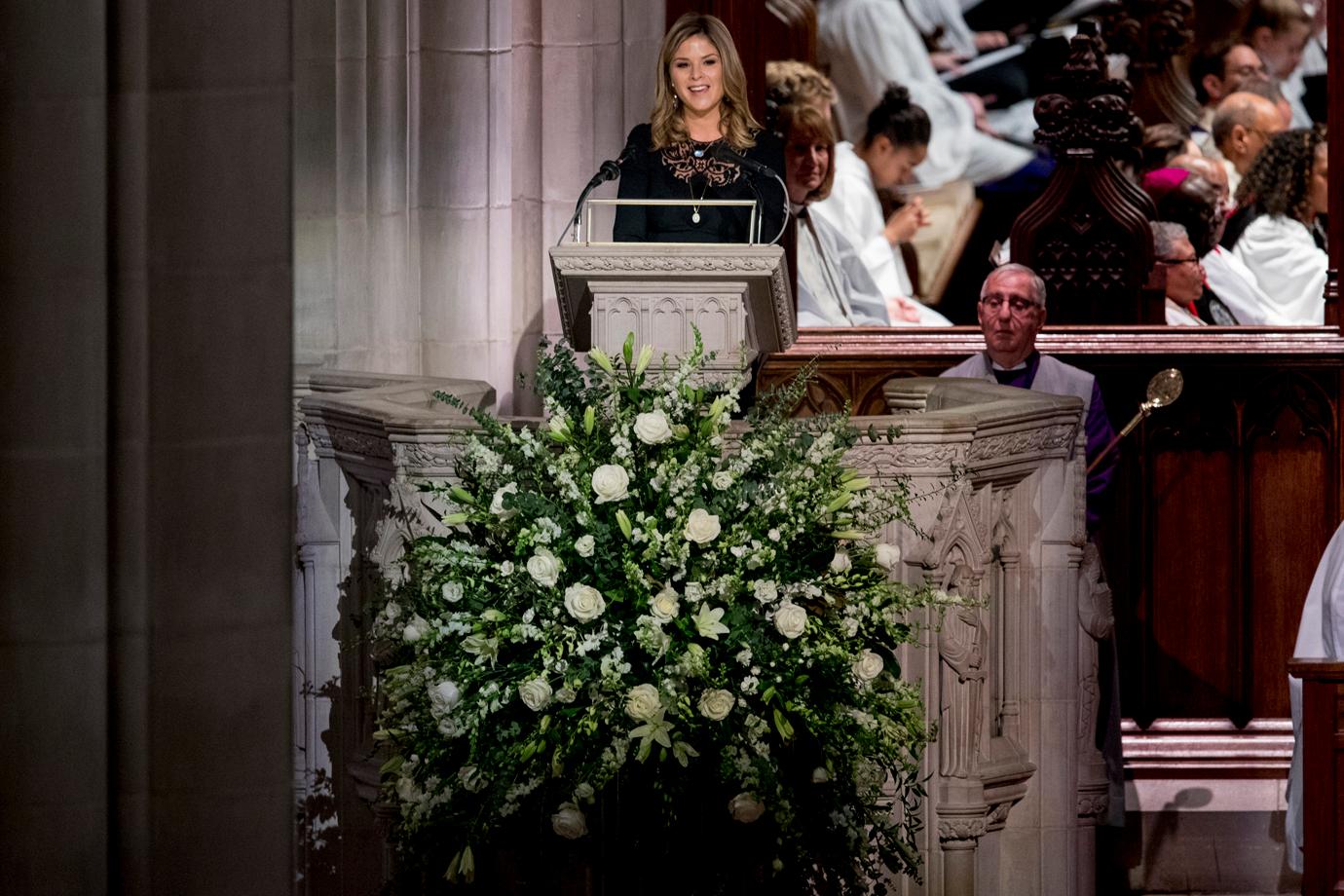 George H.W.'s granddaughters Jenna and Lauren Bush read Biblical passages during the Episcopalian funeral service. Jenna's twin sister Barbara, who recently got married, was seen with the rest of the family listening in the pew.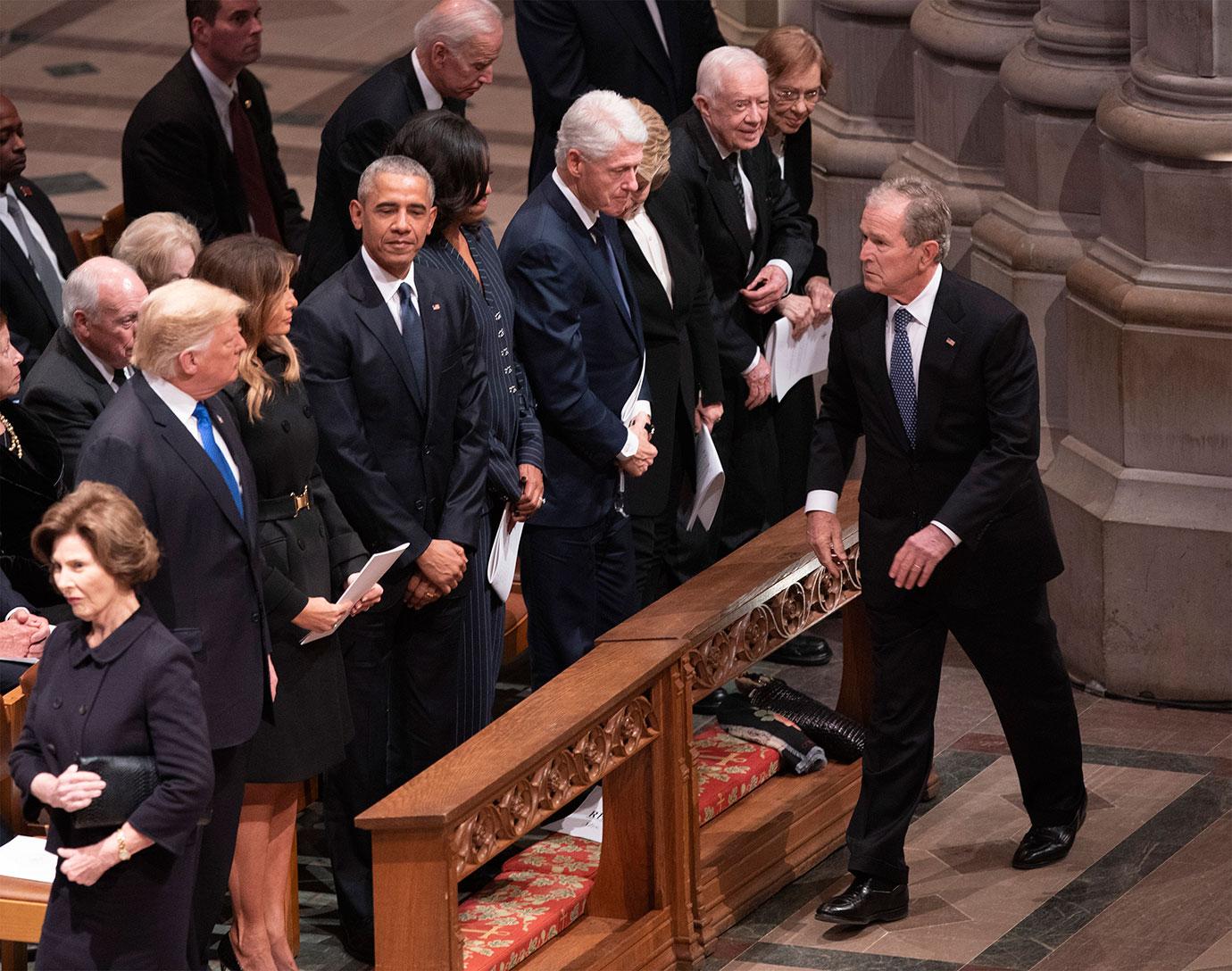 George W. remembered his father as someone who "valued character over pedigree," who "showed us how setbacks can strengthen," and who, with his optimism, "made his children believe anything was possible."
Article continues below advertisement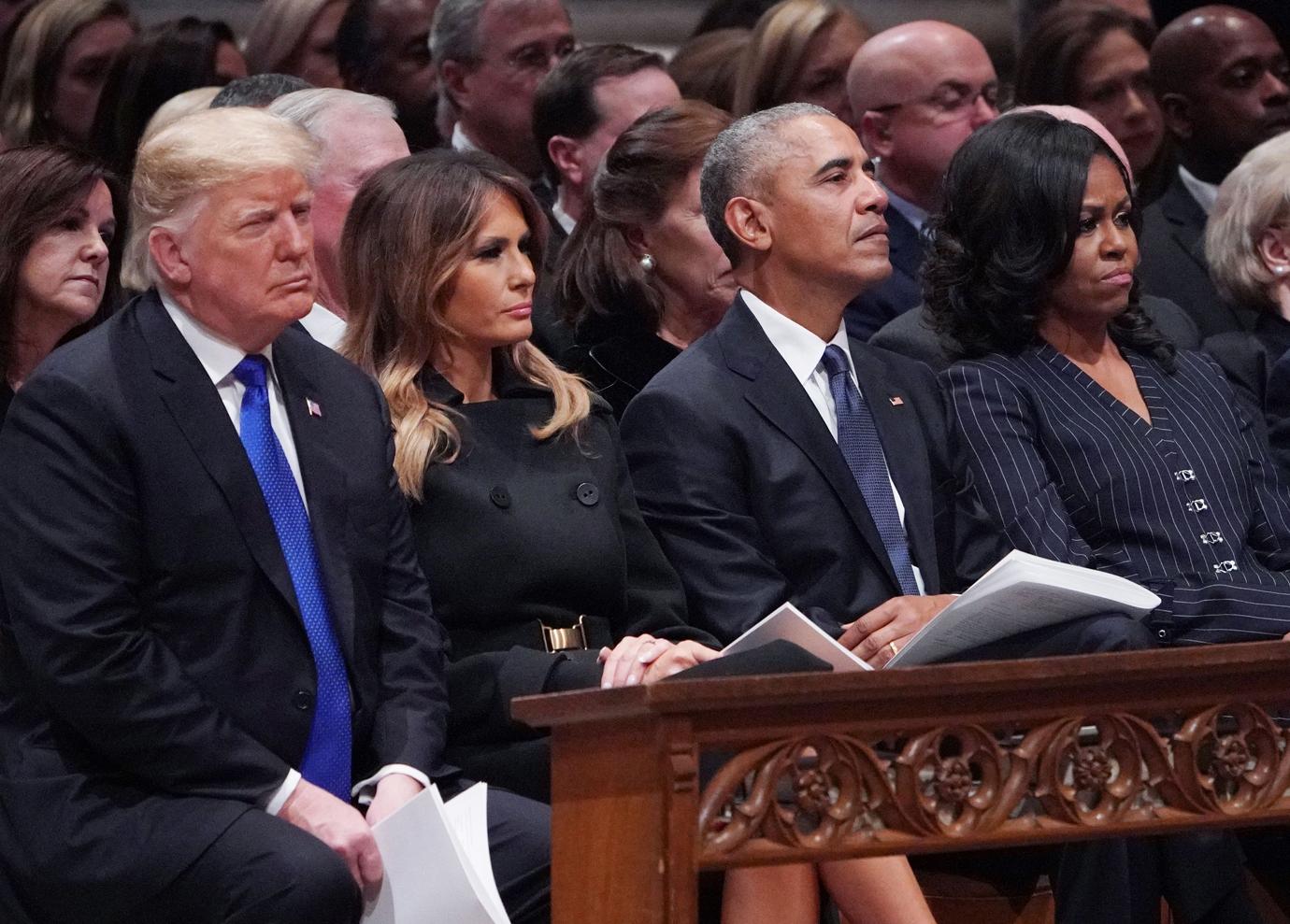 Former President Bill Clinton, who was befriended by George H.W. despite beating him in the 1992 election, chatted with ex-POTUS Barack Obama and his wife Michelle as they sat in the front pew before the funeral began. Bill's wife Hillary, who lost the 2016 election to Trump, was seen exchanging pleasantries with former President Carter. Trump was the last guest to arrive due to security concerns.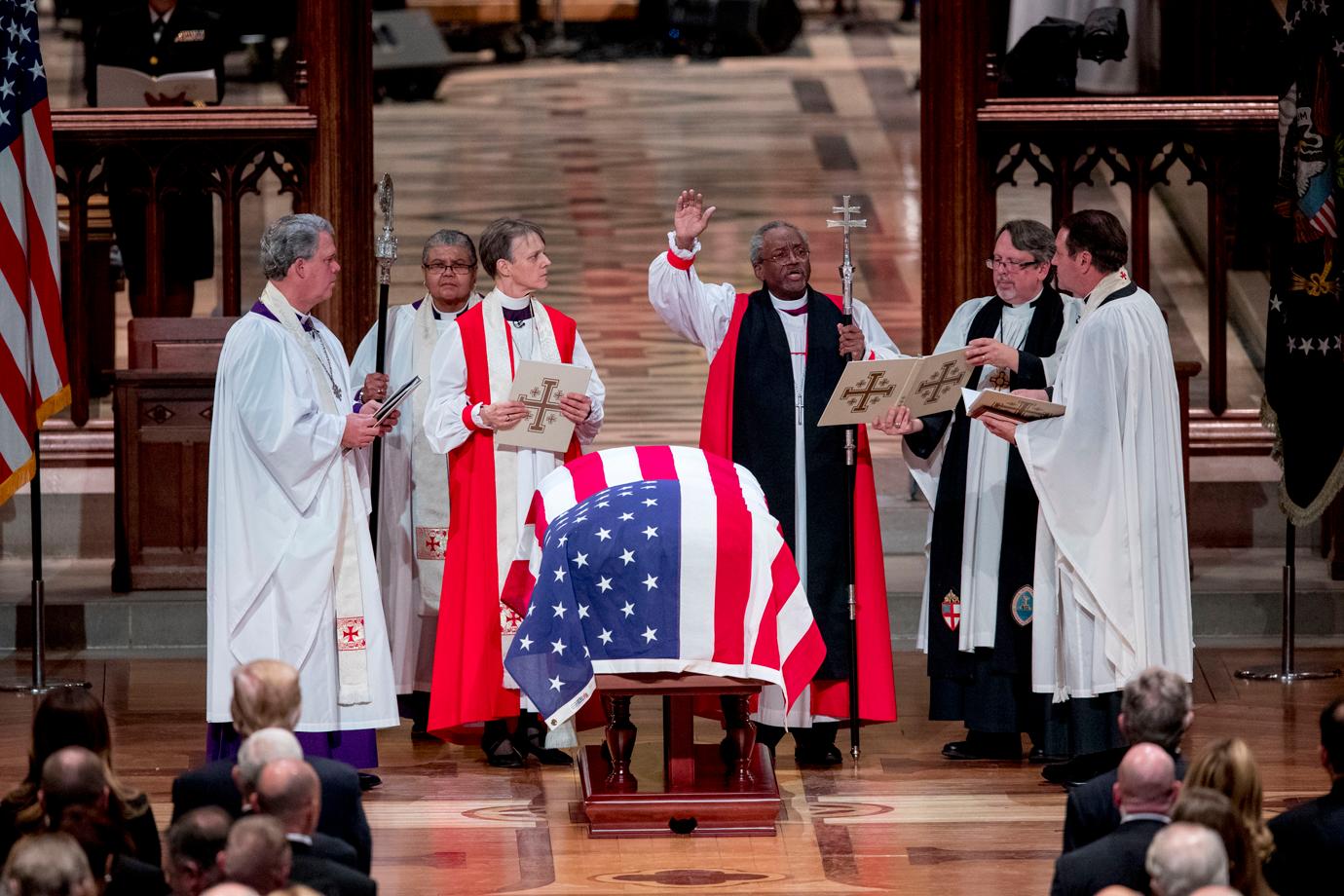 The Rev. Dr. Russell Levenson, rector of St. Martin's Episcopal Church in Houston, delivered the homily at the funeral. He said of the former President, who served from 1989-1993, "My hunch is heaven just got a bit kinder and gentler. … Welcome to your eternal home, where ceiling and visibility are unlimited, and life goes on forever."
Article continues below advertisement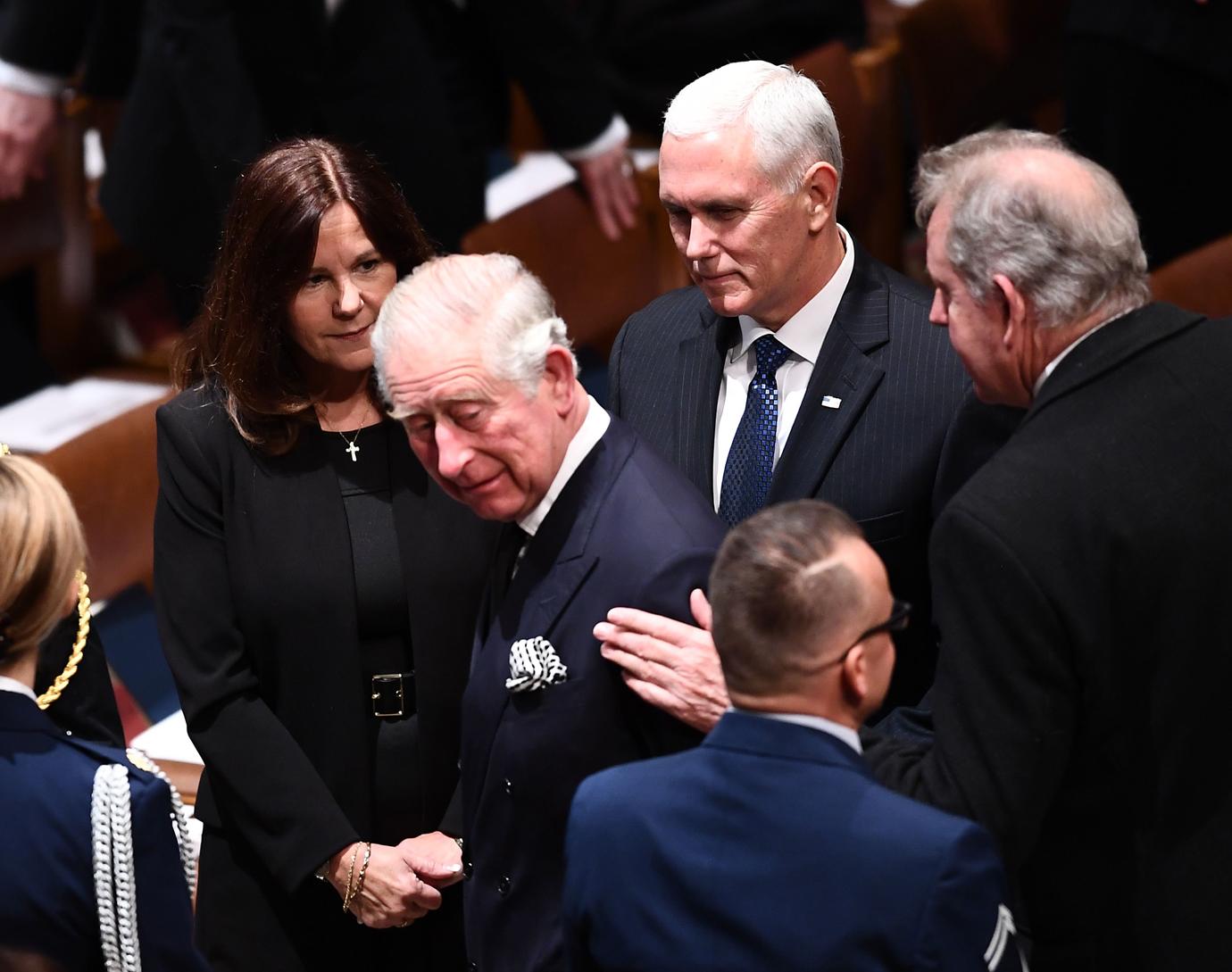 Prince Charles was just one of the famous funeral guests. George W. told the crowd that his father "could tease and needle but never out of malice." He recalled how his dad almost died twice--having had a staph infection as a teenager and later being shot down as a Navy pilot during World War II.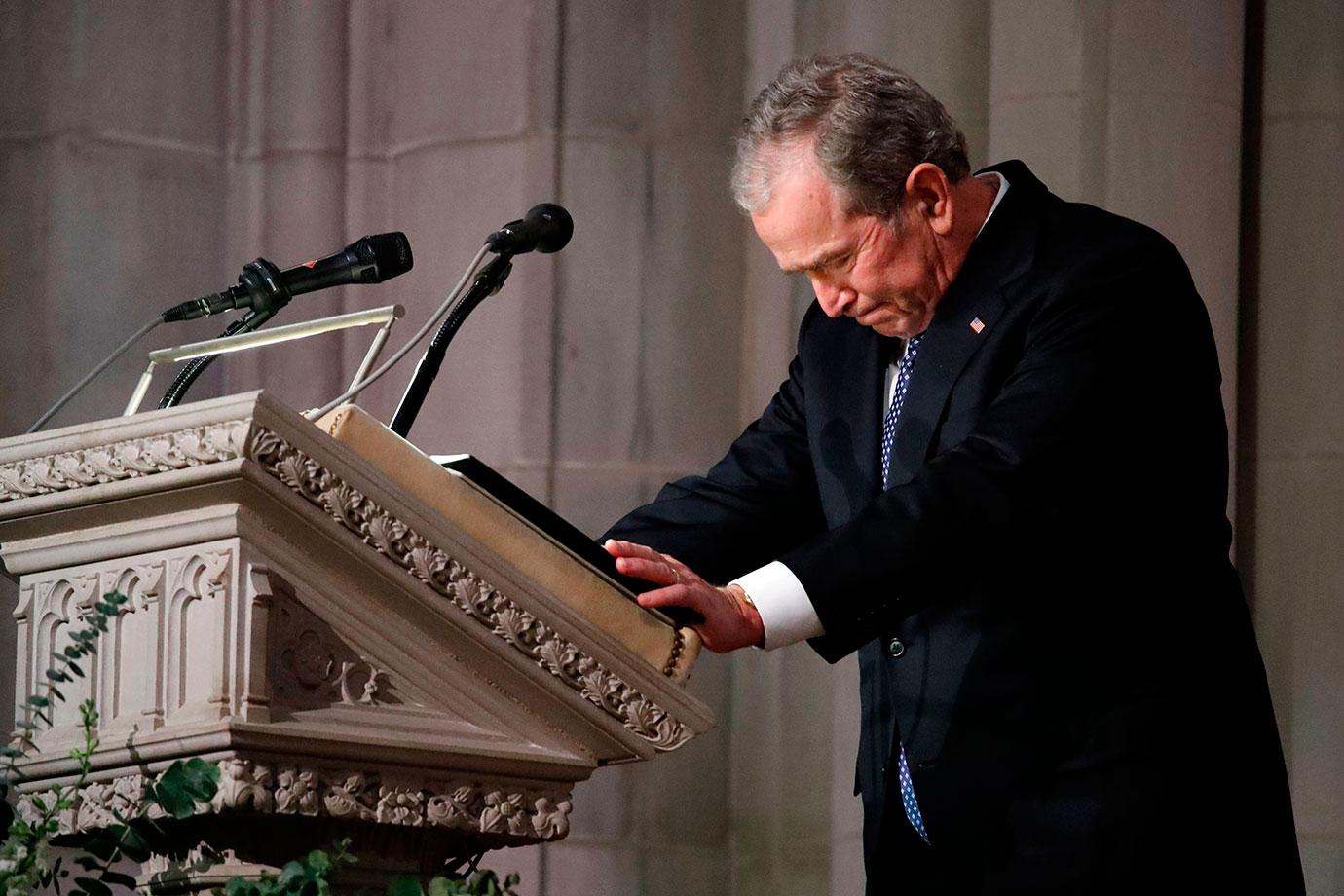 Irish tenor Ronan Tynan sang a stirring version of "Last Full Measure to Devotion" during the funeral. He was a favorite singer of the former President, and as RadarOnline.com previously reported, he stopped by and sang the Christmas carol "Silent Night" with George H.W. mouthing the words during his final hours on Friday.
Article continues below advertisement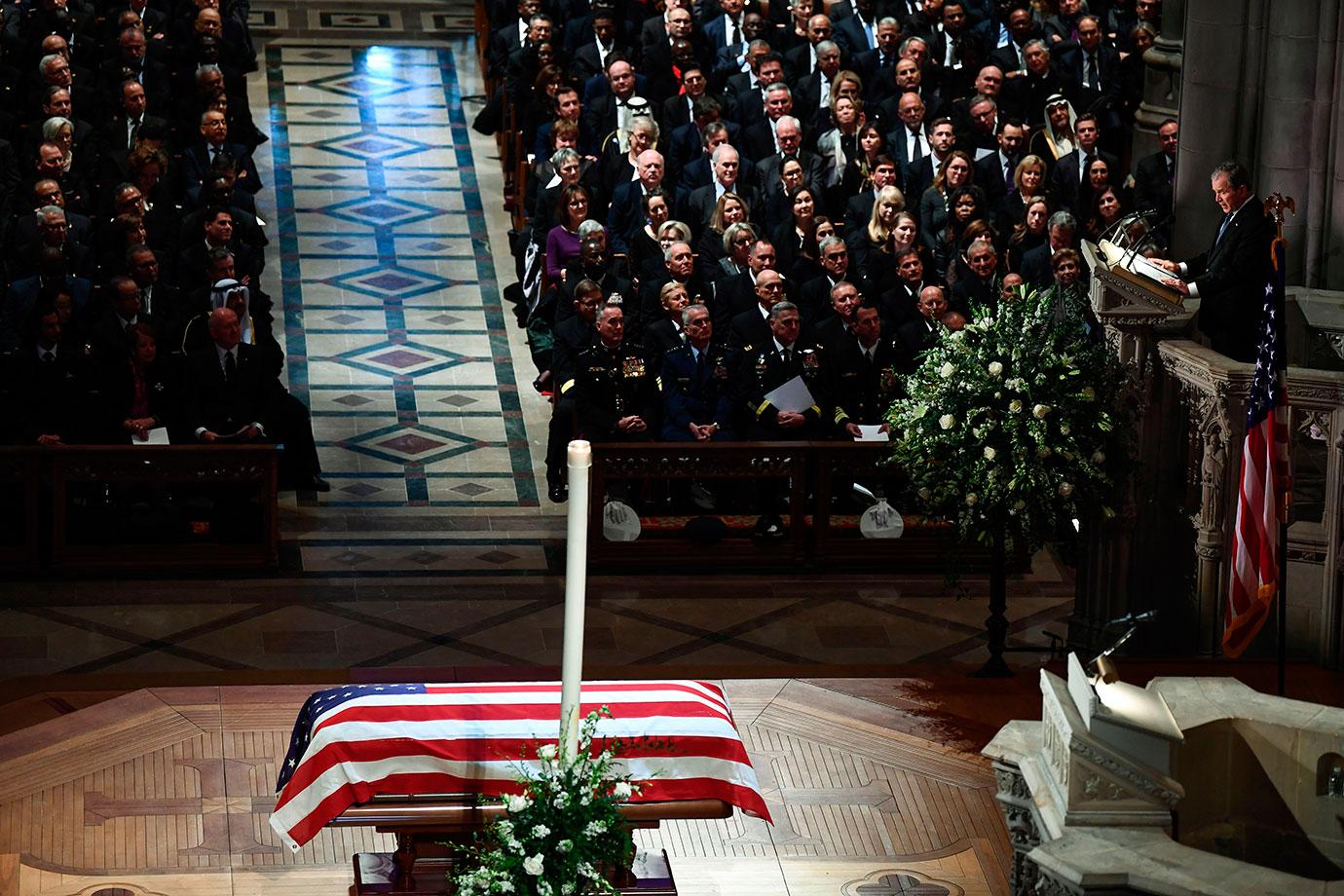 The funeral was full of laughter as well as tears. Family members and dignitaries cracked up as George W. recalled his father's longtime friend and former Secretary of State, James A. Baker III, sneaking him Grey Goose vodka and steak when Bush Sr. was in the hospital in his later years.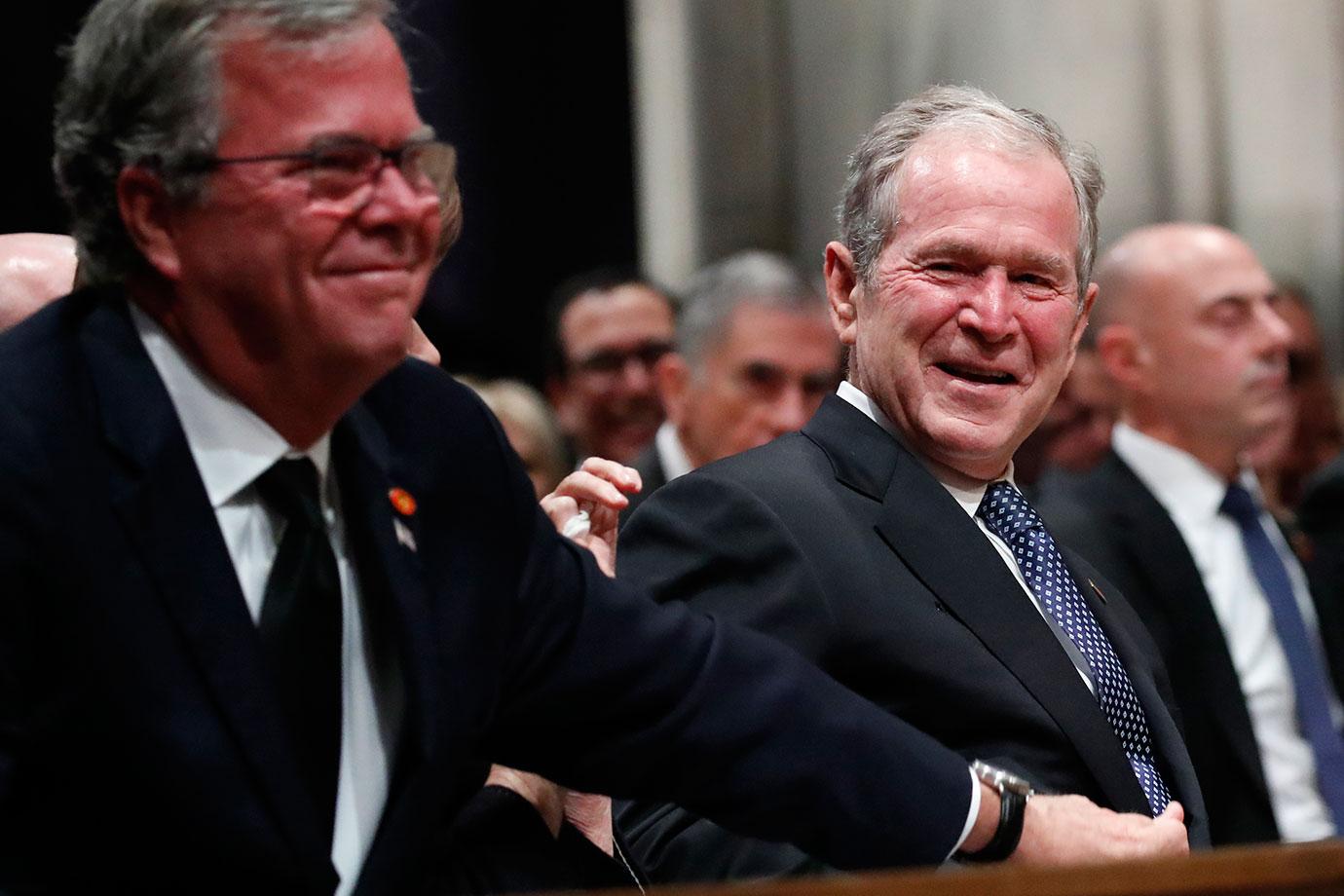 41 remembered fondly of 43, "To us he was close to perfect, but not totally perfect. … The man couldn't stomach vegetables, especially broccoli. And, by the way, he passed these genetic defects on to us." His brother Jeb, who unsuccessfully ran for President in 2016, laughed in the audience.
Article continues below advertisement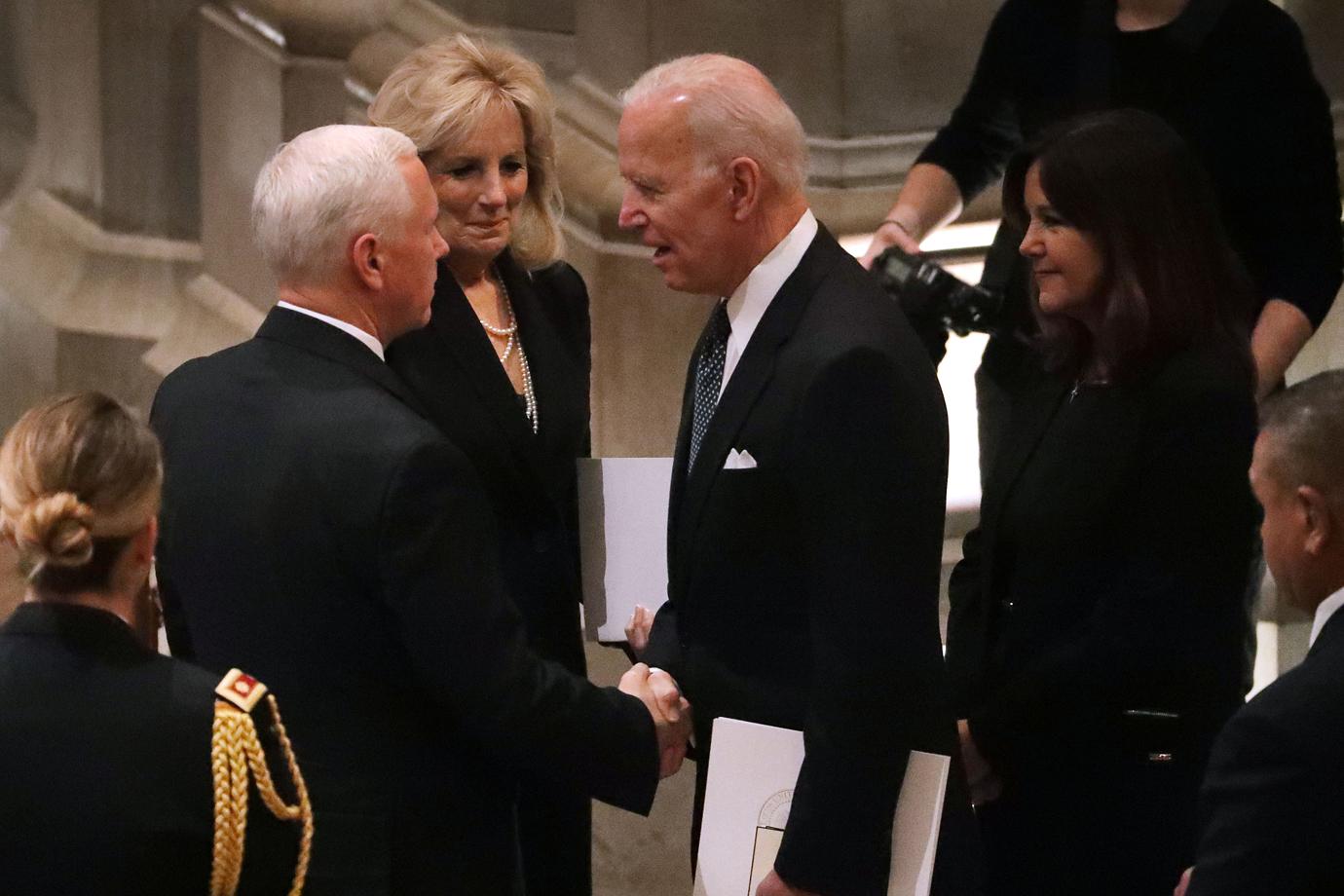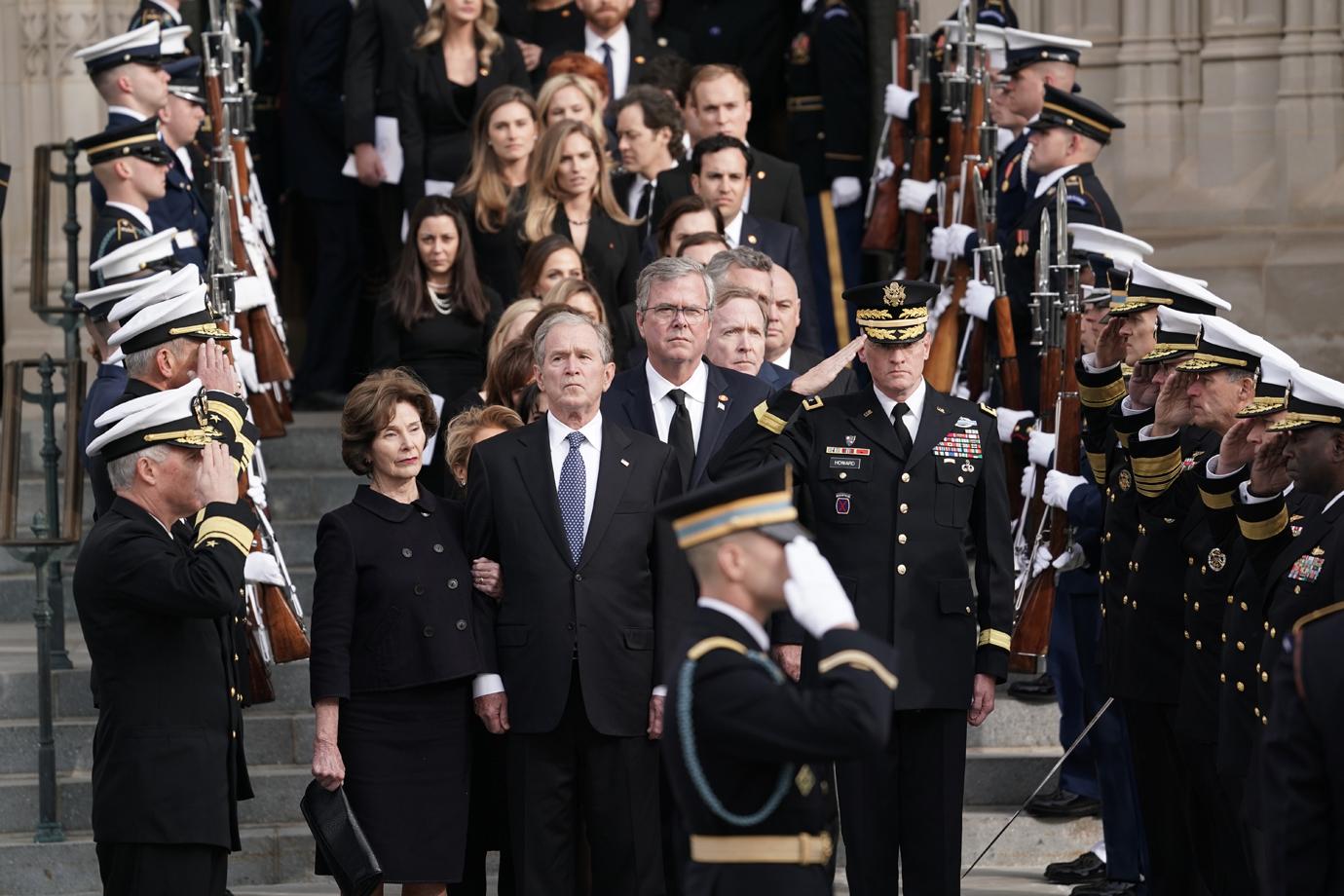 George W.'s wife, former FLOTUS Laura Bush, was seen holding his arm and hand to comfort him outside the cathedral after his funeral eulogy. Ex-President 41's body is being flown back to Houston for another memorial ceremony for family members and Texas friends tomorrow.
We pay for juicy info! Do you have a story for RadarOnline.com? Email us at tips@radaronline.com, or call us at (866) ON-RADAR (667-2327) any time, day or night.