Angelina Jolie & Younger Kids Shiver On Canary Islands Beach As She Misses Maddox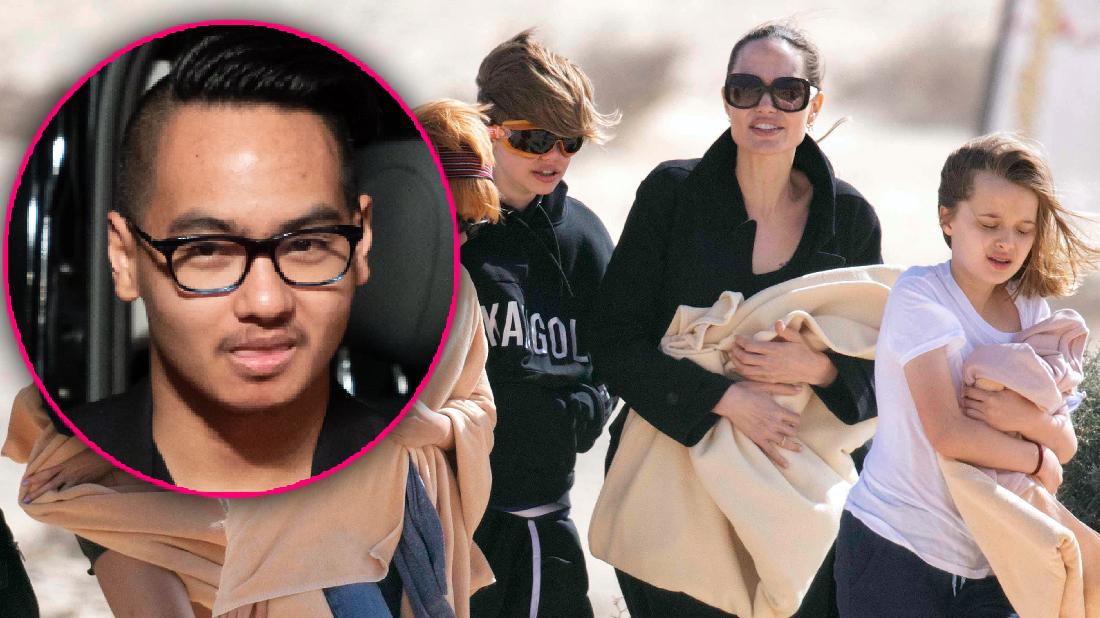 Angelina Jolie and four of her six children were spotted in the Canary Islands this weekend as she misses oldest child Maddox! As RadarOnline.com's new photos show, the star, 44, took a break from filming her new movie The Eternals to hit a beach in Fuerteventura with her brood and co-star Lia McHugh, 12.
It looked like a windy day and Jolie carried a blanket. Accompanying Jolie were Zahara, 14, Shiloh, 13, and 11-year-old twins Knox and Vivienne. Son Pax, 15, didn't appear to be in the group. As RadarOnline.com readers know, Jolie's golden boy son Maddox is attending college in South Korea and the devoted mom was sad to see him go.
Article continues below advertisement
Jolie has endured a nasty divorce from Brad Pitt which isn't quite final and fought backtears as she left Maddox, 18, at his college dorm overseas. Angelina told onlookers at Yonsei University in a video obtained by RadarOnline.com that it was the day"I drop him off," and candidly told the crowd, "I know, I'm trying not to cry."
Her ex Pitt was nowhere to be seen as Maddox started college with only his mom dropping him off. While promoting her movie Maleficent this summer, which wound up a box office flop, Jolie told a reporter about Maddox being in a South Korean university, "The school is so wonderful and we're so proud that he's there. And it's a great university and I'm just amazed I have a son who's that smart."
"It's really really exciting," Angelina said about Maddox moving on in life. She adopted him from Cambodia when he was just seven months old. Maddox was the man of the house after the beauty's personal life became messy. She and Pitt, 55, tied the knot after many years together and raising six children. But in September 2016, they broke up after two years of marriage. About her life after her breakup from Pitt, Jolie recently opined, "These last few years haven't been the easiest, and I haven't felt very strong. There's something when you're not feeling very strong, where you push yourself."
Now she's heading up a Marvel superhero movie with her younger kids on the set for comfort. Scroll through RadarOnline.com's gallery for more on their beach outing.
Windy Day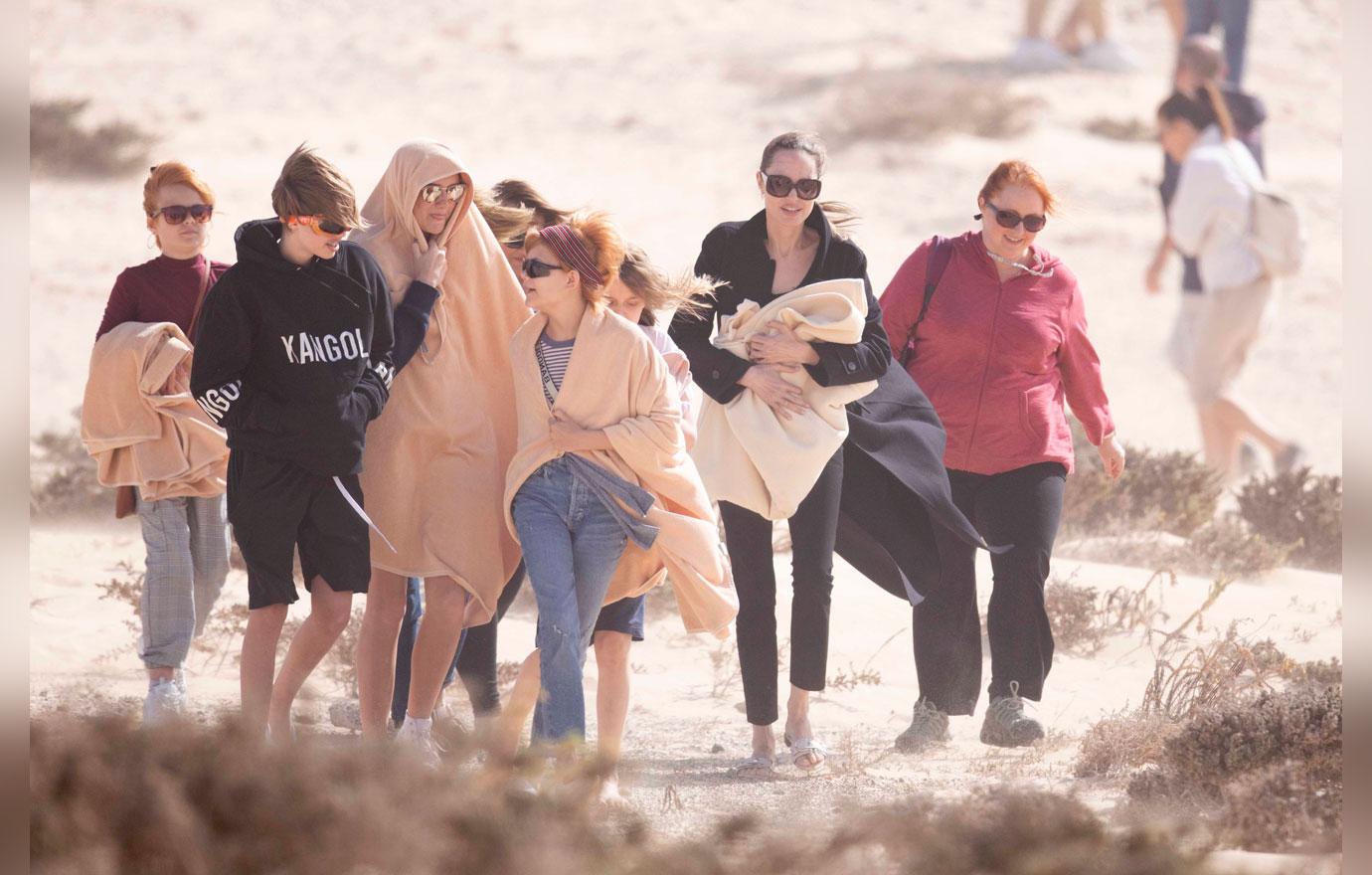 Jolie and her kids and entourage looked wrapped up in the Canary Islands, where The Eternals is filming.
Article continues below advertisement
Trademark Style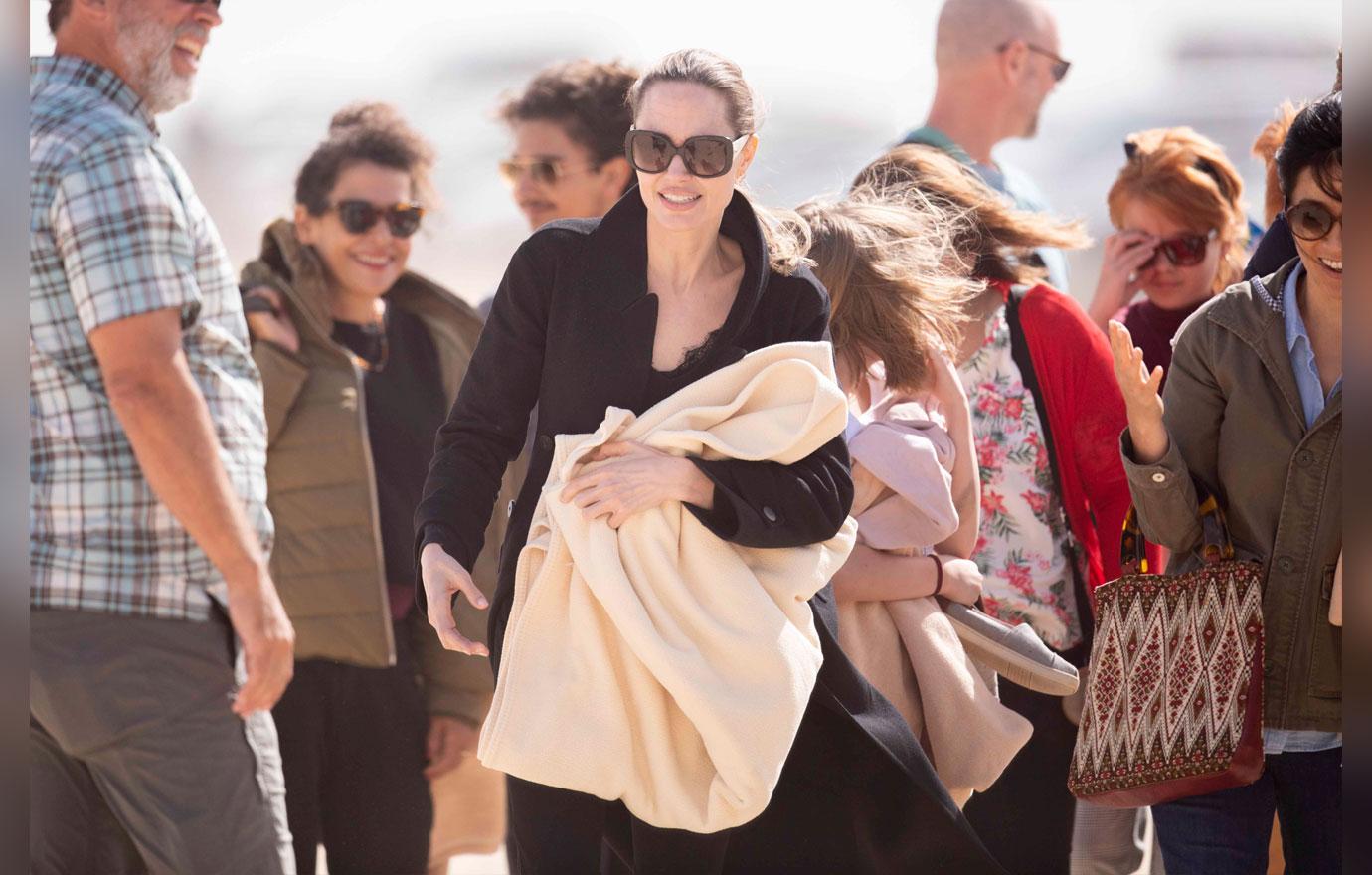 The star wore black as usual. Jolie sported a ponytail, an elegant black coat, and big sunglasses.
Article continues below advertisement
Too Thin?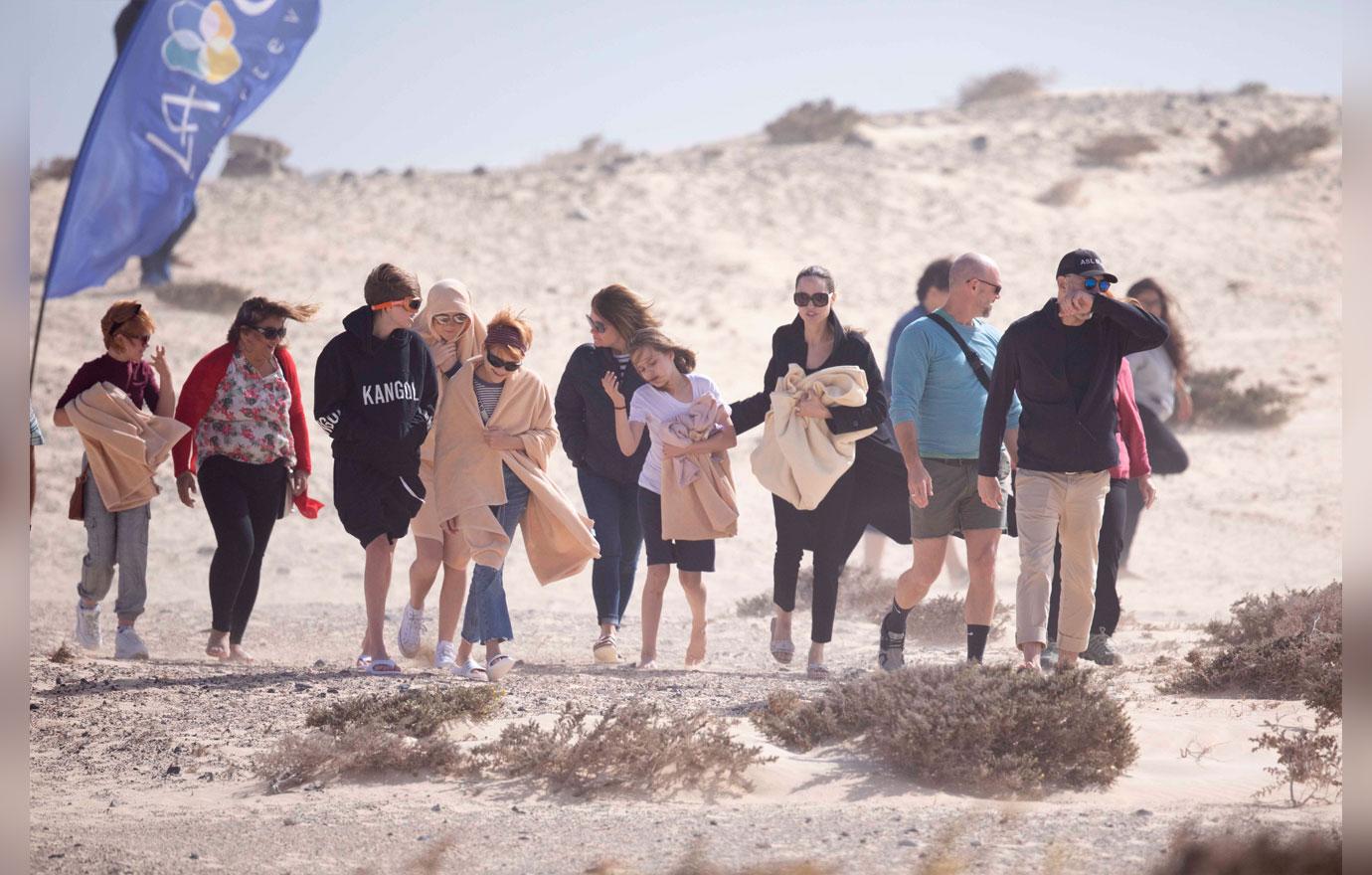 Jolie's legs looked like toothpicks in a pair of fitted black slacks.
Article continues below advertisement
Cuddle Up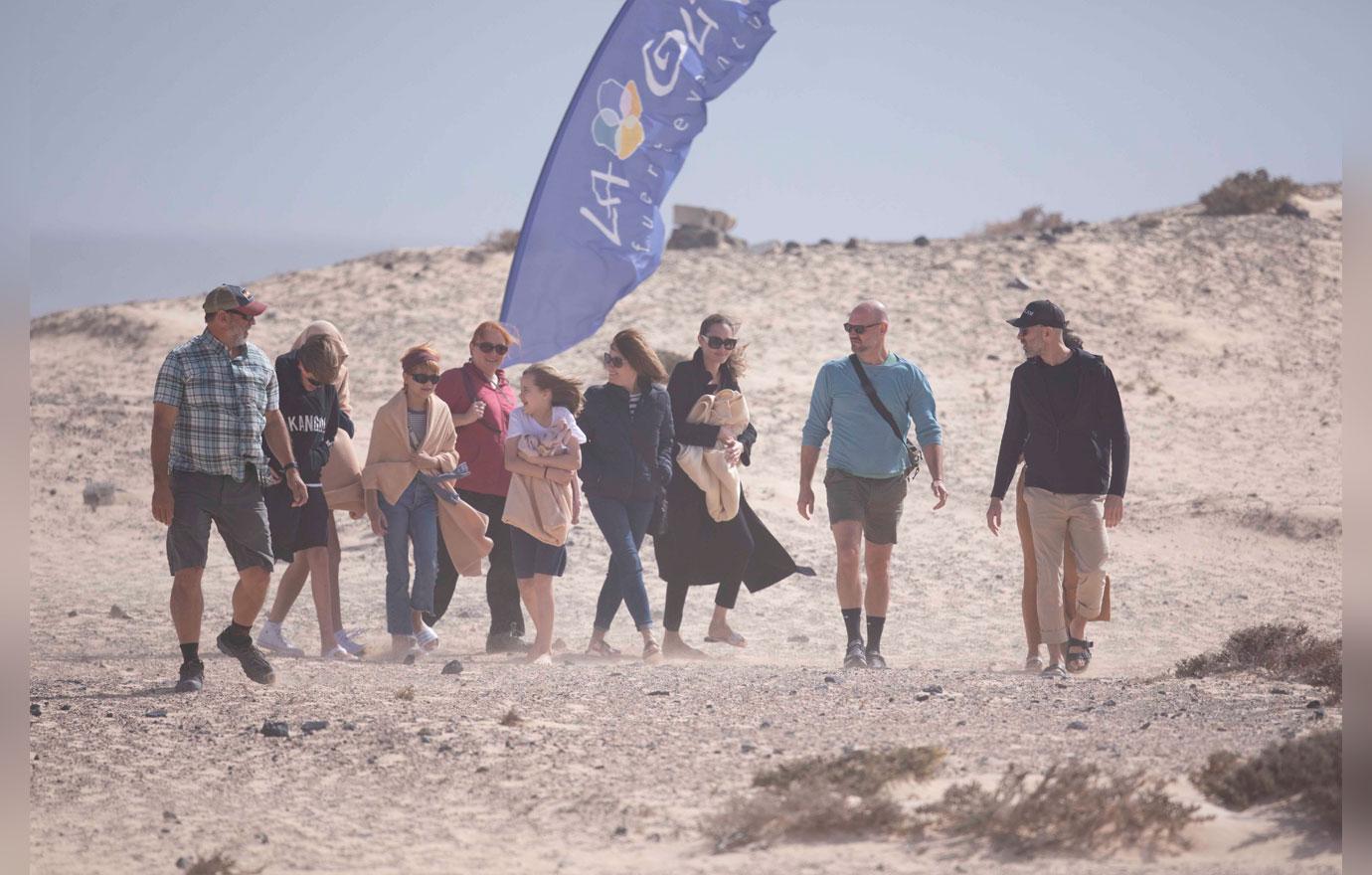 The beach day didn't look comfortable as Jolie and her kids coped with the island wind.
Article continues below advertisement
Picnic?
MORE ON:
Maddox Jolie-Pitt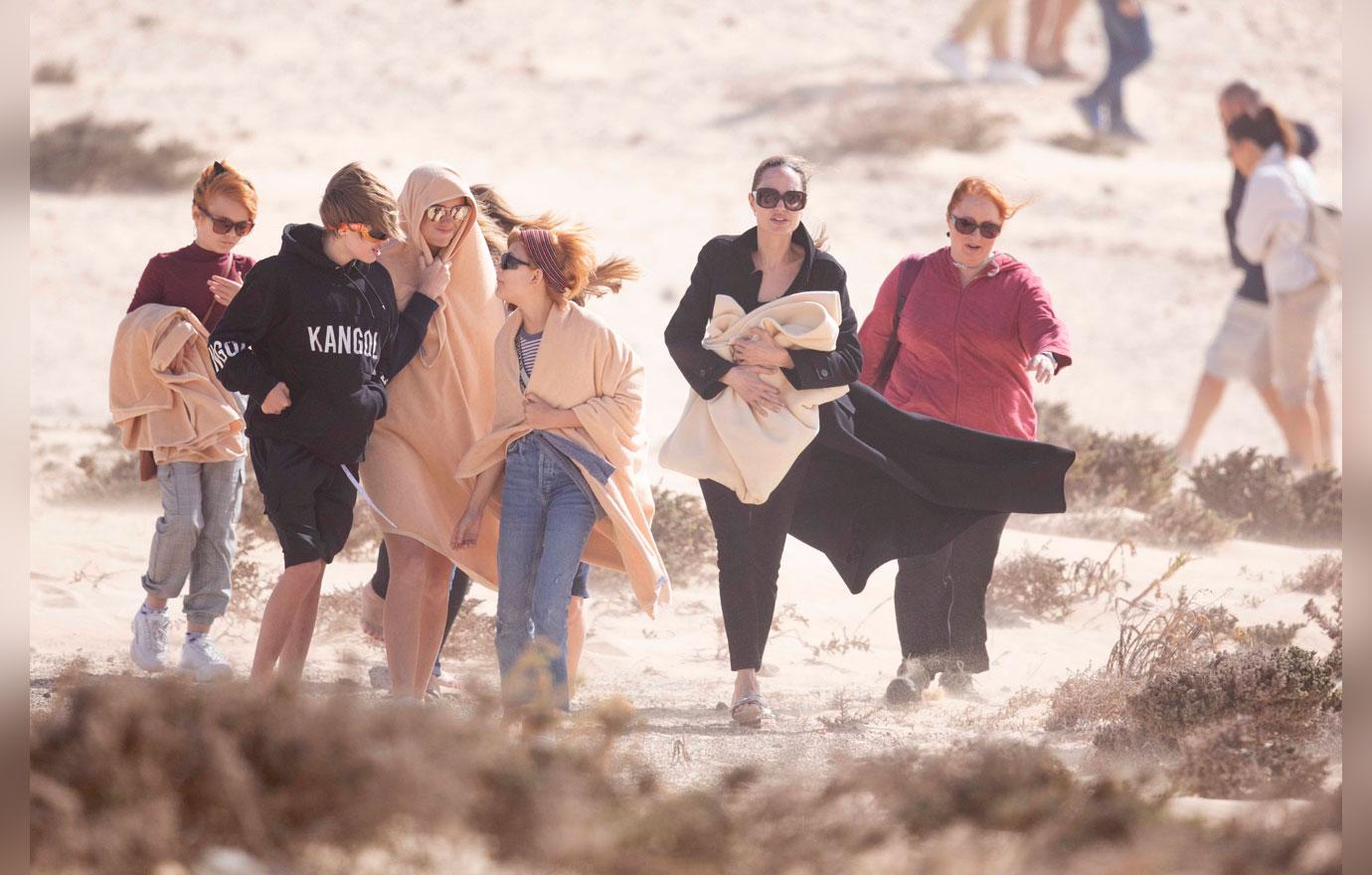 Jolie looked prepared for a beach picnic, carrying a cream blanket that she could have thrown on the sand. But did high winds ruin the plan?
Article continues below advertisement
Young Co-Star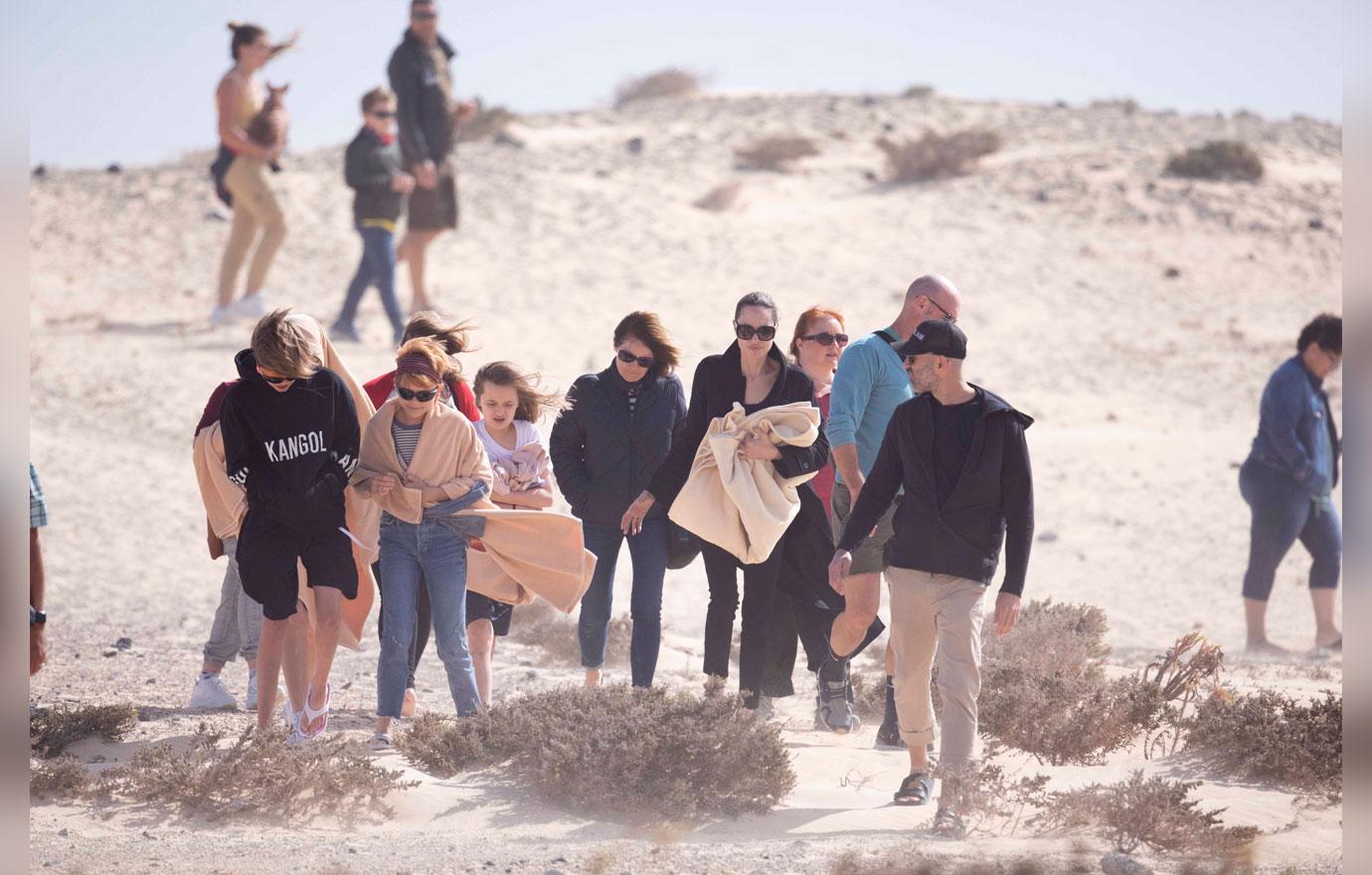 Actress McHugh was seen chatting with Jolie's daughter Shiloh as everyone strolled on the beach.
Article continues below advertisement
Still Brooding?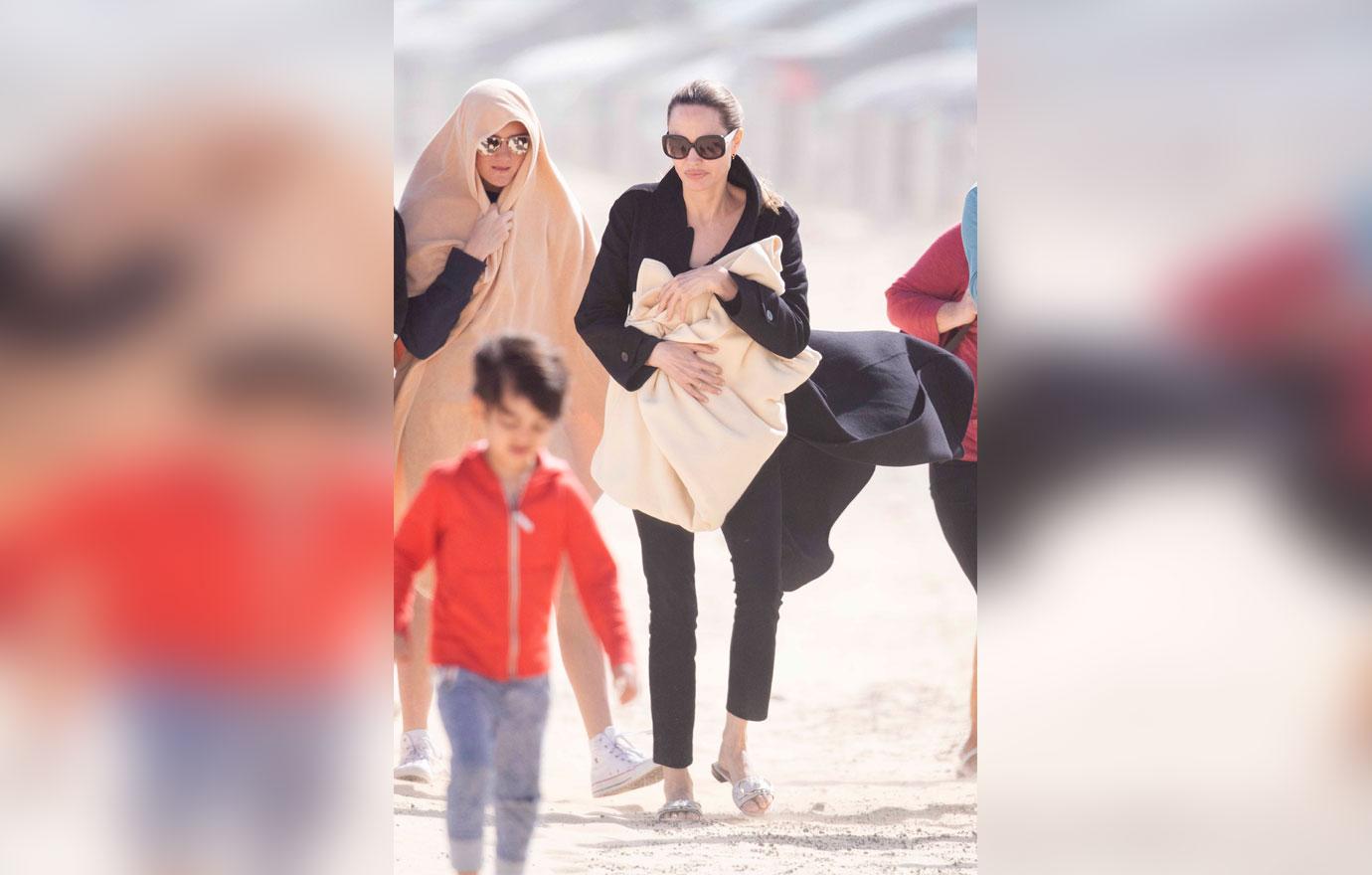 Although she had the company of lots of her other kids this weekend, Jolie has relied on her son Maddox for years and he's away studying now.
Article continues below advertisement
New Project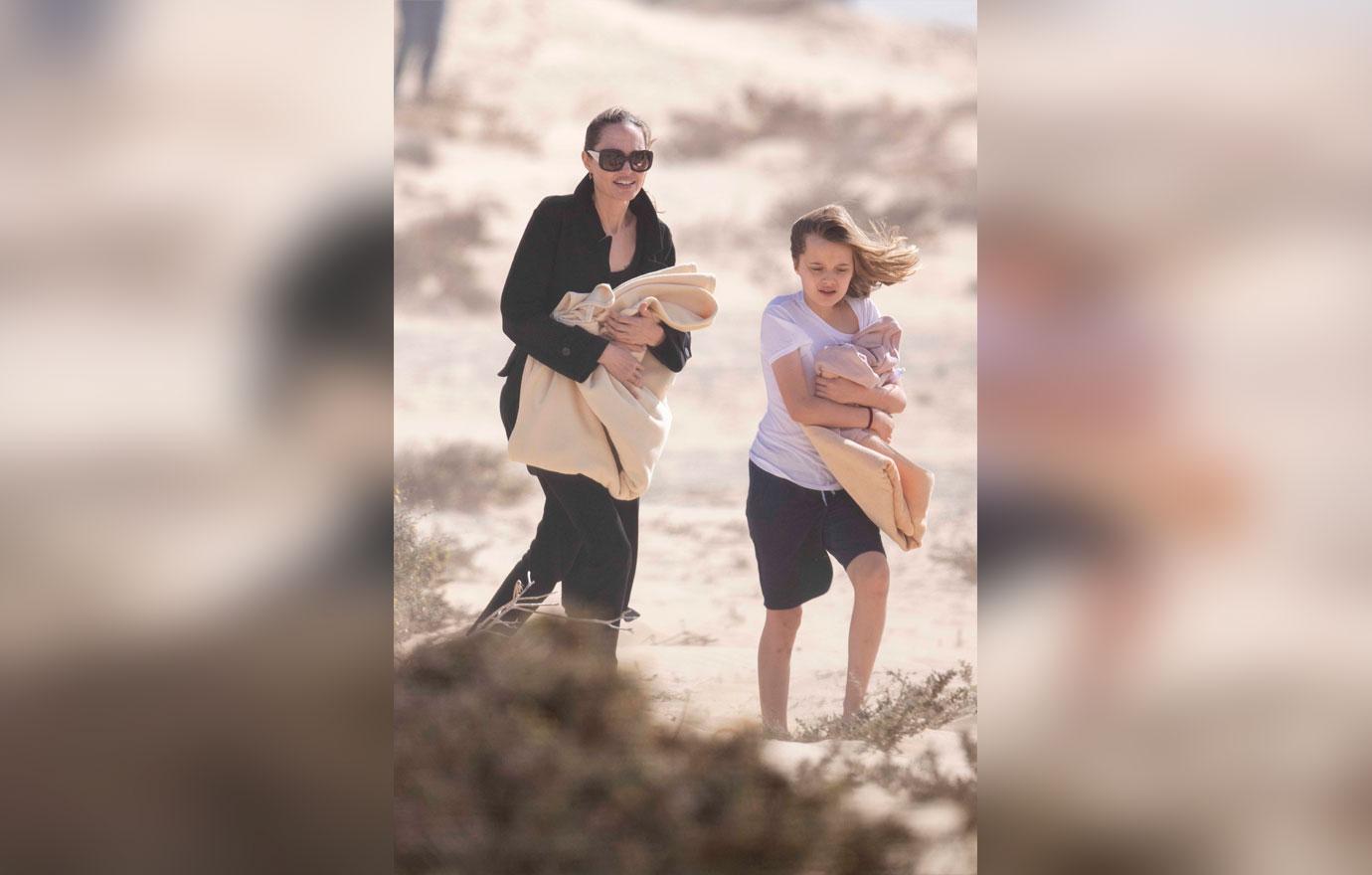 Jolie will try to fill the Maddox void by throwing herself into work. The Eternals is a Marvel superhero movie with a huge star-studded ensemble cast.
Article continues below advertisement
Set Buddies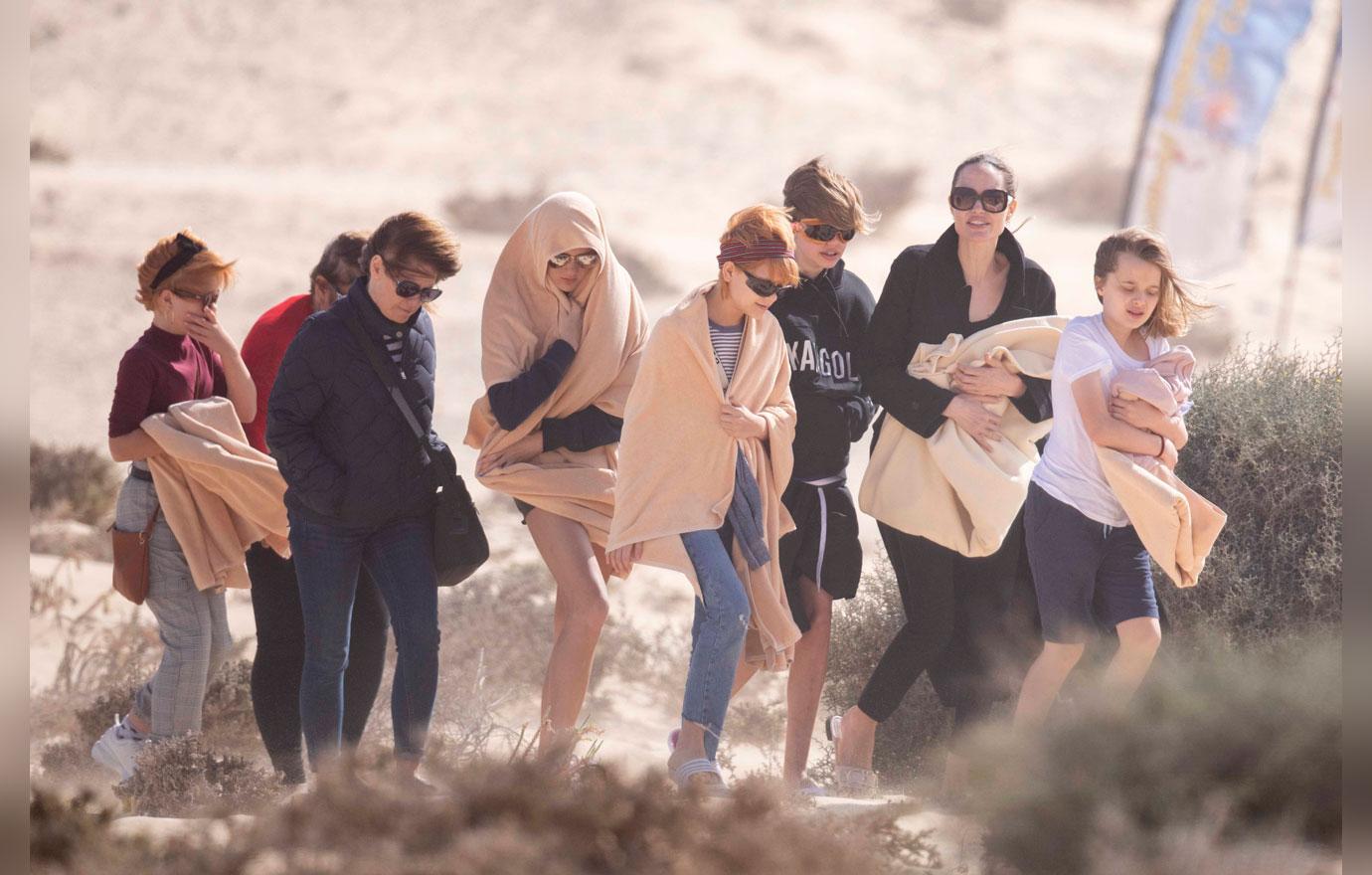 Game Of Thrones hunks Richard Madden and Kit Harington, Salma Hayek, Silicon Valley star Kumail Nanjiani, and Broadway veteran Lauren Ridloff are also acting with Jolie in The Eternals.
Article continues below advertisement
Trouble Back Home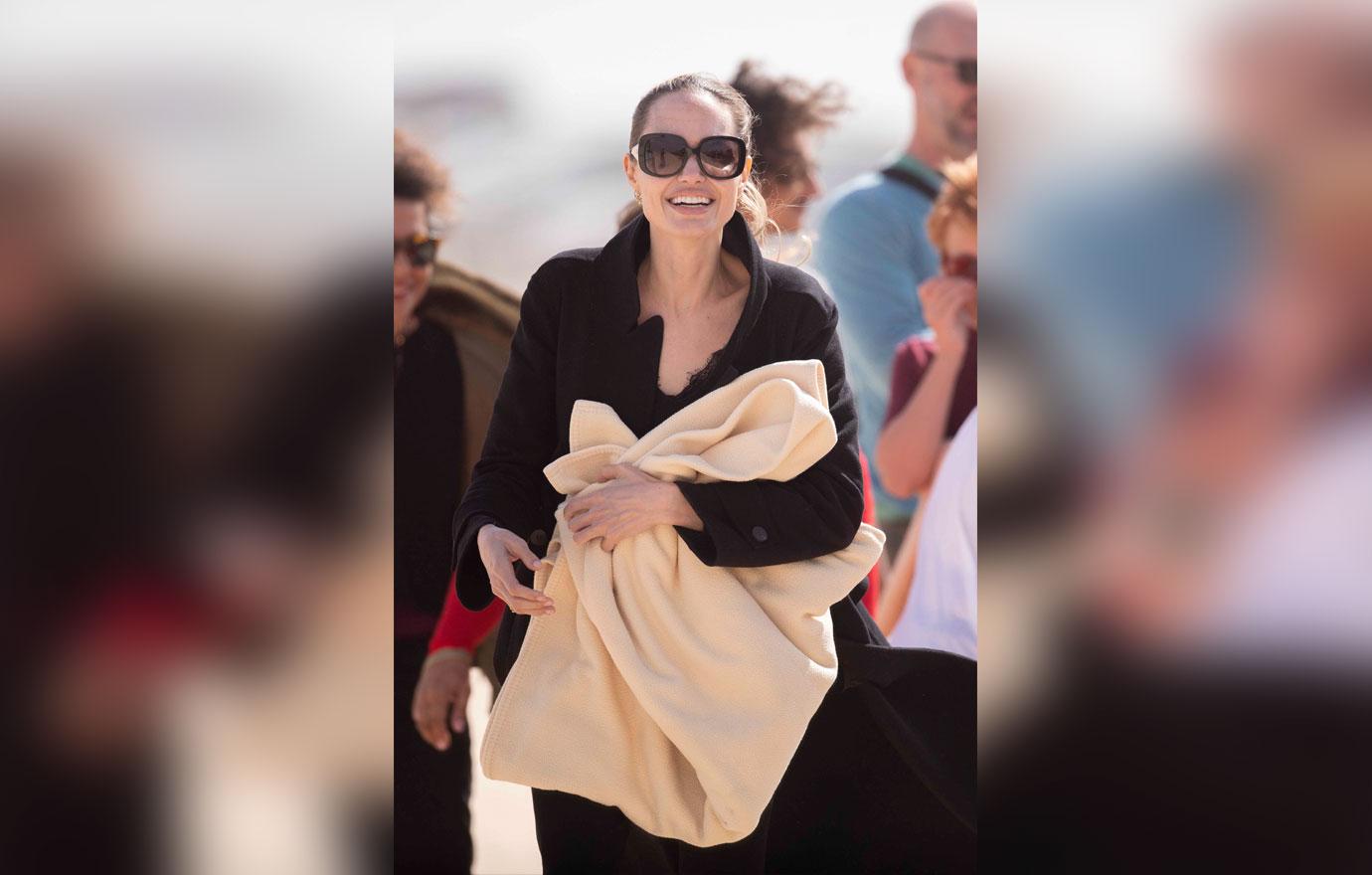 Jolie's divorce from Pitt still hasn't been finalized as their lawyers are reportedly still dealing with the financial settlement. She's said, "I don't know what my fate holds but what I am convinced of is that I am in a period of transition, like a return to my roots, a return to myself." The Eternals is due for release in November 2020.