DaBaby Issues Umpteenth Apology For Derogatory Comments After Getting Dropped From Umpteenth Music Festival
DaBaby is scrambling to stay employed, and his apologies are starting to mean less and less.
Article continues below advertisement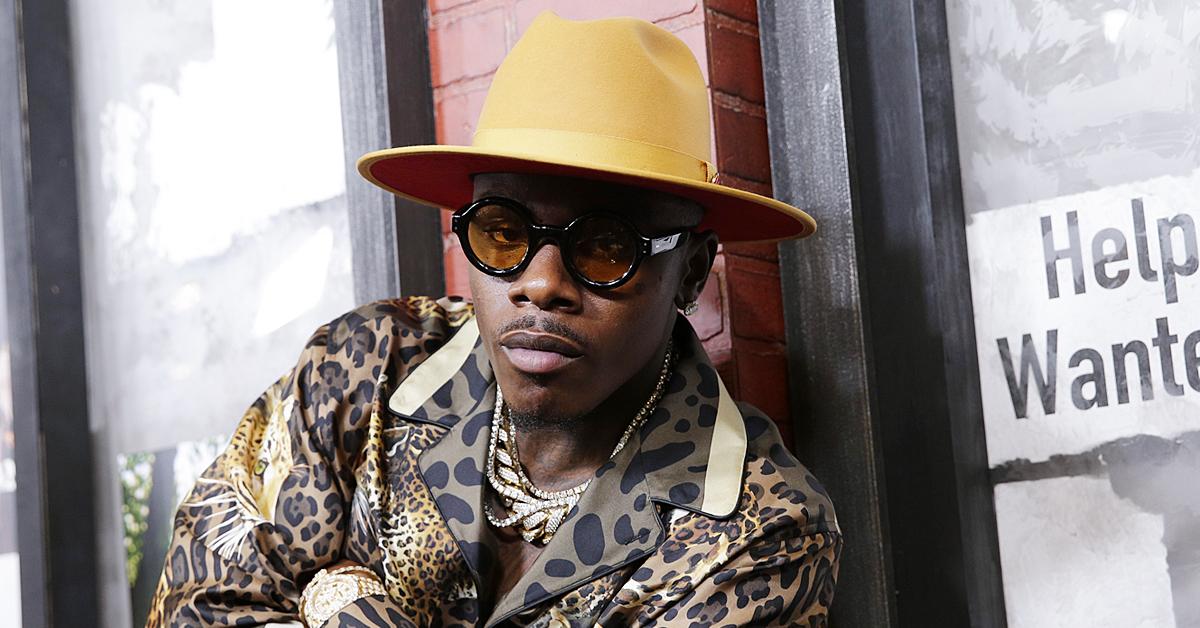 On Monday – after it was announced that he had been dropped by yet another music festival – the embattled rapper issued yet another mea culpa (of sorts) for making derogatory, damaging and untrue comments about the LGBTQIA+ community, those living with HIV or AIDS, and women.
Article continues below advertisement
In a carefully crafted, professionally worded Instagram post that started off defensively, DaBaby wrote, "Social media moves so fast that people want to demolish you before you even have the opportunity to grow, educate, and learn from your mistakes."
"As a man who has had to make his own way from very difficult circumstances, having people I know publicly working against me – knowing that what I needed was education on these topics and guidance – has been challenging," he continued. "I appreciate the many people who came to me with kindness, who reached out to me privately to offer wisdom, education, and resources. That's what I needed and it was received."
Article continues below advertisement
"I want to apologize to the LGBTQ+ community for the hurtful and triggering comments I made," he added. "Again, I apologize for my misinformed comments about HIV/AIDS and I knew education on this is important. Love to all. God bless. –DaBaby."
Not only did the musician's umpteenth apology fail to recognize the fact that not all people living with HIV or AIDS are members of the LGBTQIA+ community, but it also did not address the offensive remarks he made about women: "Ladies, if your p---y smell like water, put your cellphone lighter up!"
Article continues below advertisement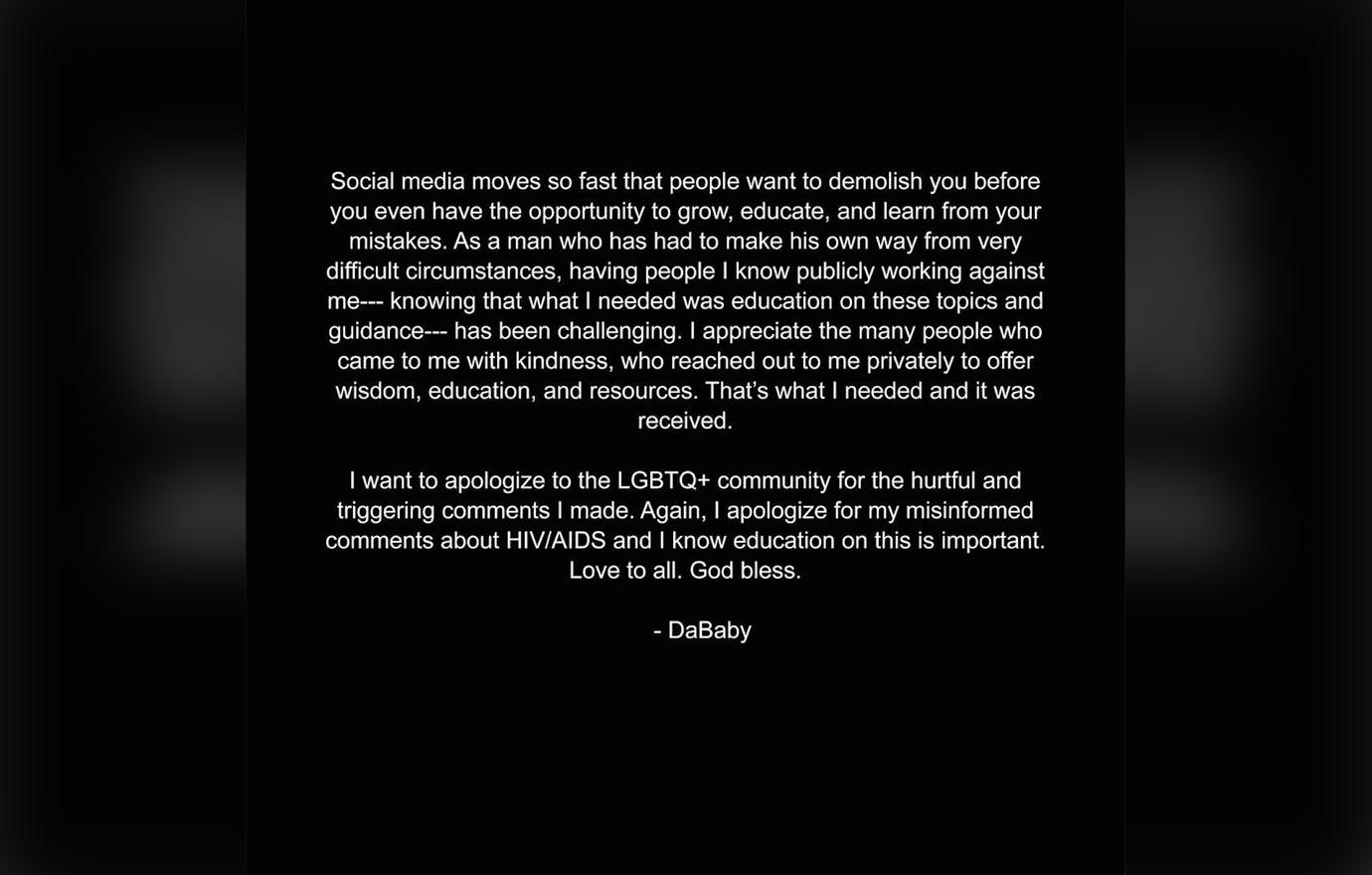 Article continues below advertisement
He was also called out by collaborator Dua Lipa and schooled by Madonna, Elton John and Questlove, among others.
Still, the rapper has the support of a select few (at least publicly); T.I. and Boosie are among those in the hip-hop community who feel DaBaby expressing his disgust with people who have HIV or AIDS is the equivalent of Lil Nas X embracing his sexuality through his music and music videos.
Article continues below advertisement
And as RadarOnline.com exclusively reported, one arena in Texas was even downright "excited" to host the rapper this past Friday, telling us the venue had to issue only one refund for a nearly sold-out show.
"The stuff that [DaBaby] said might've been different to different people, but we support every single artist of all kinds here, and we're going to continue bringing bigger and bigger artists here to Hidalgo, Texas," said general manager of Payne Arena, Eric Treviño.
Article continues below advertisement
It was during his set at Rolling Loud in Miami that DaBaby told the large crowd, "If you didn't show up today with HIV, AIDS or any of them deadly sexually transmitted diseases that'll make you die in two-to-three weeks then put your cellphone lighter up. Fellas, if you ain't sucking d--k in the parking lot, put your cellphone lighter up."
He later doubled down on the shocking remarks in an Instagram Live, saying that he felt the situation was more of a "call to action" than a "rant."
"All the lights went up – gay or straight – you wanna know why?" he told his followers. "Because even my gay fans don't got f--king AIDS, stupid ass n---as. They don't got AIDS. My gay fans, they take care of themselves. They ain't no nasty gay n---as, see what I'm saying? They ain't no junkies on the street."
DaBaby's latest apology comes after a string of several others, all of which were generally regarded as insincere and having missed the mark.