NBC Star Debra Messing Rips 'AGT' After Gabrielle Union Gets Axed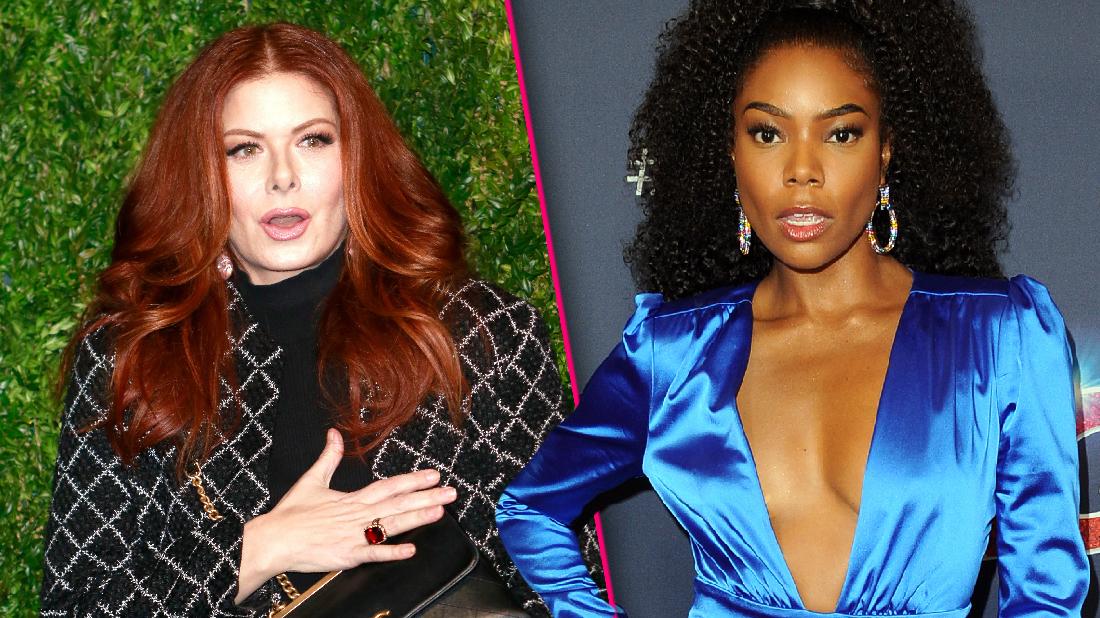 Debra Messing has spoken out in support of Gabrielle Union after she was recently let go as a judge on America's Got Talent.
The Will & Grace star has called out NBC, the show's network, for it's "disgusting behavior."
First, Messing's pal Ellen Pompeo of ABC's Grey's Anatomy slammed Union's ouster, then Messing tweeted, "Thank you for this @EllenPompeo. This is disgusting behavior from a network that has been my professional home for decades."
Article continues below advertisement
"Addressing a hostile work environment is inconvenient when there is a huge money making machine that is involved.It is cowardice, greed, and protection of the status quo revealed."
Messing's message was a result of a slew of tweets from Pompeo, who also expressed her discontentment with the network and its decision to let Union go.
"Workplace cultures will continue to be toxic until there is unity and solidarity among all women. If you go for self in these moments you undermine the work we are out here trying to do. Obviously this network feels like they can operate like this and it's okay," Pompeo tweeted.
The actress suggested people stop watching AGT before recommending another show to watch.
"With that said GIRLS....instead of wack jugglers and messy Simon Cowell watch @ReeseW and Jennifer Anniston in The Morning Show!! Soooo much better. Hard to believe these networks are still getting away with this. Our work continues @itsgabrielleu," Pompeo said.
As RadarOnline.com recently reported, Union and Julianne Hough, who served as Heidi Klum and Mel B's replacements, werecut from the NBC competition show, while male counterparts Simon Cowell, Howie Mandel and host Terry Crews remain.
Article continues below advertisement
Variety reported the show was alleged as being a toxic and prejudiced environment, especially for women.
Sources for the publication claimed Hough often received critiques on her outfits, makeup and hair while Union's hairstyles were called "too black" numerous times.
Vulture.com reported that two months into her job on AGT, Union had a"tense" meeting with Cowell where she expressed her concerns with the show.
"Union did have concerns, and she had brought them up regularly ever since she joined the show in February; they included perceived racist incidents, Cowell's habit of smoking indoors, and attempts to keep the show from misgendering contestants, according to multiple sources involved in the production of America's Got Talent," Vulture.com reported.
According to Vulture, Union also reportedly was told that she couldn't pick 10-year-old black rapper named Dylan Gilmershould instead choose someone "that American can get behind."
Article continues below advertisement
But NBC and series producer Fremantle said in a joint statement, "'America's Got Talent' has a long history of inclusivity and diversity in both our talent and the acts championed by the show. The judging and host line-up has been regularly refreshed over the years and that is one of the reasons for AGT's enduring popularity. NBC and the producers take any issues on set seriously."
Representatives for Cowell's Syco Entertainment had no comment.
After Union lost her job, however, her husband Dwyane Wade reacted to the controversy on social media.
"'Men lie, Women lie, numbers don't' Over this past year I've been approached by many people saying that my wife @itsgabrielleu is the main reason they've started watching #AGT or that they love her insight and sincerity on the show," he tweeted.
"So when i got the news that my wife was being fired—my first question was obviously why!? Iam still waiting on a good answer to that question. But if anyone knows @itsgabrielleu or have heard of her you know she's an advocate for our community and culture."
Article continues below advertisement
He then lifted his wife up with words of encouragement.
"As proud as i were of her being selected as a judge on #AGT— I am even more proud of her standing up for what she stands for and that's US," Wade added. "So cheers to you @itsgabrielleu on not losing sight of the lessons we've talked about teaching our daughter and for kicking a** while you were on that platform. Number 1 judge on one of the biggest shows in the world;"
The Bring It On actress also shared a message that seemed to throw shade on AGT.
"So many tears, so much gratitude," she wrote on Twitter followers. "THANK YOU! Just when you feel lost, adrift, alone…you got me up off the ground. Humbled and thankful, forever.
The season concluded with NBC deciding not to renew the contracts of both Union and former Dancing with the Stars judge Hough, sources said.
Both of the women could have been renewed for another season under their contractual options.