Olympic Gymnast Simone Biles Competes & Makes History After Brother's Murder Arrest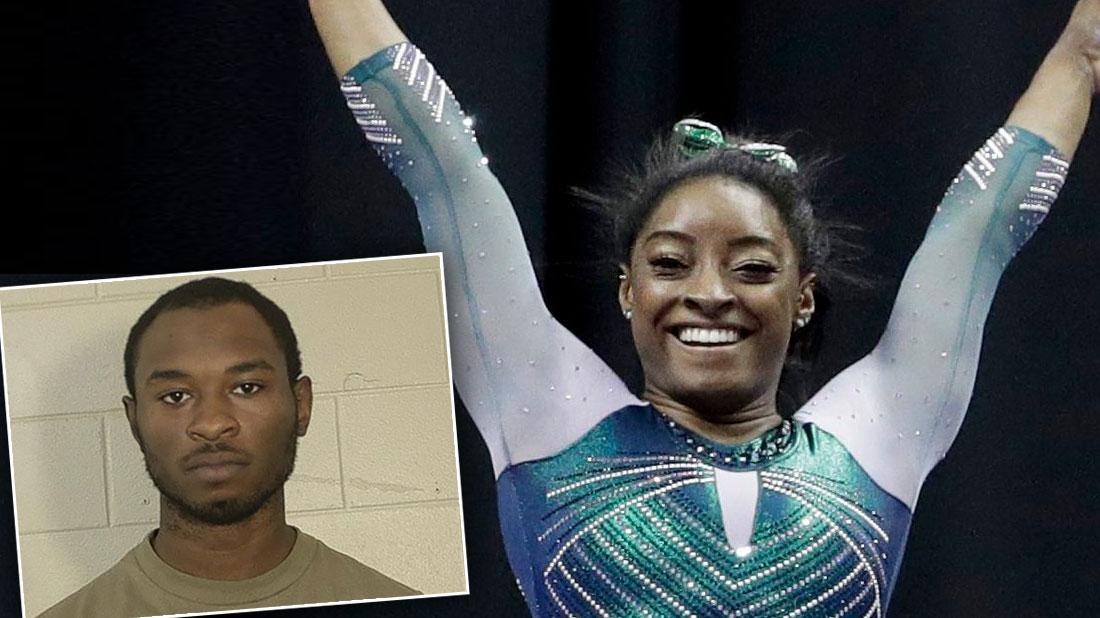 Olympic gymnast Simone Biles is keeping her chin up and defying all expectations after her brother 's recent arrest.
At this Tuesday's press conference before the 2019 FIG Artistic Gymnastics World Championships in Germany, she posed on the red carpet and chatted with reporters about life in the spotlight.
Though she's won four Olympic gold medals, Simone, 22, said she doesn't consider herself a "superstar."
Article continues below advertisement
"If I were to label myself as a superstar, it would bring more expectations on me and I would feel pressured, more in the limelight, rather than now," the athlete explained. "I just go out there and compete. I try to represent Simone… not 'Simone Biles' whenever I go out there, because at the end of the day, I'm still a human being before I'm 'Simone Biles, the superstar.'"
While at competition in Stuttgart, Simone once again broke records.
"Simone Biles just landed the first triple-twisting double tuck ever done by a woman on a world podium — and it was a stunner!" tweeted USA Gymnastics this October 1.
Fans know that this August at the U.S. Gymnastics Championships, Simone landed the first triple-double by a female gymnast at a competition.
Biles's performance this week and appearance at the press conference come after the elite gymnasts' brother was jailed for triple murder.
Article continues below advertisement
RadarOnline.com readers know Tevin Biles-Thomas was arrested on August 29 in Fort Stewart, Georgia in connection to the killings of Devaughn Gibson, 23, DelVaunte Johnson, 19, and Toshon Banks, 21. Police said that Simone's sibling shot up a party in a Cleveland AirBnB on New Year's Eve. The attack left three men dead and two injured. Tevin, 24, pled not guilty to the murders on September 13.
Since then, Tevis has been put behind bars in Cleveland's Cuyahoga County Jail on a $1 million bond — and his millionaire sister is staying out of it.
According to a clerk for the Cuyahoga County Sheriff's Office, Tevin's "bond has not been paid as of yet."
RadarOnline.com readers know Simone shared an emotional message after Tevin's arrest, saying she was heartbroken and in need of privacy.
"My heart aches for everyone involved, especially for the victims and their families," she wrote on Twitter. "There is nothing that I can say that will heal anyone's pain, but I do want to express my sincere condolences to everyone affected by this terrible tragedy."
Tevin's arrest is the latest in a long string of family tragedies for Simone. The gymnast's mother, father and sister have also been arrested for various crimes over the years.