Taylor Swift Calls Kim Kardashian & Kanye West 'Two-Faced' In Shocking New Interview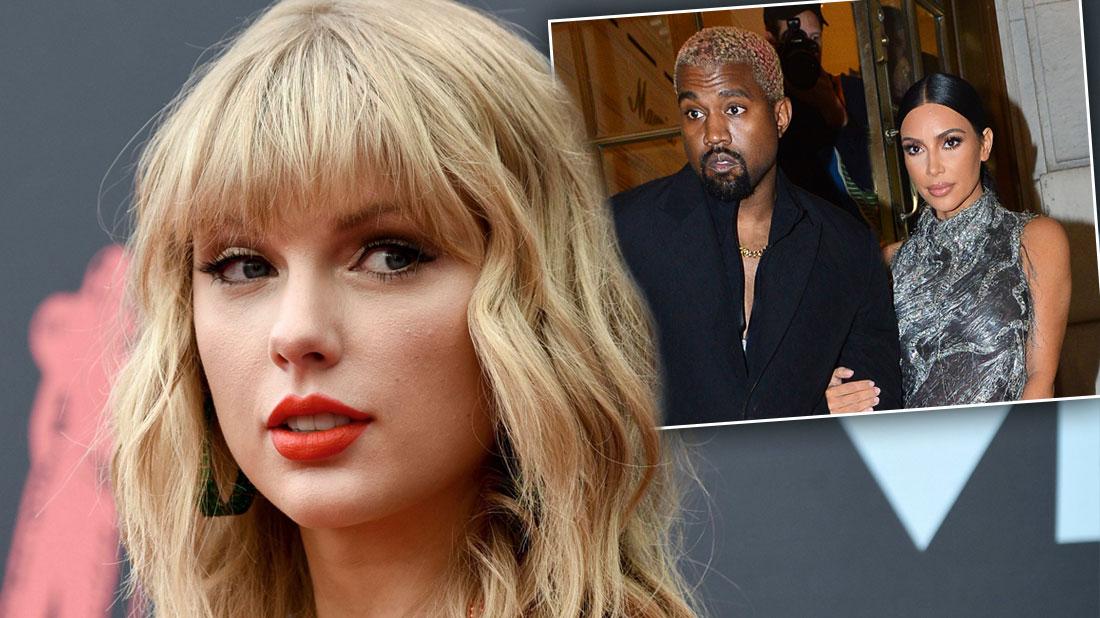 After years in the spotlight, Taylor Swift's learned to let the negativity go — except when it comes to Kanye West and Kim Kardashian.
In an explosive interview with Rolling Stone, the "Lover" singer, 29, opened up about that nasty VMAs incident with the rapper, 42, and the high-profile fight that broke their friendship for good.
"The world didn't understand the context and the events that led up to it," said Swift. "Some events took place to cause me to be pissed off when Kanye called me a b***h. That was not just a singular event. Basically, I got really sick of the dynamic between he and I."
Article continues below advertisement
Swift admitted that she felt a strange need to have West's approval, so when they became friends, she did everything to nourish that relationship.
"And that wasn't just based on what happened on that phone call and with that song — it was kind of a chain reaction of things. I started to feel like we reconnected, which felt great for me — because all I ever wanted my whole career after that thing happened in 2009 was for him to respect me," she said.
Swift said the two would often get dinners and have long talks, all which she cherished because she loved hearing his thoughts on her music. One day, however, everything changed.
The pop diva recalled the moment she picked up a phone call from West during which he asked her to make a speech about him at the 2015 VMAs. He was getting the Vanguard Award and wanted her to present it to him.
"He called me up beforehand — I didn't illegally record it, so I can't play it for you," said Swift, taking a dig at West and his reality TV star wife. "But he called me up, maybe a week or so before the event, and we had maybe over an hour-long conversation, and he's like, 'I really, really would like for you to present this Vanguard Award to me, this would mean so much to me,' and went into all the reasons why it means so much, because he can be so sweet. He can be the sweetest."
Article continues below advertisement
Swift said she was "so stoked" by West's request, which is why she was shocked by what happened next.
"And so I wrote this speech up, and then we get to the VMAs and I make this speech and he screams, 'MTV got Taylor Swift up here to present me this award for ratings!' And I'm standing in the audience with my arm around his wife, and this chill ran through my body," she recalled. "I realized he is so two-faced. That he wants to be nice to me behind the scenes, but then he wants to look cool, get up in front of everyone and talk s**t. And I was so upset."
Swift said that after the event, West asked her to come back to his dressing room to talk, but she refused. Hours later, he sent her a huge floral arrangement to apologize. Not wanting to be on bad terms with him again, she accepted his apology. For a while, the two reconnected, and Swift was moved when West called to ask if he could use her name in his song "Famous."
"So when he gets on the phone with me, and I was so touched that he would be respectful and, like, tell me about this one line in the song," said Swift. "And I was like, 'OK, good. We're back on good terms.' And then when I heard the song, I was like, 'I'm done with this. If you want to be on bad terms, let's be on bad terms, but just be real about it.'"
Article continues below advertisement
RadarOnline.com readers know Swift, West, and Kardashian, 38, got into a fiery public feud following the release of the song, with the "Reputation" singer claiming West didn't tell her he'd be using the line "I made that b***h famous." According to Swift, West only warned her about the line prior to that, which is "I feel like me and Taylor might still have sex."
After Swift publicly complained about the line, Kardashian ran to her husband's defense, saying they had a recording of Swift agreeing to the use of the line! After that, things got nasty between the three. Both West and Swift have admitted the feud gravely hurt their mental health and their careers, and Kardashian and Swift have continued slamming each other all over social media. As fans know, the divas often refer to each other as snakes.
In her interview, Swift told Rolling Stone that her fight with West still gets her "worked up," especially because she believes the rapper continues backstabbing his friends while suffering no consequences.
"And then he literally did the same thing to Drake. He gravely affected the trajectory of Drake's family and their lives. It's the same thing. Getting close to you, earning your trust, detonating you," she said.
Article continues below advertisement
RadarOnline.com readers know West denied any involvement in Pusha-T's musical revelation of Drake's secret child in "Story Of Adidon."
Regardless, Swift said she is still trying hard to let it all go, after all, it all started from "a stupid phone call I shouldn't have picked up."
Also in the interview, Swift talked about her celebrity feuds, rocky career path, her super-private relationship with Joe Alwyn, and her music, moving forward.