DJ AM Relapsed On Pain Meds, Spiraled Into Crack After Plane Crash, Steve Aoki Claims In New Memoir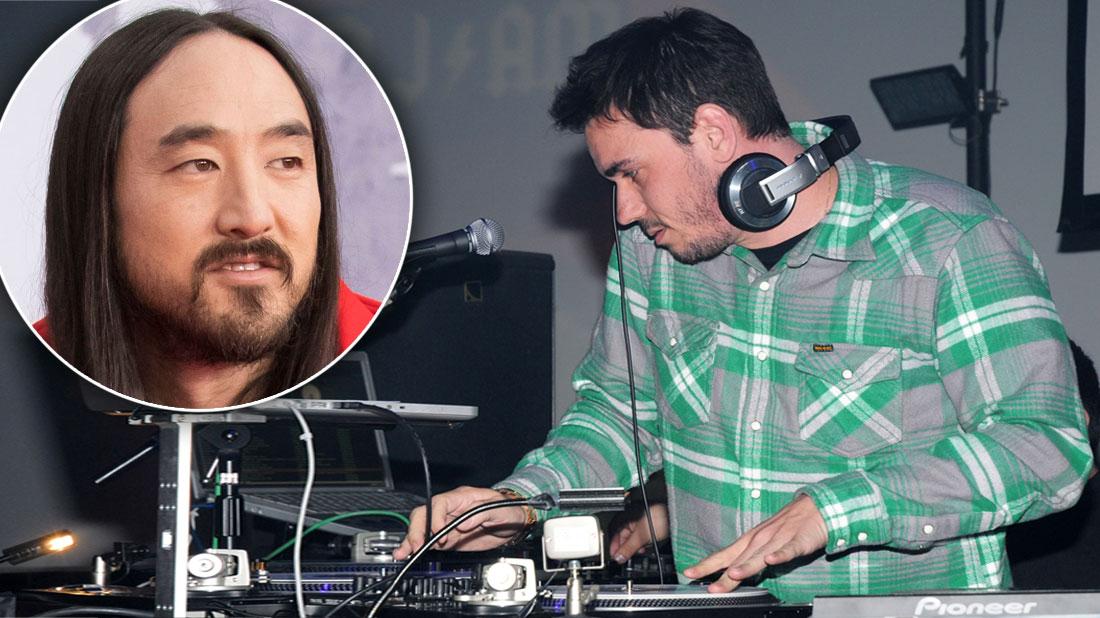 DJ AM's friend and fellow DJ, Steve Aoki, is opening up about the downward spiral that led to the 36-year-old's horrific drug overdose in 2009.
DJ AM, born Adam Michael Goldstein, was just 36 years old when he was found dead in his New York City apartment on August 28, 2009. A medical examiner ruled his death an accidental overdose of cocaine, oxycodone, hydrocodone (Vicodin), Ativan, Klonopin, Xanax, Benadryl and Levamisole.
Article continues below advertisement
Now, in his shocking memoir, Blue: The Color of Noise, Aoki, 41, revealed it was the terrifying 2008 plane crash DJ AM and Blink 182's Travis Barker survived that led to the late DJ's demise. As RadarOnline.com readers know, AM and Barker suffered severe burn injuries as a result of the crash that took the lives of the pilots and Barker's security guard and assistant.
Aoki said he visited DJ AM in the hospital following the terrifying incident, where the now-late musician looked banged up.
"He had this wild Spider-Man-type net over this face, was hooked up to an IV. His arms looked like the pigskin of a football," Aoki wrote. "I broke down, seeing him like that."
Aoki explained that AM was a recovering addict and remained sober during their years-long friendship. However, AM was confronted with taking prescription meds once again after he sustained the crash injuries.
"AM was in such tremendous pain when he came to, and he had his AA sponsor there with him, to kind of coach him through the pain meds dilemma," Aoki recalled. "I remember AM was torn up about it. He'd been clean for so goddamn long, he didn't want to lose that feeling of strength that came with all those years of sobriety, but at the same time the pain was just unbearable."
Article continues below advertisement
Aoki then revealed that the painkillers AM took following the incident led him into a dark "downward spiral."
"He started using again. Weed, crack…whatever," Aoki wrote. "He stiff-armed his friends, his AA sponsor, kept saying he had it together, just needed this one day, this one week, to burn this desire out of his system, and then he'd start the clock again on being clean."
Looking back, Aoki wrote he felt "so f**king guilty" for losing touch with AM before his death. However, the music producer admitted that he began a downward spiral of his own after his father – Benihana founder Hiroaki Aoki – passed away. He turned to drinking for the first time in his life.
AM's death, however, thrust Aoki back into reality and pushed him to be sober.
"The feeling that I needed to drink to get by…that's what left me when AM died, and to this day I'm grateful that I was able to step away from that urge so easily. Yep, Adam's death was my wake-up call," Aoki wrote.
As RadarOnline.com readers know, the 10-year anniversary of DJ AM's death occurred on August 28 of this year. The DJ's ex, Mandy Moore, opened up in a touching tribute to him.
"It's been 10 years. There are so any times I still find myself wanting to tell you about something funny or strange or exciting. I miss your contagious, guttural laugh and your hugs. The best hugs. Miss you every day but today is always hard," the 35-year-old This Is Us actress shared on her Instagram.
Aoki's memoir was released on September 3.