TMI! Jill Duggar Reveals Sexy Bedroom Games She Plays With Husband Derick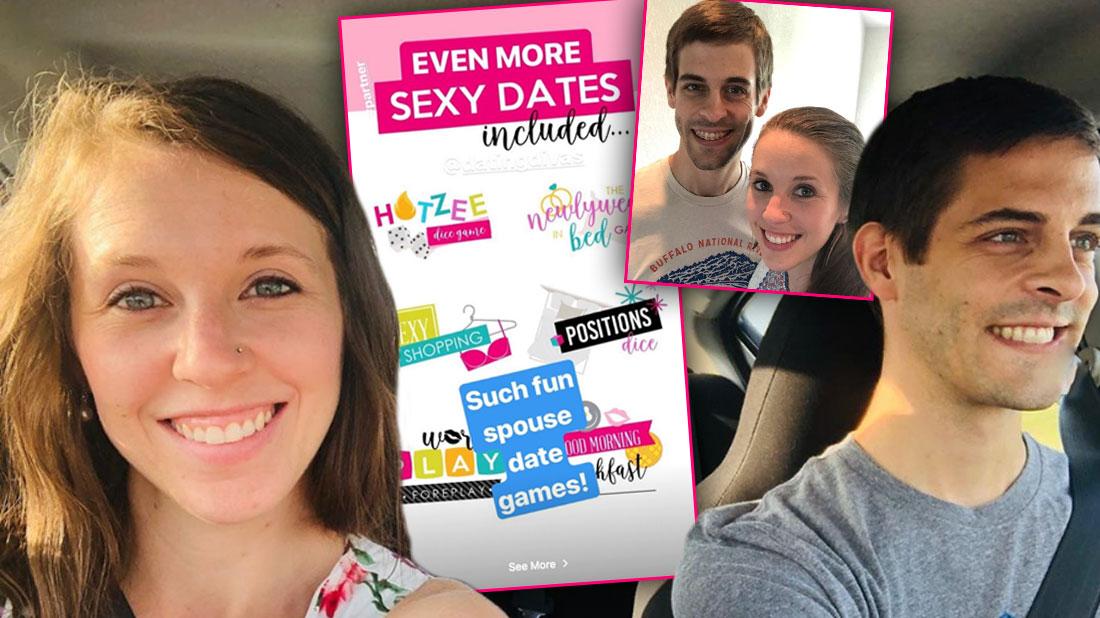 Jill Duggar is not shy about sharing her sexy bedroom romance with husband Derick Dillard.
On Monday, August 19, the former Counting On star shared a series of snaps promoting a book called A Year Of Sexy Dates from the company Dating Divas.
"Ok, couples… If you haven't heard of @datingdivas you're missing out!" Duggar, 28, wrote on her Instagram Story.
The reality star explained that the fiery guide includes "12 different bedroom games and sexy activities," which means "one for each month of the year," to spice up your sex life.
Article continues below advertisement
The X-rated games include "Positions dice," "Spicy Pictionary," "Strip Never Have I Ever," "Hotzee dice game," and "Sexy Scavenger."
"Such fun spouse date games!" Duggar wrote while promoting the booklet.
She even admitted to owning the sex book herself, and shared a photo of her holding it in her room. "Yay!! So excited this just came in the mail!!" she wrote.
RadarOnline.com readers know Duggar, 28, — who's been married to Dillard, 30, since June 2014 and has two children with him — regularly talks about the importance of having a healthy sex life with her husband.
This June, she wrote a controversial a blog post on the Dillard Family website detailing exactly how she and Dillard keep things interesting in their marriage.
"You both need this time together regularly (3-4 times a week is a good start)," she wrote. "When you may not be able to actually have intercourse for a period of time or for health issues, find other ways to have fun and be intimate."
She added that to maintain a stable relationship, it's important to "guard against fulfilling sexual desires alone. Be open with your spouse about your desires and change things up to keep it exciting!"
Duggar also shared with fans that it's a good idea to buy sexy lingerie for "birthdays, holidays, vacations or whenever."
The same month, Duggar and Dillard went on a romantic trip to Branson to celebrate their five-year wedding anniversary. After their getaway, Duggar shared various photos of their getaway, including a bedside table covered in sex games and a Kamasutra book.
As Duggar fans know, Jill's openness about sex with her fans could come as a shock to her conservative family. Jim Bob and Michelle set many rules for their children while growing up, including that they have to refrain from kissinguntil marriage.