Angry Fans Bash Kourtney Over New Website 'Poosh': It's 'The Kardashian Goop' Knockoff!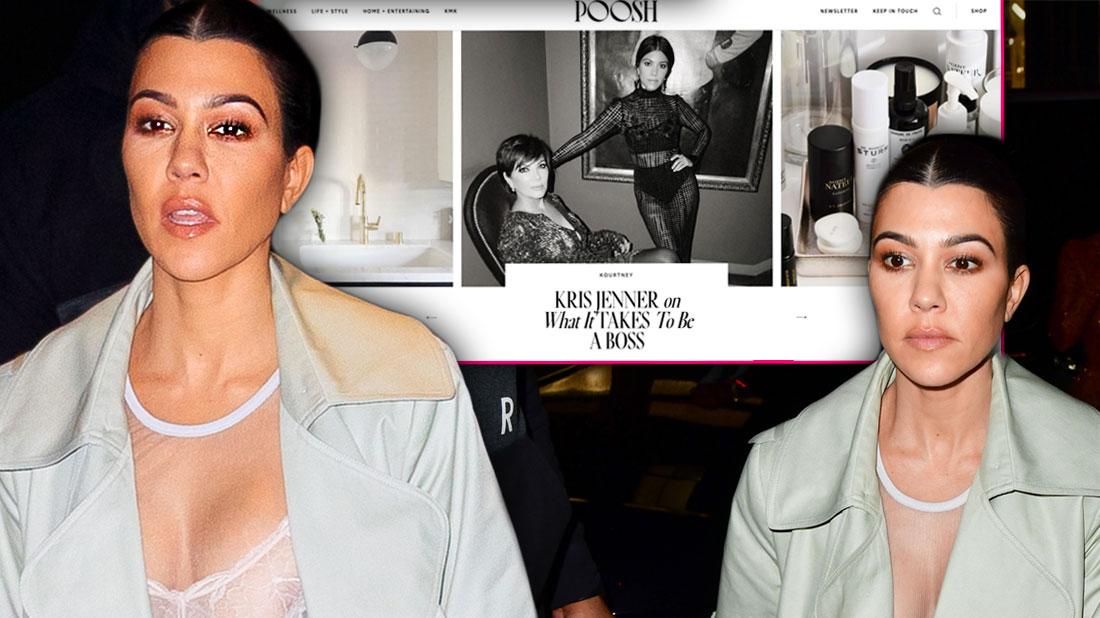 Kourtney Kardashian tortured fans for weeks after teasing her new company: Poosh. On Instagram, she promoted the launch by sharing various steamy yet delicate nude photos of herself and fun graphics showing off her luxurious lifestyle. Now, her website is finally live, and as it turns out, it's just a blog.
This Tuesday, April 2, when the lifestyle blog inspired by the beauty's 6-year-old daughter Penelope went live, fans immediately took to Twitter to voice their thoughts. The general opinion? It's just another Goop — but worse.
Article continues below advertisement
"If you guessed that Poosh was Kardashian Goop, congratulations!" tweeted a fan after catching a glimpse of the star's new project.
"Why does kourtney k's "lifestyle" brand Poosh sound exactly like Goop by Gwyneth Paltrow? #icantafforditanyway" tweeted another.
While Gwyneth Paltrow has received much backlash over her wellness brand and controversial vitamin packets, fans seemed to be even more upset by Kourtney's site. Some called its content devoid of any meaning, while others slammed it as "uninteresting" and "fake."
"1st this has been done by the pretentious @GwynethPaltrow. A lifestyle direction by a millionaire pushing products that are not necessarily best for you but for @kourtneykardash wallet. On her site it states Poosh sells & receives monetary & other forms compensation from," tweeted an angry fan.
"Kourtney Kardashian's lifestyle site has actually made me appreciate Goop. Yes, Gwyn is nuts, but Poosh is so devoid of any personality at all it really is the least interesting website to look at," wrote another, poking fun of Kim Kardashian's comment about Kourtney, 39, being "the least interesting to look at."
MORE ON:
Kourtney Kardashian
Article continues below advertisement
While the Kar-Jenner clan could not be more supportive of Kourtney's new venture, some fans called it out as Kris Jenner's attempt to get her eldest daughter off the couch.
"Awwww kris finally gave Kourtney something to do how sweet, she made her her own little fake Goop! The thing is goop was already useless and poosh
is just a more useless version of that. Oh well keep trying Kourt you'll find a job eventually," tweeted a hater.
"Kourtney's new "Poosh" lifestyle brand is literally the definition of what to do when you're simply bored and you have too much money sitting in your bank account," wrote another.
"I've been waiting weeks to find out what Poosh is and it's literally a blog," tweeted a third.